This article first appeared in Enterprise, The Edge Malaysia Weekly, on June 11, 2018 - June 17, 2018.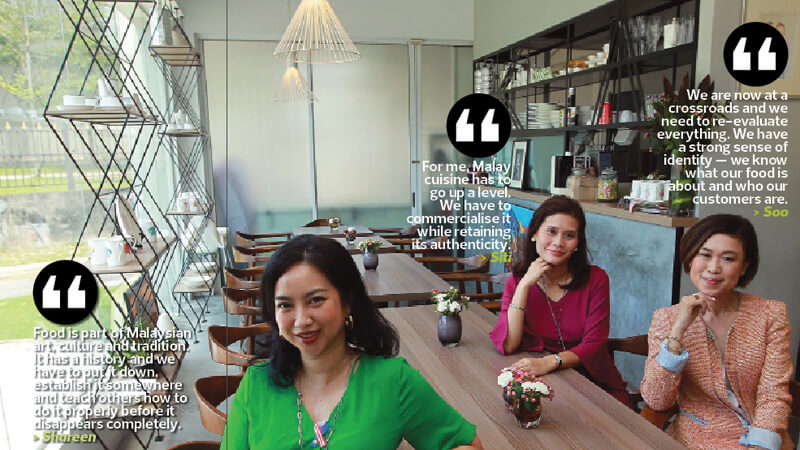 Siti Li Food Studio lies nestled within KitaKita, the gallery dedicated to promoting and preserving homegrown crafts in the gleaming white Epicure building in Plaza Damansara. The gallery used to run its own in-house café but two years ago, owner Nori Abdullah Badawi invited Siti Kader and Shareen Ramli to take over the café to promote Malay heritage food.
Siti had been running Smokin' Salma's at Publika shopping centre and she thought she was done with cooking and catering. That outlet produced murtabak and curry puffs on a semi-industrial scale for hotels and other establishments that bought in bulk. The market tapered off and she had decided to retire.
But Shareen had other ideas. "We wanted to start something that would showcase Siti's talent and also explore Malay cuisine. When my family first tasted her cooking, we were astounded and we realised that the talent to produce Malay cuisine at a certain standard was almost obsolete," she says.
Shareen got in touch with Nori and they discussed creating something that could sit within the Kita Kita brand. "They already had a café that served Malaysian food, so she said we may as well take it over and design a new menu."
Radd-Aline Soo (Siti Li's other director) chips in, "I suppose the fact is that KitaKita is a Malaysian gallery and Siti's offerings are all about Malay heritage food."
Siti is Shareen's stepmother. Soo, who owns a law firm, used to visit the café as often as she could as she was addicted to Siti's cekodok pisang. Then, she too became a partner in the business.
When they took over the café, it took them a week to decide on the menu. It was important to get the right mix of dishes. Shareen points out that many Malay restaurants do not do well because they put too many things on their menu.
"We had to consider how we wanted to place Malay cuisine and what tastes should go into the market first. Our menu has been revised twice since," she says.
Also, it took Siti some time to hire a larger kitchen staff and train the cooks. "Every day, I am in the kitchen with them. I always tell them that they need to prepare the food with love, that they need to serve it with love, as if they are serving their family," she says.
Shareen is intent on promoting Siti's brand of Malay cuisine. "The way I see it, she is an artist and we are like artists-in-residence. Food is part of Malaysian art, culture and tradition. It has a history and we have to put it down, establish it somewhere and teach others how to do it properly before it disappears completely," she says.
Shareen notes that there are few quality Malay heritage food establishments in the country. Even those that open, close down rather quickly. And there has not been any concerted effort by or support from the government to promote and preserve true Malay gastronomic heritage.
Why is it so difficult for higher-end Malay restaurants to survive? "The process of making authentic Malay dishes is very tedious. For instance, it takes four hours to cook the chilli for sambal soto, to
hilang the pedas (reduce the spiciness)," explains Siti.
Shareen points out that not all ingredients are easy to come by if one is going for quality. "The formation of your back-end in this type of food business needs to be a little different because you cannot just rely on general suppliers. Most F&B outlets will have 10 to 15 suppliers. We probably have 20% more."
Siti is extremely hard to please. For instance, she refuses to buy gula melaka from Kuala Lumpur or even Melaka. "The gula melaka here is like 80% sugar and 20% caramel! Where does the nira (juice from the coconut blossom) come in? The real gula melaka crumbles at your touch. But what you get now is more like rock sugar with a shade of caramel; it is so hard."
Although there are some makers of authentic gula melaka in the villages in Melaka, they do not produce enough for her needs. "They even tell you that you can only buy 2kg because others also want to buy. But we use a lot of it in our cooking. I don't use white sugar — only molasses and gula melaka. So, we require much more than that," says Siti.
That is why she gets her supply from Singapore. "My uncle and cousin from Singapore bring it in for me. They get it from a Malay community in Batam and it is the real stuff," she says.
Naturally, this adds to her costs, but her patrons can taste the difference. Siti is indefatigable in her search for authentic ingredients and she does not stop at gula melaka. There is also the kerisik (coconut that has been grated, roasted and ground into a paste).
"I really cannot stand the kerisik out there. It has a rancid smell and taste," she says.
"I used to make my own. But one day, when I was buying 10 grated coconuts, the vendor asked me why I always bought so many. When I told him it was to make kerisik, he pointed out that I could get it ready made. I told him what I thought of the readymade stuff, but he gave me the phone number of an old woman who makes kerisik in a village and asked me to try it out.
"At first, I was sceptical, so I bought only 2kg. But it was really good. Now, I order 10kg at a time. But it is not cheap."
The old woman gets her supply of coconuts from her brother's farm in Tanjung Karang. That is how she manages to sustain her production.
In this way, Siti Li not only provides quality and authentic Malay food but also empowers kampung artisans by giving them a regular income and helping to preserve the Malay heritage.
Another special ingredient is beef. Anyone who has tasted the rendang at Siti Li is always astounded by how soft and flavourful it is. Some of this comes from the cooking. But it is also the quality of the beef itself.
"Our butcher has a farm and he lets his cows graze in the oil palm plantations. Before he slaughters a cow, he asks me whether I want any meat — 10kg or 20kg of tenderloin. So, I order it from him. I do not use frozen or buffalo meat from India," says Siti.
"We cook it then freeze it immediately. And as you know, the longer you keep rendang, the better it tastes."
Certain dishes, such as sambal, need to be kept for a week to diminish the spiciness. These are the things her mother taught her.
"I am sure there is a scientific explanation for all of this, but she did not really tell me. That is what is lacking in Malay cuisine. Everything is agak-agak (a matter of guesswork). We are not the type to document things. Maybe that is why Malay heritage food is disappearing," says Siti.
However, she has worked everything down to a science — how long to boil the food, which ingredients to use and how long to keep it before serving. "I don't agak-agak and I don't cut corners," she says firmly.
It has always been Siti's dream to make artisan heritage food. "This is different from home-cooked meals. For me, Malay cuisine has to go up a level. We have to commercialise it while retaining its authenticity," she says.
"We are making it gourmet," quips Shareen.
One thing that really gets Siti's goat is when people take shortcuts with Malay cooking. Her pet peeve is when they use cili padi (bird's eye chilli) to make the sambal nasi lemak.
"It is a sin to use even one cili padi in the sambal nasi lemak. But they do it because it is cheaper, adds to the spice and makes for less work. That is why our Malay cuisine is becoming semi-Indonesian," she fumes.
Shareen adds, "That love and respect for the ingredients is lacking in the younger generation because they do not know the ingredients well enough."
The authenticity does not stop at the ingredients used. It is also the respect with which the ingredients are treated and the way the dishes are served.
"My mother was orang Johor and if you did not serve the food or treat the ingredients with respect, she would ask, 'Mengapa awak buat kerja tak senonoh? (why are you doing something indecent?), Mengapa awak campak? (why are you throwing it about?), or Awak ingat kucing nak makan? (You think you are feeding the cat?)"
Like her mother, who was a food technologist, Siti insists on proper old-fashioned Malay hospitality — the way patrons are welcomed to the café and the way she and Shareen talk to them and ask how they like the food (when she is not slaving away in the kitchen that is). She has trained her staff how to handle the food and serve it. Like her mother before her, she is very strict about things like that. There are certain customs that cannot be flouted.
Siti Li has to charge a premium for its offerings, but this has not stopped its growing fan base. The famous Chef Wan himself put in an appearance and posted a picture of Siti's nasi lemak on Instagram with his highest accolade, namely, that was how he would prepare nasi lemak at home. That brought a host of new patrons to discover her food.
And once they come, they tend to stay. "We have a 99.9% conversion rate," Shareen says gleefully.
They have been operating for two years from the KitaKita gallery and have amassed a regular clientele who believe in their mission or simply can't stay away from Siti's nasi lemak, Johor laksa and cekodok pisang.
But sadly, the Epicure building has been taken over by new management with a different concept (young, hip and "Instagramable"). More importantly, it has almost doubled the rent so Siti Li can no longer afford to operate there. The café was offered a space upstairs, but because of the way the building is set up — with only one lift, and that too, not a service lift — it would not be feasible.
The new management is intent on bringing in international F&B names. "We don't think the new concept fits us," says Siti, shaking her head sadly while Shareen sighs.
So, the Malay café that specialises in authentic heritage food is being forced out to make way for international brands, ironically, in a building owned by Permodalan Nasional Bhd.
"We are now at a crossroads and we need to re-evaluate everything. We have a strong sense of identity — we know what our food is about and who our customers are. But we need a new home," says Soo, trying not to be cast down by the immediate prospects.
Ideally, they would like to move to somewhere in the neighbourhood — in Damansara Heights or even Bangsar. "We love this neighbourhood," says Soo.
"And they love us back," adds Siti. "It is sad because we should be proud of our Malay and Malaysian brand. Why are we being side-lined to bring in international brands?
"We were so offended when our new landlords told us they were bringing in the new brands to attract more high-net-worth customers. We already have high-net-worth customers."
Shareen says, "We are in Malaysia and we are building something Malay that is supposed to be thriving. But it is not and it has always been given a cursory glance. Are we in this alone? If so, no wonder the rest [of the Malay restaurants] are not making it — because nobody supports them."
However, they have decided to bite the bullet for now. "We don't want to make it difficult for our customers who have supported us all this while, so we will do our best to make it a smooth transition of location. Don't forget us. We won't move far," says Siti.