This article first appeared in Enterprise, The Edge Malaysia Weekly, on August 5, 2019 - August 11, 2019.
Click / Tap image to enlarge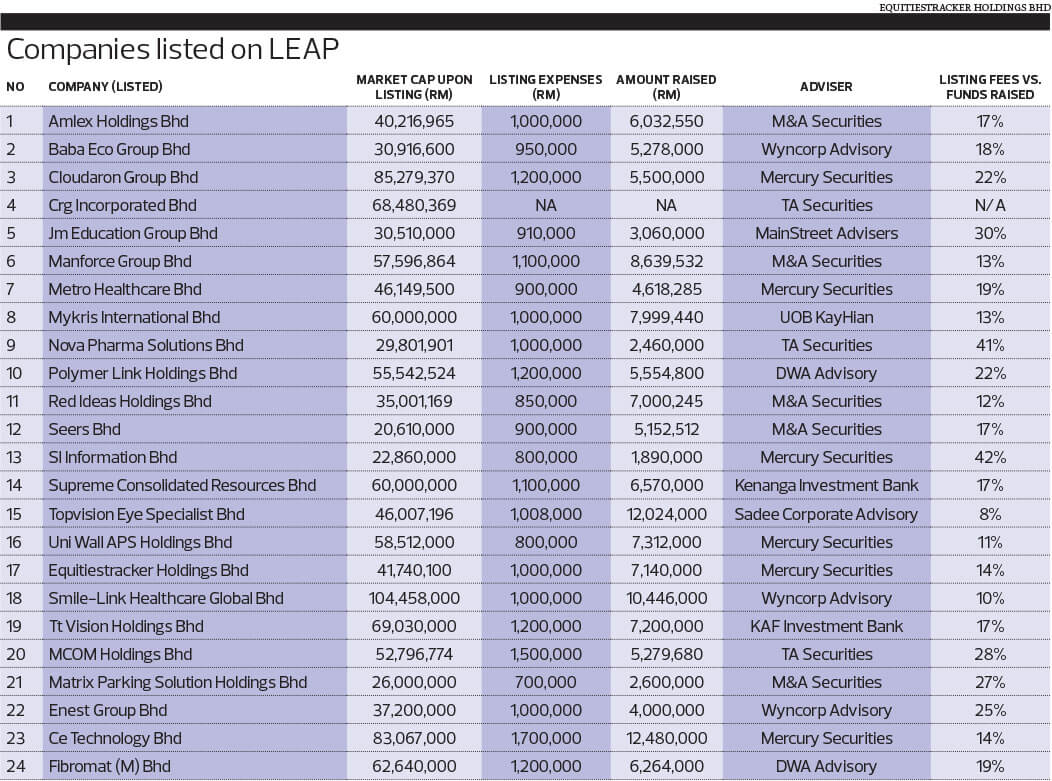 When the Leading Entrepreneur Accelerator Platform (LEAP) was launched amid much fanfare in July 2017 at Invest Malaysia in Kuala Lumpur, everyone had high hopes that the new market would simplify the listing process significantly for small and medium enterprises (SMEs). The market — the first of its kind in Southeast Asia — was supposed to provide SMEs with a more efficient fundraising platform that would give them better visibility in the capital markets.
Several months before it was launched, Bursa Malaysia held a special briefing on the new market for a select group of business owners. MCOM Holdings Bhd founder and CEO Billy Ho Kim Hun was among these.
He remembers being told that the listing process would be relatively simple and relaxed. And as the companies listed on this board would be younger and less stable in terms of profit generation, only institutional and sophisticated investors (with an annual income of at least RM300,000 or net assets of more than RM3 million) could invest in or trade their shares.
Billy was intrigued. His company was in digital marketing and mobile advertising and in need of fresh capital for business expansion. "I was told that the listing requirements and process would be less stringent than that of the ACE Market. We would only need to prepare an information memorandum of about 20 pages and could expect to list our companies in about six months," he tells Enterprise.
But this did not prove to be the case. For starters, his information memorandum ended up being more than 200 pages after the due diligence conducted by the principal adviser (the entity approved by the bourse to guide companies through the listing process). And it took 1½ years and RM1.5 million to complete the listing exercise.
This was not what he expected. The actual process was much more stringent and complicated, almost what it would take to be listed on the ACE Market. "The only difference was that we did not have to submit a prospectus to the Securities Commission Malaysia (SC)."
His story is not unique. At least two other industry players have reported similar experiences in trying to get listed on the LEAP market.
Danny Ng, founder and CEO of Fibromat Bhd, which produces and distributes erosion control products, was similarly mystified. "I was told that the listing process would be less complicated [than that of the ACE Market]. But it was totally different from what I had expected. The principal advisers were very thorough in their due diligence and I needed to submit many documents. I would say about 80% to 90% of what is required for the ACE Market," he says.
Another industry player, who declined to be identified, says she was told that the listing process would be a "light touch", but the reality was very different. "I do not see how they could call it a 'light touch'. The process was lengthy, cumbersome and complicated. While I understand that some parts of the process are important, it really was not what we had been given to expect."
High listing fees
One thing that most of them seemed to take issue with was the listing fee, which turned out to be too high for many of these SMEs, especially since they were raising a relatively small amount of capital through the listing exercise. According to data compiled by EquitiesTracker Holdings Bhd, which manages an equity investment research platform and offers investment training programmes, the listing expenses ranged from RM700,000 to RM1.7 million.
The company's data showed that compared with the amount raised by the SMEs, the listing expenses ranged from 8% to a whopping 42% of the total funds raised (as at July 18). Those at the higher end of the spectrum included SL Information Bhd (42%), Nova Pharma Solutions Bhd (41%) and JM Education Group Bhd (30%) while those at the lower end included Topvision Eye Specialist Bhd (8%), Smile-link Healthcare Global Bhd (10%) and Uni Wall APS Holdings Bhd (11%). Of the 24 companies listed on the LEAP market, the average paid out for listing expenses was 20% of the funds raised.
Another industry player, who prefers to remain anonymous, says he was told that the listing expenses were expected to be about RM300,000. "That did not turn out to be true. To be fair, the LEAP market does provide SMEs with better visibility in the capital markets. But it has not achieved its objective of providing businesses with an alternative and efficient fundraising platform."
Ignatius Ho, co-founder and executive director of Red Ideas Holdings Bhd, which provides neighbourhood community app services, agrees that a LEAP listing may not be a cost-efficient way for some SMEs to raise funds. However, he points out, it is not so much an issue of cost but how a company is valued and how much money it can raise.
Ignatius contends that the price-earnings ratio (PER) is not a suitable metric to value a company that has just started or has yet to be profitable. "For instance, take a company generating a net profit of RM1 million a year. As an investor, what kind of PER are you looking for? 15 times? This is probably too high for investors as there are large companies on the Main Market in which you can invest at such a ratio.
"However, let's say you are willing to pay 15 times PER for a company's shares. And the company is looking to pledge 20% of its shares to the public to raise RM3 million from the listing exercise. After deducting the listing fee of about RM1 million, the company would end up with only RM2 million.
"If this was all it could raise through the LEAP market, it would be better off going to a bank. That way, it could borrow money without diluting its ownership."
The woes of sophisticated investors
Investors have their own challenges when it comes to the platform. While some companies have found it difficult to list on LEAP, some investors have had difficulty registering as sophisticated investors to be able to trade on the market.
For instance, Fibromat's Ng was only able to open an account on deadline day to park his company's shares, even though he had submitted a slew of documents to the bank to show that he had a gross annual income of more than RM300,000. Later on, he would show the bank his company's information memorandum, which stated that he owned 78.3% of its shares. But it did not help.
"The information memorandum shows that I hold these shares. On top of that, the bank had given me a trade line in millions of ringgit before. So, why did it take so long for me to register as a sophisticated investor?" says Ng.
He had a friend who faced the same problem. The friend wanted to register as a sophisticated investor to buy Fibromat shares during the pre-IPO placement process. "He is a high-net-worth individual, but he found it difficult to get registered for some reason. I had to call another friend, who worked at a securities firm, to help us out," says Ng.
Red Ideas' Ignatius says, "Imagine a company going through the book-building [pre-IPO placement] process. In our case, we had to ask our early investors to show proof of personal assets worth more RM3 million. They had to submit documents to show us that they had a certain amount of money parked in their fixed deposit account, for instance, and other documents. In reality, investors are reluctant to show you this information because of personal security reasons, among others. This requirement is a deterrent."
So, were they able to register as sophisticated investors by submitting an EA form to prove they had an annual income of RM300,000 and above? "No, not in our case," he says.
EquitiesTracker CEO Alvin Vong also faced issues with registration. He was connecting several early investors to MCOM when the latter was going through the pre-IPO placement process. They were interested to invest after conducting their own due diligence on the company. However, MCOM's principal adviser required them to, again, submit the documents showing that they qualified as sophisticated investors and were eligible to buy the company's shares.
"Imagine being registered as sophisticated investors just a few months before and having to go through that process all over again. We understand that the principal advisers may just be complying with the rules and regulations. But they are making it very cumbersome for investors," says Vong.
Meanwhile, MCOM's Billy says many remisiers are not aware of the existence of the LEAP market, not to mention helping sophisticated investors to open an account and trade shares on the platform.
Areas for improvement
So, why have things not worked out as planned? The industry players say it is difficult to identify the root cause as the problems involve various parties.
According to a statement released by Bursa, the LEAP market's listing process is "adviser-driven". This means the suitability and commercial viability assessment of the companies is done by the principal advisers.
Are the advisers being overly cautious? Assuming that they are, to what extent should they relax their standards?
"It could be hard for them to draw a clear line between a full-fledged due diligence process and a less stringent one. To be fair, when you conduct due diligence, you want to make sure everything is fine instead of doing it halfway," says one industry player.
"When there isn't a clear line, the advisers tend to go through the whole process. At the end of the day, they do not want the stock exchange to have queries. It would be better for them to provide the regulator with as many details as possible."
Meanwhile, the exchange's employees could be overly cautious in vetting companies that apply for a listing on LEAP.
"Whatever the reasons, the related parties should understand the challenges faced by SMEs and make things clearer and easier for them. The platform should enable SMEs to raise funds more efficiently so that they can grow," the person says.
Fibromat's Ng says there is a tendency for principal advisers, law firms and auditors to be overly cautious, essentially not differentiating between those seeking a listing on LEAP and those headed for the ACE or Main Market. "They are professionals bound by rules and regulations. Their licences could be at stake if something were to go wrong," he acknowledges.
However, the stock exchange has to demonstrate to the public and business community what kind of companies can be listed on the LEAP market and this should reflect what was originally said about the platform, says Ng. "Doing this would provide SMEs with a clearer picture on whether they can or should get listed on the LEAP market. It would encourage more businesses to list."
The industry players suggest that the companies going for listing on the LEAP market not be valued on their PERs. They say the business owners should be given more space to set the price and amount they intend to raise.
"I think they should be allowed to tell their stories and explain their business model to investors and raise the amount they want. Investors will invest in them if they are convinced of what they have been told," says Ignatius.
"After all, we are talking about relatively new companies with the potential to grow big but may not be profitable yet. Besides, there is no 'E' [earnings] for you to use [if you use PER as a valuation metric]."
PER is not a good metric to gauge the potential or sustainability of a business. "I think valuing a company based on PER is a rather outdated methodology. A lot of companies on the Nasdaq and New York Stock Exchange were not profitable to begin with," says Vong.
"You should look at the business model or other business-related numbers, rather than just profit. The profit comes from the company doing the correct things such as implementing the right sales and marketing strategy. The numbers come later. This is especially true when you are valuing and investing in early-stage companies. You should not just go by the financials," Ignatius adds.
"While profitability is not required by LEAP or the ACE Market for companies to raise funds from the public, only two have been listed on the exchange before making a profit — Red Ideas [listed on LEAP] and XOX Bhd [listed on the ACE Market]," says Vong.
Another interesting point he brings up is the fact that these companies are being valued on earnings when the LEAP market does not require them to be profitable to be listed. "It defeats the purpose of the platform. If the platform only allows profitable companies to be listed, it should say so in the first place," he adds.
Vong hopes the bourse will sort out the difficulties faced by investors such as the unnecessary duplication of process by having to re-register to trade different shares on the LEAP market.
He is quick to point out that retail investors are allowed to invest in risker propositions such as peer-to-peer (P2P) financing notes. "It would be great to have a more level playing field in terms of the different investment instruments and asset classes. If retail investors can invest in P2P financing platforms, which are deemed risky, they should be allowed to trade shares on the LEAP market. If they can only invest up to RM50,000 on P2P platforms, the same should be applied in the LEAP market," says Vong.
Even if retail investors were not allowed to trade shares on the LEAP market, the registration process for sophisticated investors should be made less onerous, says Ignatius. For example, the requirement to submit various documents to prove they have personal assets of RM3 million and above should be done away with.
"The submission of an EA form should be acceptable. Or, you could allow investors in the top tax bracket to trade shares on the LEAP market," he adds.