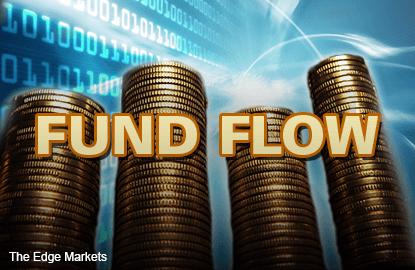 KUALA LUMPUR (Nov 9): Foreign investors were net buyers of Malaysian shares last week with RM62.8 million worth of stocks, according to MIDF Amanah Investment Bank Bhd.
In its weekly fund flow report today, MIDF said foreign investors bought and sold RM2.15 billion and RM2.09 billion worth of shares respectively between last Monday and Friday.
"The buying was moderate though, as most of the international capital investing in Asia was diverted to Greater China. Foreign funds bought an aggregate RM62.8 million, net of purchases, in the open market (ie excluding off-market deals) last week, after offloading RM600 million in the preceding week.
"The market did not open on an auspicious note last week. Overseas investors dumped shares on Bursa on Monday, extending the selling phase to five trading days. However, the selling momentum ended on Tuesday as foreign funds bought back local stocks in the next four trading days. The amount was moderate except on Wednesday when it exceeded RM100 million at RM106.8 million," MIDF said.
Despite foreigners' net buys last week, MIDF said their participation in local equities dropped further and remained below the RM1 billion mark for the second consecutive week.
Average daily gross volume declined to RM847 million from RM916 million in the preceding week.
"For 2015, last week's purchases reduced the cumulative net foreign outflow to RM17.4 billion, compared with the RM6.9 billion outflow for the entire 2014. We wrote last week that the market is entering a period of low activity.
"This is based on the observed tendency of many international funds to lighten their exposure going into the year-end festive break. This year, in particular, the situation is worsened by the fact that the last Federal Reserve meeting will be held on Dec 16 and risk aversion is likely to rise in the days approaching the dateline," MIDF said.