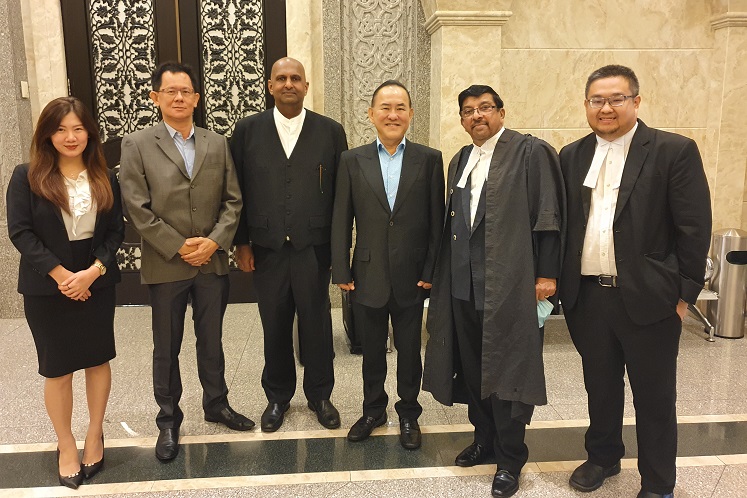 (This article has been updated.)
PUTRAJAYA (June 10): Former Silver Bird Group Bhd managing director Datuk Jackson Tan Han Kook and its former chief executive officer Derec Ching Siew Cheong were today acquitted of all 134 charges of cheating and purportedly using forged documents to cheat Malayan Banking Bhd (Maybank) of close to RM67.4 million.
A three-member Court of Appeal bench led by Justice Datuk Kamardin Hashim today dismissed the prosecution's appeal and upheld the decision by the Sessions Court and High Court to acquit them.
"After observing the appeal record, both oral and written, we find no merit in [the prosecution's] appeal.
"There is no appealable error. The appeal is dismissed. The decision of the lower courts are upheld and both accused remain acquitted," the judge said.
This is the final appeal by the prosecution as the case originated from the Sessions Court and parties are only allowed a two-tier appeal process.
Sitting with Justice Kamardin were Justice Datuk Zabidin Md Diah and Justice Datuk Vazeer Alam Mydin Meera.
When met, Tan, 66, said the charges had caused him and his family a lot of stress, but he is thankful for the support he had received from his family and friends.
"The truth has set me free," he added.
He was represented by counsel Datuk K Kumaraendran and Teh See Khoon.
Counsels Datuk N Sivananthan and Jasmine Cheong appeared for Ching while deputy public prosecutors Faiza Mohd Salleh and Tetralina Ahmad Fauzi appeared for the prosecution.
Tan and Ching were jointly charged in 2012 and claimed trial to charges of cheating Maybank by using false documents in applying for banker's acceptance facilities for three companies — Asian Food Link Sdn Bhd, Violet Bonanza Sdn Bhd and Stanson Marketing Sdn Bhd.
They were charged under Section 420 of the Penal Code for cheating and alternatively under Section 471 of the same Code for purportedly using forged documents.
The documents referred to in the charges were invoices totalling RM67.44 million that were purportedly delivery orders made out to Stanson Marketing and Koperasi Permodalan Felda Quality.
They stood trial before Sessions Court Judge Mohd Nasir Nordin, during which the defence were called, but they were later acquitted as the defence had raised reasonable doubt in 2016.
The High Court dismissed the prosecution's appeal and the decision was upheld today.
Silver Bird was known for its "High 5" brand bread loaf and "Silverbird" brand cake.
The company shocked the local corporate scene in 2012 when it announced that it had a RM112 million hole in its finances, which later turned out to be RM297 million. And that threw the company into deep financial troubles. 
The board of directors, led by chairman Datuk Gan Khuan Poh, at that time suspended Silver Bird's Tan, Ching, and general manager of accounts and finance Lai Poh Mei.
Subsequently, it filed a RM125 million civil suit against Tan, Ching and Lai in August 2012, as well as Asia Food Link Sdn Bhd, Triremis (M) Sdn Bhd, Triremis Asia Sdn Bhd, and Bill Davis & Associates Sdn Bhd for fraud and conspiring to defraud the company. 
Also named in the suit were its external and internal auditors Crowe Horwath, Audex Governance Sdn Bhd and Focus Internal Audit Solutions.
With cash running low, the group downsized before it fell into Practice Note 17 status. The group was delisted in 2014, with accumulated losses of RM462.29 million. It ceased operations in June 2016.
The company's substantial shareholders included Berjaya Corp Bhd (16.7%), Lembaga Tabung Haji (5.84%) and Koperasi Permodalan Felda Malaysia Bhd (12.7%).