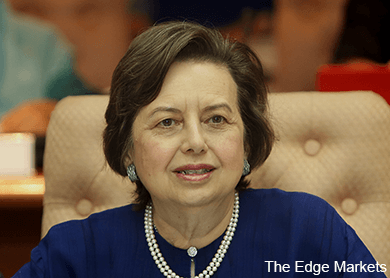 KUALA LUMPUR (May 15): Bank Negara Malaysia Governor Tan Sri Dr Zeti Akhtar Aziz said funds placed in the Malaysian financial system were secure. This was despite the presence of highly-leveraged entities like 1Malaysia Development Bhd (1MDB) in the financial system.
Zeti said the country's banking system was solid in terms of capitalisation. She said there was no systemic risk to the banking system due to the activities of highly-leveraged entities.
"These highly-leveraged entities may have debts outside the banking sector, but where the banking sector is concerned, it is incumbent upon us (Bank Negara) to let our depositors know that their funds placed in our financial systems are secure," she said at a press conference in conjunction with the release of Malaysia's first quarter economic data.
Zeti said companies with borrowings exceeding RM2 billion would be on the central bank's watch list.
She said this was based on the assumption that these companies might default on their borrowings.
"As I have said before, Malaysia has one of the most transparent reports that describe the assumptions used in stress tests conducted on banks, and based on these stress tests which are done regularly and discussed during financial stability committee meetings, our banks are solid in terms of their capitalisation and soundness and can absorb any eventuality that occurs," said Zeti.
On calls by Transparency International Malaysia for Bank Negara to investigate 1MDB's transactions, Zeti said Bank Negara could not comment on any individual institution.
In practice, she said Bank Negara would investigate irregular practices involving money transfers. But the central bank would not discuss the findings of its investigation until the probe was finalised.
"In principle, if there are any irregular practices by any entity, which have sought Bank Negara's approval for fund transfers and for entering into external debt and so forth, an investigation will be carried out.
"The central bank does not discuss its investigations till it has concluded (the investigation)," she said.