This article first appeared in The Edge Malaysia Weekly, on November 23, 2020 - November 29, 2020.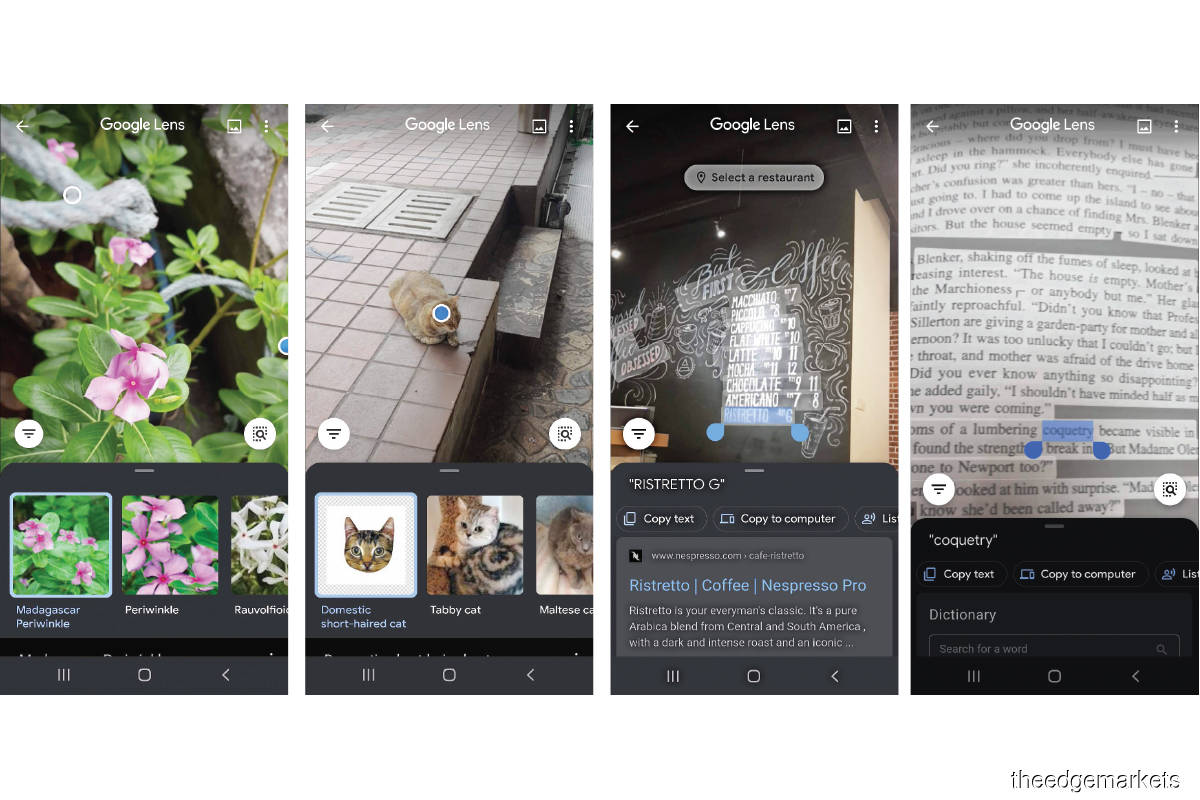 Can you navigate your day with an artificial intelligence- and computer vision-equipped app? I wonder. Lately, I have been attempting to do this with the updated Google Lens app, which draws on the tech giant's strength in visual search and big data processing. Here are some takeaways on the strengths and weaknesses of Google Lens from a Malaysian user's perspective. You can download the app for free on Google Play Store and the App Store.
IDENTIFY BUILDINGS IN REAL TIME
This is by far the most impressive feature of Google Lens. Just point the app camera towards different buildings, and it will automatically identify the name of the buildings around you. This can be useful when you are travelling or when you are in an unfamiliar place.
Imagine the features that could be added: Alongside the name of the buildings, it should also offer Google reviews and ratings tied to the location, as well as parking fees and empty parking lots available at that time.
What if Google Lens could also tell you the historical significance of the location or the latest local news in this area? That would be useful for tourists and also boost traffic for local newspapers.
SATISFY YOUR CURIOSITY
Use the search function for anything you want to know. Take a picture of the flower outside your house, the cat outside the restaurant, the fancy-sounding coffee on the menu or that big word in the book you are reading.
TURN HANDWRITING INTO PRINT
This function can be convenient for students or those who like to take handwritten notes. Just take a photo of the text, and Google Lens can copy the text and allow you to paste it in your computer that is using the same Google Chrome login.
If I could, I would enable Google Lens to automatically copy and paste drawings from paper to computer.
LIVE TRANSLATIONS
I rank this as my second-favourite feature of Google Lens. Choose the language you want to translate to and point the camera towards the words. The app will automatically translate the words for you on the spot, as seen below with "Bangunan KSK".
Again, this will come in very handy when travelling. None of the foreign shop and road names will be a problem for you again.
SHOP INSTANTLY WITH GOOGLE LENS
Google Lens has a shopping tab that shows you where you can buy certain items by pointing the camera at the product. I was initially most excited by this feature. When you see a character in a movie wearing a dress you like, you can point Google Lens at it and purchase the dress on the spot. Or you can point the app at a person in the mall wearing a shirt you like.
Unfortunately, the app did not live up to its promise. As seen in the photo on the left, I took a photo of Marty from the classic movie Back to the Future wearing his amazing retro jacket. What did Google Lens tell me? It showed me where I could buy the computer monitor. Then I pointed it at a T-shirt that my friend was wearing — and I happen to know which online store he bought it from — but Google Lens gave me irrelevant suggestions.
I tried this function on a couple of other products and got unsatisfactory results. If Google improved its image recognition technology and search engine accuracy on this end, the advertising potential would be endless, as content producers and brands could collaborate to sell products in creative ways.
All in all, Google Lens holds a lot of promise. It just needs to improve its search accuracy, at least in the Malaysian context. Otherwise, the convenience it offers is unprecedented.
The possibilities could be stretched further if it were to be integrated with smart glasses. You would then be able to identify buildings, words and objects in real time just by glancing at them. You could read a book in a foreign language if Google Translate performs its function well. 
Maybe it is just the business writer in me, but I am already excited about all the business models and ideas that could emerge from having a tool like this, whether it is for e-commerce, news websites or travelling. Of course, unfortunately, it might come at the cost of the tech giant's controlling yet another part of our lives.