This article first appeared in City & Country, The Edge Malaysia Weekly, on August 1, 2022 - August 07, 2022.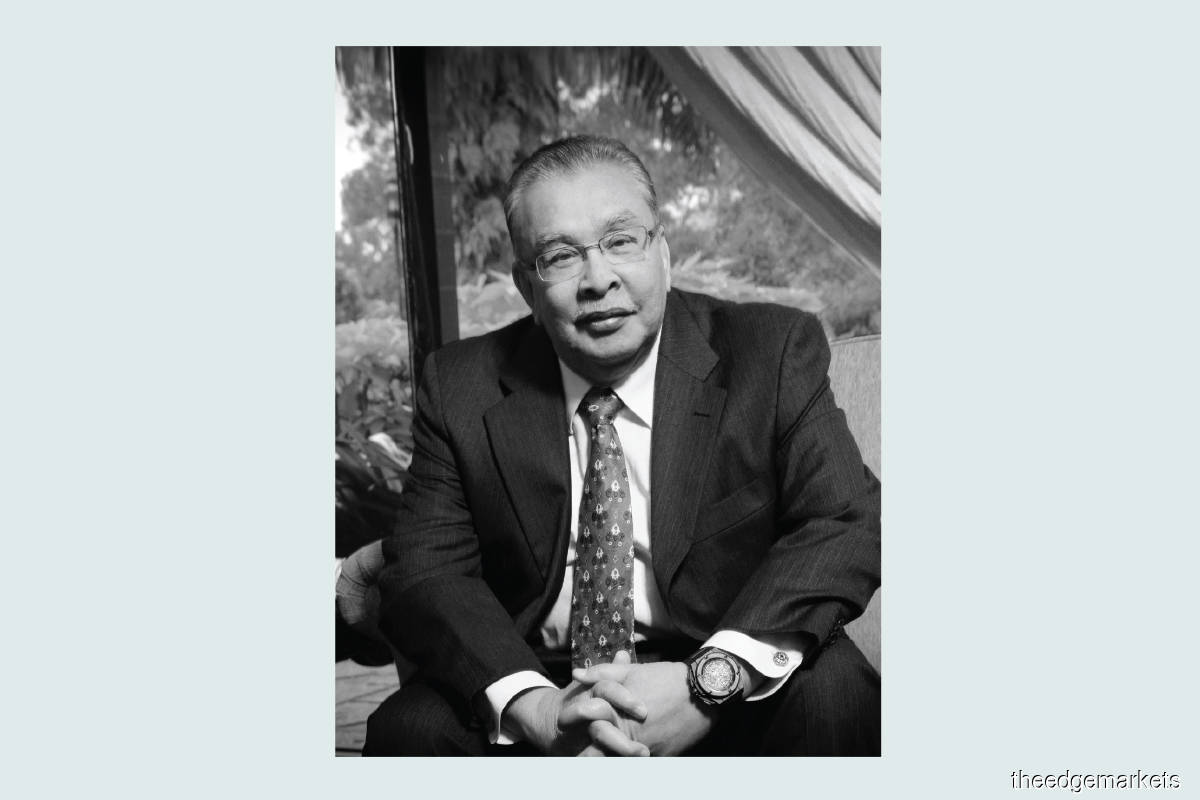 For many, EMKAY Group founder Tan Sri Mustapha Kamal Abu Bakar would have come across as an imposing and possibly intimidating figure. Indeed, it would have been hard to miss the man when he was in a room.
Those who knew the late Mustapha Kamal — or MK as he was affectionately known to his friends and business associates — would describe him as a unique, gentle and caring giant who had touched many lives.
Regarded as an icon of early affordable housing in Malaysia, MK embodied the fact that there is no shortcut to success in life. Working hard was his hallmark.
Employees, past and present, would attest to his coming down hard on those who failed to meet his expectations. Then again, MK typically pushed himself the hardest of all.
"He [took] on so much. So much more than he should [have]," Ahmad Khalif says of his late father who passed away at the National Heart Institute on the morning of July 25. MK was 73. Through EMKAY, the family also controls Bursa Malaysia-listed MK Land Holdings, which MK co-founded.
MK was an advocate of friendship. I first met him when I was a very young rookie reporter. The exclusive and extensive interview on his first privatised development, Bandar Baru Sungai Buloh, made it to the cover of the widely-read The Malay Mail in the 1980s. Although we did not regularly keep in touch after that, he continued to surprise me with cookies baked by his wife, Puan Sri Wan Nong Wan Ibrahim.
"He did not know how to spend his money on himself, only on others," Ahmad Khalif shares when asked about his late father's lifestyle.
I will always fondly remember MK as someone who roared with laughter. He carried very broad shoulders on his 5ft 8in frame (Ahmad Khalif confirmed this) and had a very wide smile too.
When it came to work, however, MK was not one to mince his words. And he let his feelings be known — loudly. Those who worked closely with him would attest to how MK would react if someone was found to be lacking. It was an open secret (and also a joke) in the office that a new recruit would not be considered "initiated" if he or she had not experienced this first hand!
This attitude had much to do with MK's modest beginnings. Born in Kampung Changkat, Pusing, in Perak, he graduated from Universiti Malaya in 1970.
Following in his father's footsteps, MK joined the civil service, rising from the ranks to become assistant district officer for Ulu Selangor and then deputy commissioner of the state's Lands and Mines Department before quitting to join the corporate sector.
He became general manager of Shah Alam Properties Sdn Bhd, and was later made managing director of the subsidiary of Kumpulan Perangsang Selangor (at the time Selangor's sole investment holding and management company).
MK's diligence and achievements did not go unnoticed. While helming Shah Alam Properties (now SAP Holdings Bhd), he was handpicked to be special officer to the then Selangor Menteri Besar, the late Datuk Hormat Rafei.
The EMKAY group was founded in 1983. It made its debut with a six-acre mixed development in Selangor, Taman Meru Jaya. MK's defining moment came when Hormat challenged him to take on the state's first privatised township, Bandar Baru Sungai Buloh.
The 267-acre township comprising industrial, residential and commercial developments with a gross development value (GDV) of RM200 million was completed and handed over ahead of schedule. As the saying goes, the rest is history.
Undoubtedly, the civil servant-turned-business tycoon experienced hard knocks in his climb up the corporate ladder. But for MK, no challenge was too trivial or difficult. He simply lived by his mantra of having passion, grit and determination.
"I did not come from a wealthy background. My grandfather was just a vegetable seller. Even when I was studying in school, I was not among the top students. But of course, I was also not among the weakest. I was just an average student. Typically, the pathway for Malay university graduates was to join the government civil service. But then, it was when I met a humble Chinese tycoon that I realised that I wanted to be an entrepreneur," MK told The Edge in an interview in 2018.
"It doesn't matter what background you come from. If, and only if you consider me to be a successful businessman, then I want to say that anyone, including you, can also make it," he was quick to add.
The EMKAY group, collectively with its associate companies MK Land Holdings Bhd and Setia Haruman Sdn Bhd, has developed more than 60,000 units of residential, commercial and office units covering more than 10 million sq ft in total with a GDV of well over RM20 billion, mainly in Selangor and Perak.
It is also active in Cyberjaya, where it has developed and ongoing projects worth more than RM3 billion.
After more than three decades of robust corporate activities, MK in recent years spent more time on the group's corporate social responsibility work and philanthropic causes through organisations such as Yayasan EMKAY, Pulau Banding Foundation and the Bukit Merah Orang Utan Island Foundation.
He had passed on the baton of managing the group to his four children, with support from board members and a senior management team that have been with the group for a very long time.
Tan Sri, you are greatly missed. Thank you for your contribution to Malaysia. I shall miss your loud chuckles and wide smile.
Au Foong Yee is editor emeritus of The Edge