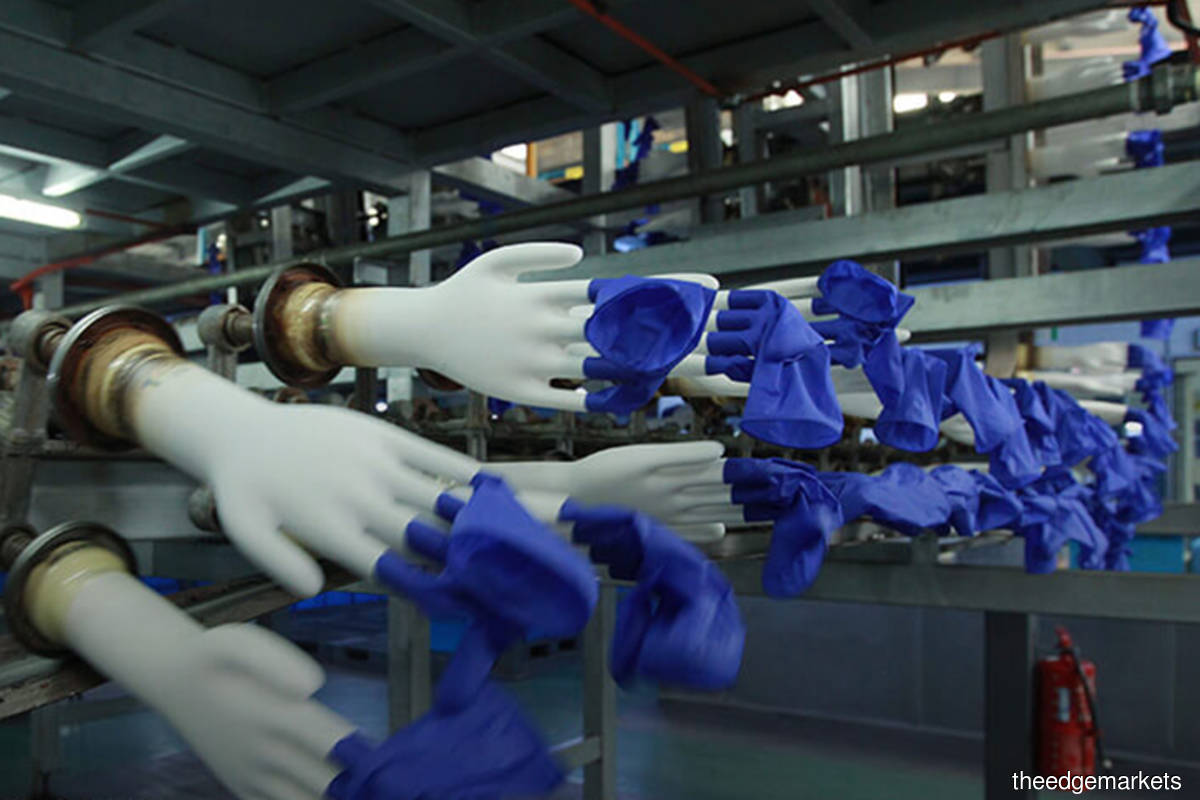 KUALA LUMPUR (Nov 10): While the world is celebrating Pfizer's overnight announcement of a viable Covid-19 vaccine candidate, rubber glove stocks may not be part of the party.
Glove counters top the loser list after the morning bell today.
As at 10.20am, shares in rubber glove counters were among the top losers on Bursa Malaysia. Hartalega Holdings Bhd slid by 8.54% or RM1.54 to RM16.60, making it the top value loser on Bursa, followed by Supermax Corp Bhd, down 75 sen or 7.79% to RM8.88.
In the third place was Kossan Rubber Industries Bhd, which released a strong set of quarterly earnings yesterday, dropping 63 sen or 8.27% to RM6.88, valuing it at RM17.59 billion.
Top Glove Corp Bhd took the fifth place, falling 54 sen or 6.37% to RM7.94.
The smaller players were not spared from the selling pressure. Comfort Gloves Bhd fell 31 sen or 6.97% to RM4.14, Careplus Group Bhd shed 27 sen or 7.8% to RM3.19, and Rubberex Corp (M) Bhd lost 16 sen or 6.45% to RM2.32. 
The Healthcare Index was dragged down by the glove stocks, declining by 1.78% or 73.47 points to 4,048.89.
Still, while there was a selldown across the rubber glove stocks, shares in companies tapped by the government to bottle and distribute a potential Covid-19 vaccine were rising.
In a note this morning, AmInvestment Bank Research reiterated its view that the market will continue to shift to predominantly pandemic-themed plays to a recovery-focused theme in December.
"We have been advocating for investors to lighten their positions in the 'pandemic play', i.e. glove stocks, and replace them with the 'recovery play'. 
"With the latest positive news coming in a rather abrupt manner, we expect volatility as investors of glove stocks rush to the exit at the same time. The two FBM KLCI-weighted glove stocks, i.e. Top Glove and Hartalega, command a combined weighting of 13% to 14%," AmInvestment Bank wrote in the strategy note.
Having downgraded the glove sector to "neutral" on Aug 25, 2020 from "overweight" on positive news of a vaccine, AmInvestment Bank was putting fair values (FVs) for glove stocks under its coverage under review with negative bias.
Still, it expects gains linked to recovery plays to be significantly offset by losses seen in pandemic plays, resulting in it maintaining its end-2020 KLCI target of 1,530 points despite the overwhelming good news.
To recap, Pfizer and its German partner BioNTech announced last night that their experimental Covid-19 vaccine was more than 90% effective with no serious safety concerns based on initial trial results, estimating that they can roll out up to 50 million doses this year for 25 million people and produce 1.3 billion doses in 2021.
Read also:
Vaccine news caps rally of new glove industry entrants