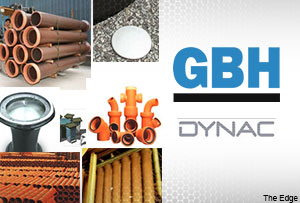 KUALA LUMPUR (Sep 30): Goh Ban Huat  Bhd (GBH)  and Dynac Sdn Bhd have mutually agreed to terminate their Memorandum of Agreement (MoA) dated July 2, 2014 for the acquisition of the latter's entire issued and paid up share capital.
To recap, GBH had entered into the MoA  with Datuk Abdul Rahman Mohamed Shariff and Normala Mohd Sharif, of which GBH would acquire the entire equity interest in Dynac for RM632 million, to be satisfied via a combination of cash and the issuance of new ordinary shares of RM 1 in GBH, at an issue price of RM2 each.
In a filing with Bursa Malaysia today, GBH said that pursuant to the termination of the MoA, Ekspresi Tepat Sdn Bhd (ETSB), a wholly owned subsidiary of GBH, intends to exercise its put option right under the terms of the shares sale agreement (SSA) dated July 2 this year.
"Such put option is exercisable by ETSB at any time within a period of 60 days if the definitive agreement has not been executed by the parties in accordance with the terms of the MoA and within the period of execution prescribed in the MoA," said GBH.
The SSA was entered into by GBH with Dynac,Zahar Mohd Hashim Zainuddin, Shafinaz Shaukat and Datuk Dr. Freezailah Che Yeom to acquire a 35% equity interest in Globalmariner Offshore Services Sdn Bhd for a cash consideration of RM38million.
Accordingly, GBH has today resolved to withdraw ordinary resolution 2 in respect of the proposed provision of financial assistance as set out in the notice of extraordinary general meeting (EGM) dated 15 September from being tabled at its EGM today.