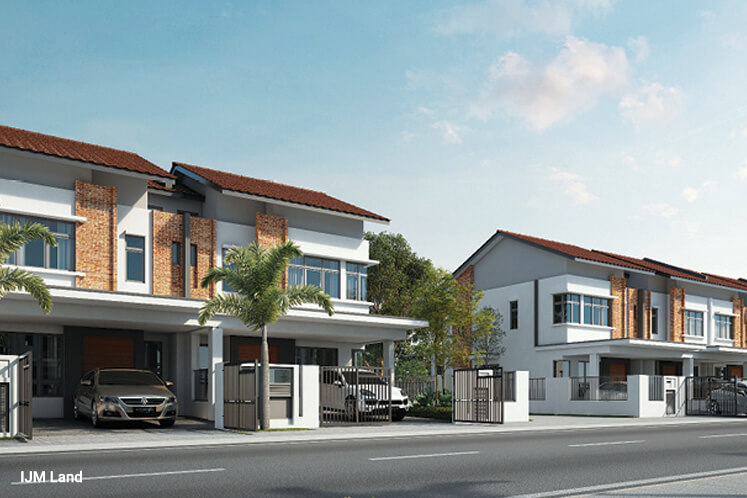 PETALING JAYA (June 5): Do not expect the property market to experience the kind of boom that it went through in the last cycle — this was IJM Land Bhd managing director Edward Chong's view of the Malaysian property market.
"After a period of abstaining from buying, people are now showing some interest. However, we are not going to take that as a sign of a recovery and expect the market to be as rosy as about four years ago.
"As a developer, frankly speaking, consistent growth is better than rapid growth. We need to pace out to ensure good digestion rate. It's good that we see a gradual recovery ahead," said Chong.
As the Malaysian household debt is still considered high, Chong foresees the current strict lending environment to remain. For a developer, "as long as you do enough market research and are able to craft your product according to market needs, people will buy", he told TheEdgeProperty.com.
The developer is looking to launch Livia double-storey link homes at its 1,879-acre Bandar Rimbayu township, Telok Panglima Garang, Selangor in the middle of this month. The project with a gross development value (GDV) of about RM218 million will be launched over three phases offering 346 units in total. Phase 1 will comprise 118 units with built-ups of between 1,658 sq ft and 1,854 sq ft, with land size of 20 ft x 60 ft. Prices start from RM621,800.
The project has been well received since its preview at end-April. "We have received 90% bookings and are looking to open up the second phase with 130 homes for sale. We are targeting first-time homebuyers and upgraders.
"To cater to the current market demand, we have made the houses more affordable by reducing their sizes," he said.
Two weeks ago, Bandar Rimbayu emerged as the World Gold Winner in the Master Plan category at the Fiabci World Prix d'Excellence Awards 2017.
Seremban 2
At S2 Heights in Seremban 2, Negeri Sembilan, the developer will be launching Rimbun Harmoni link homes and Safira Apartment in 2H2017.
"We started in Seremban 2 with Rimbun Vista, followed by Rimbun Irama, which has been fully taken up. So, now we're looking to launch Rimbun Harmoni by June or July.
"Rimbun Harmoni will have 228 units of 4-bedroom and 3-bedroom double-storey link homes with built-ups of between 1,936 sq ft and 1,984 sq ft. The first phase will have 90 units with prices from RM520,000," Chong said, adding that the GDV of Rimbun Harmoni is about RM139 million.
Meanwhile, affordable apartment project Safira Apartment will be launched in December with 242 homes in a 16-storey block. The 850 sq ft units will start from RM250,000.
"Seremban 2 is a very mature township. So now you can see apartments coming into the market. Our townships are very vibrant; we have been consistently selling the homes in our townships.
"Seremban 2 has contributed about RM350 million worth of sales in our previous financial year. We just have to make sure that the products fit market demand and the market cycle," he said.
At an earlier launch in February, Rimbun Vista 2, comprising 187 double-storey superlink homes, has been 65% sold. The project has a GDV of RM130 million. Unit built-ups are between 2,629 sq ft and 2,721 sq ft with prices from RM620,000.
Austin Duta, Johor
Over in the southern region, IJM Land will be launching phase 4 of Austin Duta in 3Q2017. It will have 182 freehold double-storey link homes with built-ups of 1,600 sq ft to 1,650 sq ft. Indicative selling prices start from RM549,000.
"Although the Johor market is perceived to be gloomy, the reality is if you're doing landed homes, you're still okay, given that you price them appropriately. We have launched phase 5A in April and all non-bumi lots have been taken up, so we are looking to launch phase 4. Despite talk that the market is bad [in Johor], our products are still moving. We target the local market — that's our focus," said Chong.
International portfolio
IJM Land is not particularly aggressive about its overseas projects currently, given Malaysia's weak ringgit. "Our Royal Mint Gardens residential project in London is still under construction. Phase 2 won't be launching soon.
"And in China, we are waiting for the sales permit to launch Yin Hai Complex in Changchun in the later part of this year. It is a 9-storey retail and office tower," he said.
As for Vietnam, the developer is "still waiting for the market there to get better".
"Ho Chi Minh City is getting more vibrant but our project is slightly further from there, so we are monitoring the situation," he added.
This story first appeared in TheEdgeProperty.com pullout on June 2, 2017. Download TheEdgeProperty.com pullout here for free.