This article first appeared in City & Country, The Edge Malaysia Weekly, on July 5, 2021 - July 11, 2021.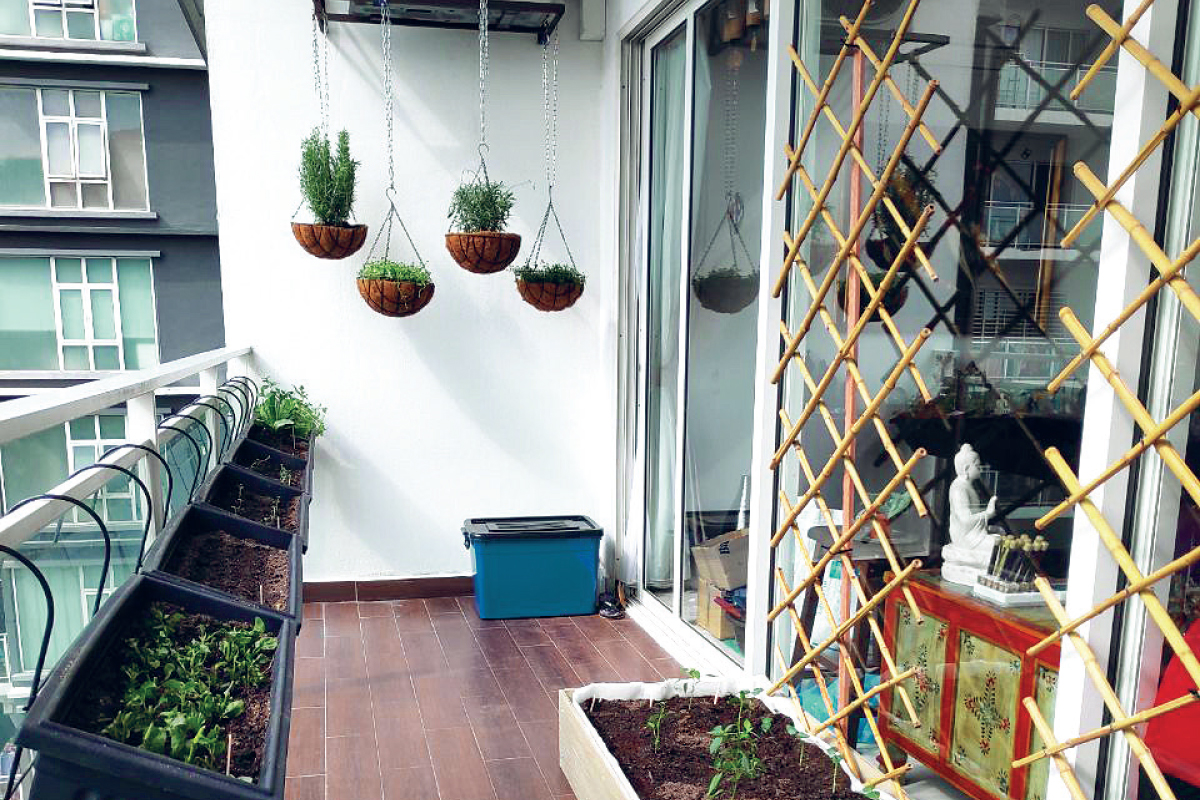 High-rise living is becoming more common in the Klang Valley owing to the scarcity of land and the relatively higher price tag of landed homes. Most high-rise units do not have spacious outdoor areas; in some cases, there is none at all as the properties do not come with a balcony.
Eats, Shoots & Roots (ESR) education director Ngeow Pui Lin notes that high-rise gardening is gaining popularity. There are more factors to consider when growing edible plants in high-rise properties and one must have time, love and interest, as with any other gardener.
"If you don't have these factors, it is better not to do an edible garden because the likelihood is that it won't succeed. For edible plants, the main problem is bugs and pests whereby the home gardener would need to get rid of them before they begin to populate and take over the plants. It means you always have to check under the leaves and the soil, and also add in fertilisers. Bugs and pests are also found in edible gardens on high floors," she tells City & Country.
Naturally, different plants come with different characteristics. For example, aloe vera and pandan are easy to maintain while chillies attract a lot of bugs. Tomatoes, meanwhile, are sensitive plants and it is harder to plant Mediterranean herbs in Malaysia owing to its climate.
Founded in 2012, social enterprise ESR's mission is to empower urban dwellers with the skills and tools to grow their own food. It is involved in edible garden design and building, education, supplies, as well as community edible garden programmes. It has built edible gardens in the residential, commercial, education and community segments. These include the YWCA edible garden, Kundang Estate Garden, Dignity Kitchen Garden and Michelin-starred chef Jeff Ramsey's rooftop garden.
Space and sunlight 
When it comes to high-rise edible gardening, sunlight and space are crucial. According to Ngeow, the rule of thumb is a minimum of four to six hours of sunlight. An outdoor space, such as a balcony, is required.
She says while edible plants can still be grown without that amount of sunlight, their growth rate will be slower and it will take a longer time to harvest. ESR's clients have successfully planted spinach, kangkung, kailan, bok choy and herbs such as coriander, mint and Thai basil before.
"We recommend planting local herbs such as laksa leaves and ulam raja that are suited to the Malaysian climate. We see more Malaysians trying these local herbs. It is about experimenting with the dishes you can make with them," she adds.
Ngoew adds that high-rise edible gardening involves trial and error to see what can grow on one's balcony. While it is not a difficult process, the gardener must be prepared to spend time taking care of the plants.
She says that home edible gardening is a good activity for families with kids, especially those living in high-rise properties, as it helps to draw the children to nature. It also allows the children to learn the process of planting, caring for the plants and observing their growth. In addition, it enables them to understand where food comes from.
Ngeow has observed a higher rate of edible garden adoption during the Covid-19 pandemic as people are spending more time at home. Some of them have started to grow edibles as they are more cautious about where their food comes from these days. She recommends that newbies start off with a few plants that they want to eat as this will motivate them.
"If you witness the process, you will appreciate the food. As for some people who claim that they do not have green fingers, it is important to know at what stage of their lifecycle the plants died, and why they died. There are two types of plants: annual plants that will live for only one growing season, which die after they have been harvested, and perennial plants that will regrow and can last for several years.
"Education and being proactive in finding out why [the plants died] and continuing to experiment are important. Our clients who succeed in their edible gardens are those who keep trying and experimenting, such as changing the soil or changing the location of the plants."
ESR encourages home gardeners to do their own composting, too. Ngeow says it is an environmentally-friendly method that helps reduce the landfills and saves money as the compost can be used to feed the soil. For beginners and high-rise owners, it is advisable to use only fruit and vegetable cuttings in their compost.
"Composting for your garden is like making food for your food. It can be done even though your space is small, and a bit of food everyday [for composting] is better than nothing. If everyone does their part, the landfills will be reduced significantly," she says.