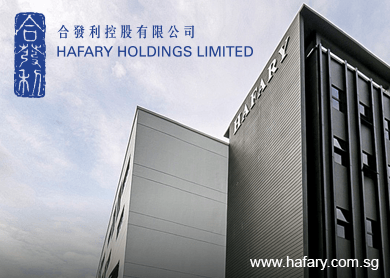 KUALA LUMPUR (Dec 30): Hap Seng Consolidated Bhd (Hap Seng), through its wholly-owned subsidiary Hap Seng Investment Holdings Pte Ltd, has made a partial cash offer to acquire 51% of Singapore-based Hafary Holdings Ltd (Hafary) at 24 cents (63 sen) per share or S$52.5 million (RM139.07 million).
The offer is for 219.58 million shares in Hafary, which has 429 million outstanding shares.
The offer also represents a premium of 9% from its last traded price of 22 cents (58 sen) today. It has a a market capitalisation of S$94.38 million (RM250 million).
In the partial offer it revealed to Bursa Malaysia today, Hap Seng said it is seeking to acquire a controlling interest in Hafary as it believes it would aid the group's plan to expand in the region. 
Hap Seng said Hafary and its subsidiaries are a leading supplier of premium tiles, stone, mosaic, wood-flooring, quartz top and sanitary ware and fittings in Singapore. 
"Leveraging on their strong sourcing and procurement network, the company (Hafary) carries a wide variety of surfacing materials from Europe (mainly Italy and Spain) and Asia and supply to their customers at competitive prices," Hap Seng said.
Hap Seng said the combination if its business with Hafary's is expected to create strong "synergistic benefits".
"Hap Seng is involved in [the] upstream segment of the building materials market while the company (Hafary) is a strong downstream candidate, being a distributor of internationally acclaimed brands and having a diversified customer portfolio and an established and extensive distribution network," it said.
"Hafary can facilitate Hap Seng's regional expansion to develop an integrated building materials business, having regard to it being a market leader in the tiles segment in the Singapore market and its potential growth catalyst through emerging market presence in Vietnam and China," it added.
Hap Seng also noted that it has no intention to introduce any major changes to Hafary's business, re-deploy its fixed assets, or discontinue the employment of Hafary's employees, save in the ordinary course of the business.
The partial offer will be despatched to holders of the relevant shares no later than 21 days from the announcement of the offer, said Hap Seng.
It will remain open for approval and acceptances by Hafary shareholders for a period of at least 28 days from the date of the posting of the offer document.
Hap Seng also noted that the company's major shareholders Low Kok Ann, Low See Ching, Dr Low Bee Lan Audrey and Ching Chiat Kwong have given an irrevocable undertaking to it to accept the offer.