This article first appeared in Digital Edge, The Edge Malaysia Weekly, on November 22, 2021 - November 28, 2021.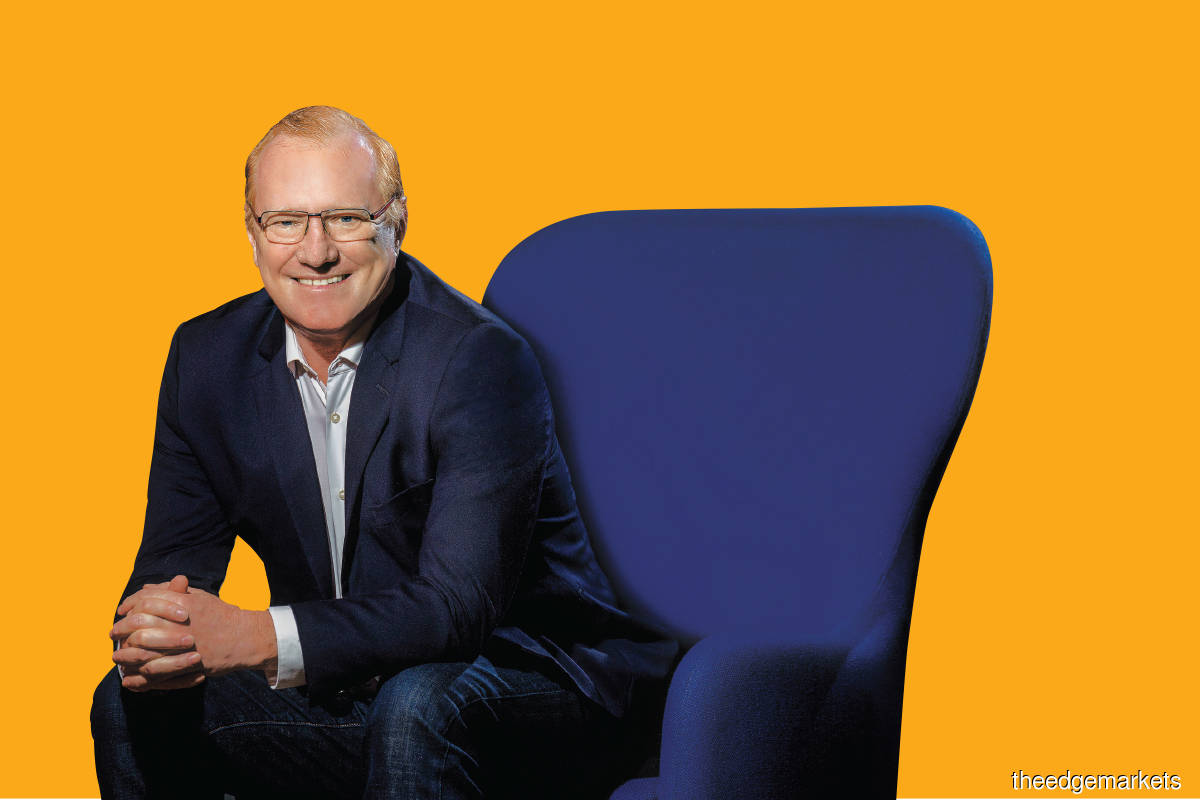 Covid-19 accelerated telemedicine, digital health solutions and data sharing for medical research — what previously took years to develop can now happen in a matter of days or weeks. As the world recovers from the effects of the pandemic, Amazon Web Services (AWS) is committed to helping companies harness the power of the cloud to address the inequities in health that have since been amplified by Covid-19. 
Peter Moore, AWS regional managing director for worldwide public sector in Asia-Pacific and Japan, tells Digital Edge that the company is committing US$40 million (RM166 million) over the next three years to help companies advance health equity and improve health outcomes. 
The company will be providing AWS computing credits and technical expertise in cloud services and technology to selected organisations that will support health equity in underserved and/or under-represented communities around the world.
"There are a lot of great ideas out there that companies may be struggling to bring to market, or maybe they're finding that their on-premise systems are not responsive enough to have the scale to reach out to these underserved communities. We want to help them focus on the underserved communities."
The programme focuses on three key areas, says Moore, the first being access to health services for underserved communities. About half of the world's population today does not have access to basic health services. Moore says AWS has witnessed how telehealth and telemedicine have granted health providers access to remote and marginalised communities. 
"Things like remote patient monitoring increase the availability and impact of health workers so that they can reach these underserved communities," he adds.
The second area of focus is the social determinants of health. Moore says this is made up of a person's socioeconomic and demographic background such as age, where a person is born, where they live, where they work and play, and their access to food.
"Research shows that improving these non-medical factors is key to reducing health inequities," he says.
The third focus is to leverage technology to address broader social, economic and environmental factors that play a role in influencing health outcomes. Moore says this is very data-driven as it will be leveraged to promote more equitable and inclusive systems of care. 
"There are gaps in health data that contribute to inequities to the national and global averages. Health statistics reports don't include information about diverse groups, as they might talk about the age of people with Covid-19 or the age of hospitalisation from Covid-19, but they don't talk about the groups that we're talking about," says Moore.
"Eligible projects that address these gaps with data can include creating or consolidating data sets to increase the representation of these groups in health systems, linking the social determinants of health data to create more robust and informative data sets, or to claim existing data sets to improve its accuracy."
Moore says the research, access to information and data also support policies and programmes in a country, prompting public-private partnerships with governments around the world to ensure that they have the right data at their fingertips to make better decisions.
Governments have seen first-hand how systems that leverage the cloud can be far more responsive in scale, he adds, opening their eyes to the potential it brings. In turn, the cloud can provide better security for the health data. 
Small companies play a role too, says Moore, as they have ideas to address some of the challenges governments might face. There is a significant importance placed on start-ups in this ecosystem as well.
"Start-ups are really disrupting the space because it's typically not the government that creates a telemedicine system, but a start-up. So, through the pandemic, we have a real need for start-ups to be supported by us in general," he adds.
Governments have the responsibility to manage the health and safety of their citizens too, says Moore. Hence, it is important for governments to allow doctors to provide their services through evolving tech capabilities, instead of patients having to go to a clinic or hospital if they have a non-life threatening illness.
"This will break down the data to show who has easy access to health and who doesn't. The government needs to license doctors to be able to provide services via telemedicine."
Reskilling and data are important elements through the pandemic
Evidently, the world was not prepared for Covid-19, says Moore, and there was a tremendous strain on the workforce as well as a skills gap when it came to modern digital knowledge. A lot of people were looking at having to find another job if they were unable to do the work required of them.
In order for governments to ensure that the economy recovers quickly, Moore believes that reskilling is a critical part of that journey. Almost every Asia-Pacific government has a reskilling initiative as part of its transition to the digital economy.
"That's been a huge priority for us. We've been working in the school environments to make sure that the curriculum represents the type of skills that students need when they enter the workforce. We've also been working to create job opportunities for people to get that training," he says.
"We also realise that there's a lot of reskilling needed as a lot of jobs are disappearing and people need to have gainful employment. We have education and reskilling programmes where we work with the government to provide systems and financial support for reskilling people to enter the workforce."
When a nation's priorities are aligned with digitalisation initiatives, positive outcomes are often guaranteed. Moore says like governments, AWS is very mission-driven. He says AWS will continue to be aligned with Malaysia's priorities as well as support any digital initiative, in line with MyDigital, the country's digital economy blueprint.
"While government leaders may change, the working level doesn't. We were encouraged by the people at that working level because they're pushing things forward. Digitalisation is not something that is just a preference of a particular faction of the government. This is something that's good for all of Malaysia and that's why I am confident it will continue. I think we all have a better future to look forward to," he says.
Data has been at the centre of the most successful government responses to Covid-19, says Moore, as it understands where the breakouts are happening as well as being better connected to Covid-19 positive patients.
"One of the most challenging things for governments has been the ability to make that connection, just because of the scale of how many people are affected. Traditional call centres by health agencies have been a real bottleneck and trying to access any government call centre involves a long wait.
"We responded with Amazon Connect, our call centre as a service, and we've seen a large number of health authorities being able to expand their call centre capabilities. We've been able to reduce the time to get back to people with their Covid-19 test results, which used to take days or even a week down to hours."
Working with the Malaysian government
The Department of Polytechnic and Community College Education (DPCCE), a department within the Ministry of Higher Education (MoHE), manages education and training at 36 government polytechnics and 104 community colleges across Malaysia. Its aim is to develop a world-class polytechnic and community college education system, in line with the transition towards the Global Online Learning Shift as per Malaysia's Education Blueprint for Higher Education (2015-2025).
In April 2019, Peter Moore, AWS regional managing director for worldwide public sector in Asia-Pacific and Japan, said the DPCCE decided to update the learning management system (LMS) to run fully on AWS. Moving to the AWS Cloud allowed for the virtualisation of system resources for scalability alongside fully managed and secure cloud-based systems. Moore says since the adoption, the DPCCE can scale its database's compute and storage resources with no downtime.
"The students and teachers experienced high availability and speed, which allowed for uninterrupted teaching, learning and information sharing. The DPCCE Curriculum Information Document Online System (CIDOS) LMS has served 116,861 students and 7,396 lecturers across 36 polytechnics over the years," he says.
"The polytechnic management team enables its resources in delivering quality education, while the AWS Cloud provides the services to support the LMS platform."
Smart Selangor Delivery Unit's (SSDU) Citizen E-Payment is another initiative that is supported by AWS. The Selangor state government wanted close engagement with its citizens by enabling its public services to be more informative and accessible.
Moore says AWS Outpost was deployed to allow the state's entities to relocate their servers onto SSDU and to access cloud computing services in a hybrid environment. CEPat, a Citizen E-Payment system, is built on Amazon Elastic Compute Cloud and Amazon Simple Storage Service (S3).
"As at March 2021, CEPat had 200,000 users, providing access to eight government services, online banking channels and 40 e-wallets. The platform allows users to make a payment on all government services under one platform — including assessment bills, parking summonses and even applications for a trader's licence — as it's linked to the local councils' databases," he says.