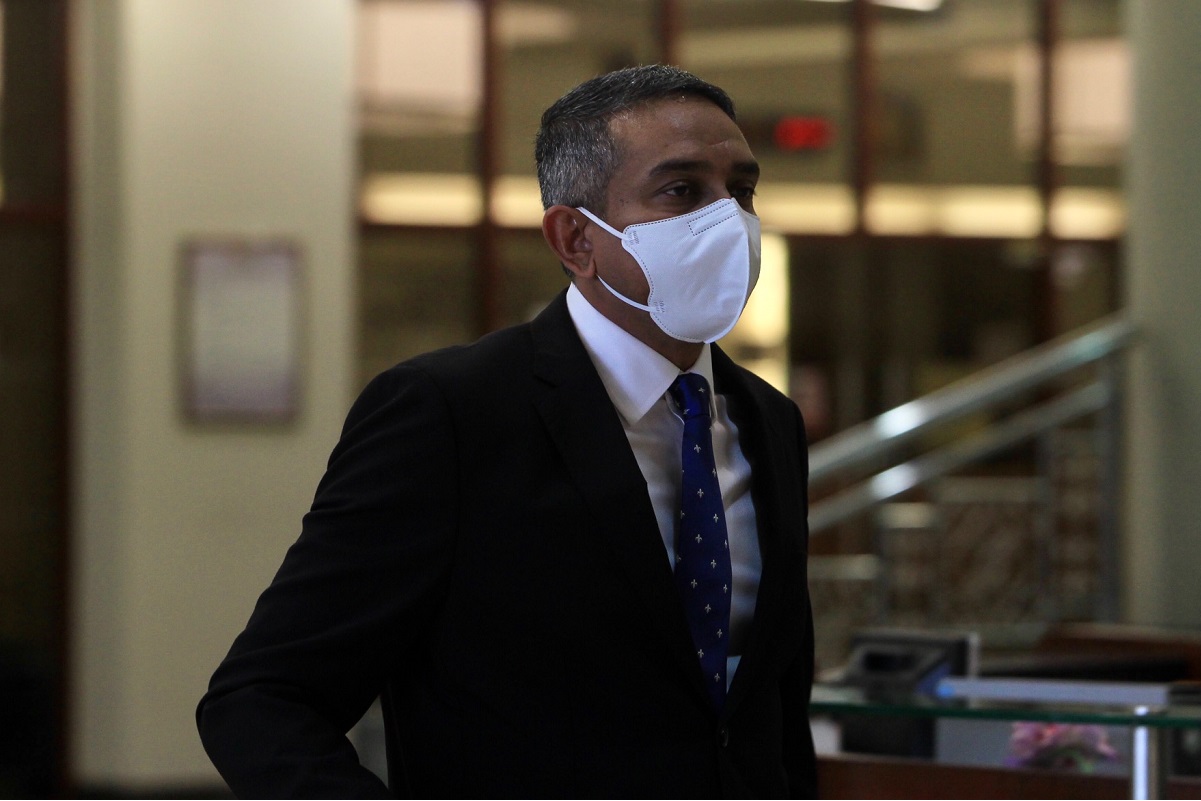 KUALA LUMPUR (Aug 3): Umno legal adviser Datuk Mohd Hafarizam Harun (pictured) has pleaded not guilty and is claiming trial to three fresh charges of money laundering for allegedly receiving RM15 million in illicit funds from former prime minister Datuk Seri Najib Razak in 2014 and 2015.
The funds were purportedly deposited via three cheques in Mohd Hafarizam's law firm client accounts at that time.
The three fresh charges were filed today by the prosecution in the Sessions Court. The prosecution had earlier requested for the High Court to conditionally discharge Mohd Hafarizam of two money laundering charges.
Mohd Hafarizam was granted a discharge not amounting to an acquittal by the High Court as the prosecution told the court of their intention to file new charges against him at the lower court.
Deputy public prosecutor Datuk Ishak Mohd Yusoff told the High Court that the prosecution intends to split the two transactions in the current first charge against Mohd Hafarizam for money laundering into two new charges.
On Feb 21 last year, Mohd Hafarizam pleaded not guilty to two counts of money laundering, involving RM15 million, which he allegedly received from Najib and deposited into the client account of his legal firm.
There are now three charges put forth against Mohd Hafarizam. The first involves RM7.5 million and is made under Section 4(1)(a) of the Anti-Money Laundering, Anti-Terrorism Financing and Proceeds of Unlawful Activities Act 2001 (AMLATFAPUA).
Meanwhile, the second and third charges, involving deposits of RM4 million and RM3.5 million respectively, are made under the amended Section 4(1)(b) of the AMLATFAPUA.
The difference in punishment for the two sections is that Section 4(1)(a) provides for a fine of not more than RM5 million or imprisonment of not more than five years or both, while Section 4(1)(b) provides for imprisonment of not more than five years and a fine of not less than five times the amount of the proceeds from unlawful activities or RM5 million, whichever is higher.
The reason for separate sections being applied to the charges is because the first tranche of deposits was made in April 2014 when Section 4(1)(a) applied, whereas the second and third tranches were deposited between November 2014 and Febuary 2015 after the Act was updated to include Section 4(1)(b), Mohd Hafarizam's lawyer Datuk Hasnal Rezua Merican explained.
At the Sessions Court today, Mohd Hafarizam's lawyer requested a lower bail of RM200,000 from the previously set amount of RM500,000, which was granted.
"We managed to get a lower bail of RM200,000, because the court accepted our plea that times are difficult because of Covid-19. Everybody is affected so there is no point in keeping such a high bail amount when that money can be used as operation costs for the legal firm. After all, Datuk Hafarizam has been attending court regularly since he was charged a year and a half ago. So all that has been taken into account.
"We are quite happy that the bail amount has been reduced. As for the present charge now we will study the charge and see whether we need to bring an interlocutory application, challenge any aspect of it or otherwise apply the matter to the High Court," Hasnal told reporters after the hearing.
The next hearing on the matter has been set for Sept 9.