This article first appeared in The Edge Malaysia Weekly, on September 30, 2019 - October 06, 2019.
NEWS: Kerjaya Prospek continues winning streak
While the construction industry is facing various challenges such as volatile raw material prices, higher labour costs and intense competition that eats into companies' margins, Kerjaya Prospek Group Bhd has been able to maintain its strong pipeline of contracts over the past three years.
For its financial year ended Dec 31, 2018 (FY2018), the group posted a record profit after tax (PAT) of RM138.2 million — up 10% year on year from RM124.84 million the year before — on revenue that breached the RM1 billion mark at RM1.07 billion.
In its annual report, Kerjaya Prospek attributes its sterling performance mainly to its construction division, which contributed more than 90% to total revenue. The group secured several contracts from notable developers, including BBCC Development Sdn Bhd, Tanjung Pinang Development Sdn Bhd and PPB Group Bhd.
In FY2016, Kerjaya Prospek saw a significant jump in its bottom line — its PAT surged to RM99.62 million from RM16.13 million in the preceding year — while revenue for the period spiked 911% to RM798.69 million.
Its wholly-owned subsidiaries, Kerjaya Prospek (M) Sdn Bhd and Permatang Bakti Sdn Bhd, which had a combined outstanding order book of RM2.6 billion as at January 2016, helped boost the listed entity's earnings.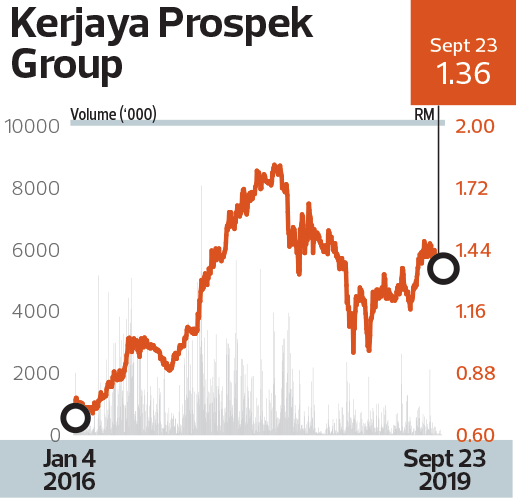 The impressive profit growth allowed Kerjaya Prospek to declare regular dividends of three sen to six sen per share between FY2015 and FY2018.
Investors seem to have taken notice of the group's consistent performance as its share price jumped 60% over a three-year period — from 77 sen to its closing price of RM1.23 on March 31 this year.
The counter's appreciation, coupled with the group's dividend payouts, translated into total returns of 19%.
The handsome returns that Kerjaya Prospek generated for its shareholders led to the construction group winning two
The Edge BRC awards, for the highest growth in PAT over three years and highest returns to shareholders over three years.
Since the cut-off date for the awards, the counter has continued to climb. For the year up to Sept 23, it rose 18.26% to RM1.36 versus the FBM KLCI's 2.4% decline during the same period.
For 1HFY2019, the group posted a PAT of RM70.9 million, a 5% increase from RM67.51 million in the previous corresponding period, while its cumulative revenue saw a slight contraction to RM523.54 million from RM533.54 million amid the completion of certain projects.
Despite the slight dip in revenue, Kerjaya Prospek was pleased with its showing for the period, backed by its hefty RM3.4 billion order book.
In the six-month period, the group secured RM1.2 billion in building contracts, exceeding the RM989.8 million it secured the previous year.
"We have already secured RM1.2 billion [in our] order book, so the prospects for this year should be all right. We are quite positive that we will see more growth [going forward]," Kerjaya Prospek executive chairman Datuk Tee Eng Ho said in a recent interview with The Edge.
He also shared that the group is eyeing a slice of the East Coast Rail Link project, which has been revived by the government.
In a recent note, Kenanga Investment Research says the group's strong order book provides good visibility for its income prospects over the next three years.
"We believe Kerjaya Prospek stands a good chance of winning more contracts in Penang, mainly from E&O's Seri Tanjung Pinang 2 project," says Kenanga analyst Adrian Ng.