This article first appeared in The Edge Malaysia Weekly, on September 30, 2019 - October 06, 2019.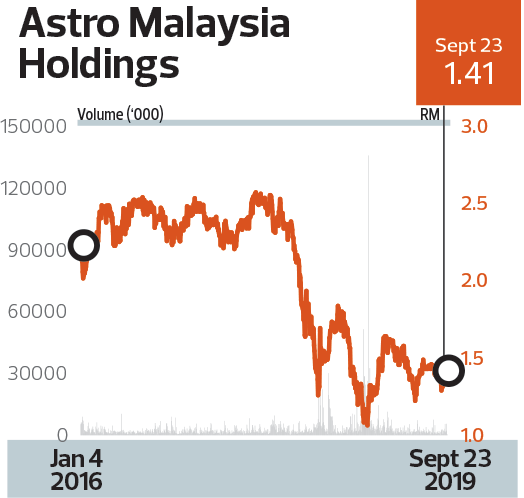 Astro Malaysia Holdings Bhd recorded it highest ever profit after tax (PAT) in its financial year ended Jan 31, 2018 (FY2018), in an environment of declining advertising expenditure.
The group attributed its sterling performance to its increasingly diversified revenue base and relentless cost optimisation through digitalisation initiatives and optimisation of content spend as well as a favourable climate for foreign exchange.
The country's largest pay-TV operator achieved PAT of RM770.64 million in FY2018, up from RM623.68 million in FY2017, RM615.3 million in FY2016 and RM519.4 million in FY2015.
This translated into a three-year compound annual growth rate (CAGR) of 14.1%, which bagged Astro The Edge BRC award for the highest growth in PAT over three years in the telecommunications and media sector. However, revenue in FY2018 was flat at RM5.53 billion compared with RM5.61 billion in FY2017.
Meanwhile, despite management's efforts to address digital disruption, investors remained concerned about the company's prospects, thus putting pressure on its share price last year.
The stock plummeted 50.9% to close at RM1.30 on the last trading day of 2018 and was hovering near RM1.50 at the time of writing. The saving grace, however, was Astro's consistent dividend payments for every quarter for at least the last five years.
Its dividend yield helped cushion the pain from the fall in profit in FY2019. According to the group's 2019 annual report, PAT fell 39.9% year on year to RM462.92 million in FY2019 while revenue dipped to RM5.48 billion.
CEO Henry Tan Poh Hock told shareholders that FY2019 was a major sporting year, featuring the 2018 FIFA World Cup, which resulted in higher content costs while the group faced foreign exchange headwinds.
"Our strength remains our reach of 5.7 million Malaysian homes serving 23 million individuals, 16.2 million weekly listeners on radio, 8.3 million average monthly unique visitors to our digital brands and over 1.8 million registered customers on Go Shop, our commerce platform," he said.
Tan said Astro's focus in FY2020 is to strengthen its core pay-TV and NJOI businesses with the key priorities being customers, content and customer experience.
In line with Astro's dividend policy of 75% payout of consolidated profits, it rewarded shareholders with a nine sen dividend per share in FY2019, which translated into 101% of profits and a yield of 5.4%.
Tan said Astro will adopt a two-pronged approach in FY2020 with its branded pay-TV serving a bouquet of premium content for customers while NJOI will be positioned as a recruitment brand for the group to expand its reach across the remaining households in Malaysia.
"We will continue to protect the premium pay-TV segment while we grow and monetise NJOI by featuring a freemium proposition with à la carte, skinny bundles, sachets and event passes with NJOI acting as a gateway for customers to full-fledged pay-TV offerings."
According to Tan, Astro's customer reach, alongside key enablers of data and talent, facilitates revenue diversification efforts by allowing the group to expand beyond content to broadband, commerce and adex.
Tan said digital media offers companies access to rich pools of monetisable data and analytics for better decision-making in both the business and marketing spheres. "Our digitalisation efforts over the past few years have given us a better understanding of our online audience, enabling our push into the digidex space."
At the same time, there is no denying that TV is still the most powerful medium to persuade, he said. "We are exploring how to infuse the 'intelligence' of digital analytics into TV's unparalleled 'emotional' persuasive power. Combining these two powerful levers would enable us to create a truly impactful multi-platform advertising experience that moves beyond airtime sales and provides comprehensive solution-oriented offerings to clients," he said.
Tan said Astro's market share across the TV, radio, digital and OTT spaces has put it in a position to become the most efficient and effective marketing platform in the country, enabling its adex partners to tap niche markets and gain positive conversions.
"Leveraging our upcoming technology upgrade, we are looking to introduce a new addressable advertising solution in the second half of FY2020, which will allow different advertisements to be simultaneously served to segmentally distinct individuals watching the same type of content," he added.