This article first appeared in The Edge Malaysia Weekly, on September 30, 2019 - October 06, 2019.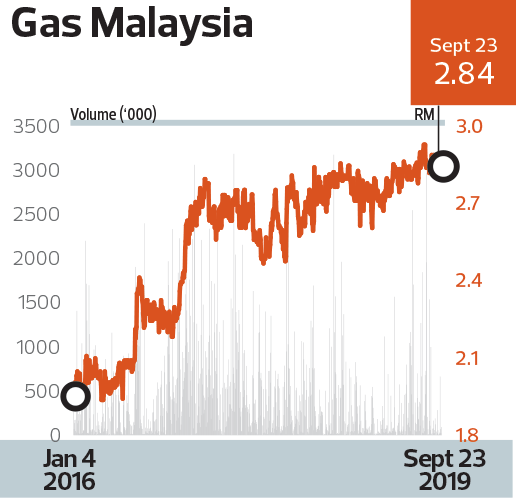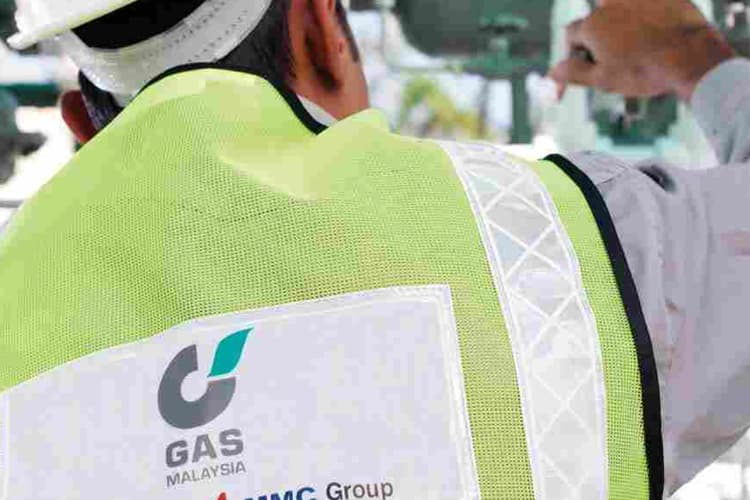 Despite patchy global economic prospects in the past three years, for Gas Malaysia Bhd, there has been only one direction for its earnings and shareholder returns: up.
In the three-year period between the financial year ended Dec 31, 2016 (FY2016), and FY2018, Gas Malaysia saw nearly 70% growth in its profit after tax, from RM106.2 million at the start to RM180.4 million at the close. That translates into a compound annual growth rate (CAGR) of 19.32%, which surpasses that of its major sector peer, Petronas Gas Bhd, whose profit after tax produced a negative CAGR of 3.06% in the same period.
Gas Malaysia recorded a net 72.2% increase in annual revenue, from RM3.62 billion in FY2015 to RM6.23 billion in FY2018. The CAGR for its turnover in that time span came to 19.9%.
For shareholders, the strong profitability has brought much cheer. Annual dividend per share has grown from 8.3 sen in FY2015 to 13.5 sen in FY2018.
The dividends have mitigated somewhat the uneven share price performance of Gas Malaysia in recent times. The stock fell more than 23% in 2015 and mostly moved sideways between 2016 and 2018.
Overall, Gas Malaysia's shareholders have enjoyed a total return of 37.38% between March 31, 2016, and March 31, 2019.
The company delivered the impressive financial performance amid ongoing industry liberalisation. Among others, beginning January 2017, the Incentive Based Regulation (IBR) set a base tariff for a three-year period and allowed changes in gas costs to be passed on to consumers every six months.
The reforms also included the implementation of third-party access (TPA) beginning January 2017, which essentially allowed new gas suppliers to access gas infrastructure — including transmission and distribution pipelines — that they do not own to supply to their buyers.
Looking ahead, some uncertainties await Gas Malaysia though the company is in a strong position. Chief among the headwinds will be the adjustments required for the company to continue thriving in a TPA-compliant environment, which will spur competition.
The market itself remains steady. According to Gas Malaysia, it expects steady gas volume growth on the back of stable demand from the industrial sector, supported by the commercial and residential sectors.
"We will continue to explore new opportunities and mobilise our marketing efforts to capitalise on gas demand in existing and new industrial areas more aggressively," says the company in its 2018 annual report.
It is worth noting that 2019 is the final year of the current three-year regulatory period under the IBR. While details remain unclear at press time, possible changes include a revision to the base tariff under the IBR, which may in turn impact Gas Malaysia's profitability either way.
"Regulatory inputs will soon be up for review... With the share price having been largely stable in recent months, we still see the risk-reward as balanced presently," says Maybank Research in a note on Aug 20.
Maybank Research has a "hold" rating on Gas Malaysia, with a 12-month target price of RM3. On Aug 30, the counter closed at RM2.84, nearly unchanged since the start of the year, putting the company's market capitalisation at RM3.62 billion.
Four out of nine research houses tracking Gas Malaysia have a "buy" rating, with target prices ranging from RM3.11 to RM3.30; the remaining five called it a "hold", with target prices as low as RM2.85.