This article first appeared in The Edge Malaysia Weekly, on September 30, 2019 - October 06, 2019.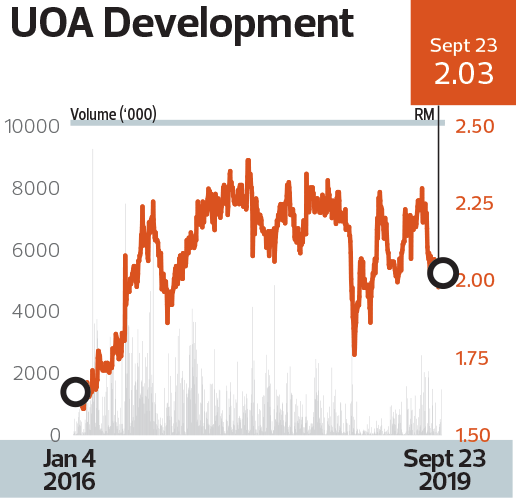 UOA Development Bhd seems to have crafted a strategy that has managed to cushion the group from the adverse impacts of the soft domestic property market that has lasted for more than three years.
Although its earnings trended lower, with single-digit negative compound annual growth rate (CAGR) in profit after tax in (PAT) the past three financial years, the property developer managed to achieve returns on equity (ROEs) that were better than its peers — at 8.4% in FY2018, compared with 12.4% in FY2017 and 19.4% in FY2016.
Shareholder's equity, on the other hand, grew from RM3.15 billion in FY2015, to RM4.68 billion in FY2018, showing a three-year CAGR of 14.1%.
Against the soft property demand, its PAT declined by a three-year CAGR of 3.1%, from RM417 million in FY2015, to RM378.9 million in FY2018.
Its share price, however, has been on a steady climb during the period, from a 3½-year low of RM1.66 on March 31, 2016, to RM2.03 on March 29, 2019, indicating a three-year CAGR of 7%. Its market capitalisation rose accordingly, from RM3.96 billion to RM3.22 billion in the same period.
Moreover, the group has adopted a dividend policy of paying 30% to 50% of realised PAT. Unlike its peers, UOA Development did not stop paying dividends.
The group declared a single-tier dividend of 14 sen per share for FY2018, amounting to RM258.12 million, representing a dividend payout of 62.7%. It paid 15 sen dividend per share in FY2017 and FY2016.
Its dividend reinvestment scheme gives shareholders an option of reinvesting either all or a portion of the declared dividends in new shares in lieu of cash payout.
It is worth noting that the group's debt-to-equity ratio has remained low, at 0.02 times in FY2018, compared with 0.07 in FY2015.
Its relatively high cash reserve of RM578.6 million as at Dec 31, 2018 gives the developer room to look for land acquisition opportunities and provides ample cushion against the impact of the continued property slowdown.
According to its 2018 annual report, UOA Development remains cautious while acknowledging the potential in the mid-end residential segment, where affordability of homes continues to be the key consideration for buyers.
The group says it will maintain its focus on the mid-end residential sector within the Klang Valley.
In FY2018, its total property sales were about RM1.48 billion, with 80% from residential properties and the remainder from commercial properties.
The ongoing construction of Sentul Point and United Point Residence in Kepong, which have a combined gross development value (GDV) of RM3 billion, are on schedule. The Sentul Point project consists of 2,352 serviced apartment and 142 retail shop units, while United Point Residence will have 2,509 serviced apartment units and a commercial complex.
Other current developments are the adjacent properties in Bangsar South – South Link Lifestyle Apartments and South Point. The latter is a hotel with an anticipated GDV of RM770 million, due for completion this year. The former comprises 1,422 units of freehold serviced apartments and a two-storey lifestyle retail podium, to be completed in 2022.
In the pipeline are the Bandar Tun Razak project, The Goodwood Residence in Bangsar South and a project at the group's Sri Petaling land.
The Bandar Tun Razak development consists of residential units with aged care facilities. It has an estimated GDV of RM300 million and is slated to be completed in 2020.
The Goodwood Residence is adjacent to Acacia and Begonia condominium blocks in UOA Development's existing Park Residences. It comprises a single block of 40-storey residences with an anticipated GDV of RM600 million and scheduled for completion in 2021.
At its Sri Petaling land, the group will launch the initial phase of a project comprising 440 residential units and a commercial space with a GDV of RM1 billion. It is aiming for one-fourth completion this year.