This article first appeared in The Edge Malaysia Weekly, on September 30, 2019 - October 06, 2019.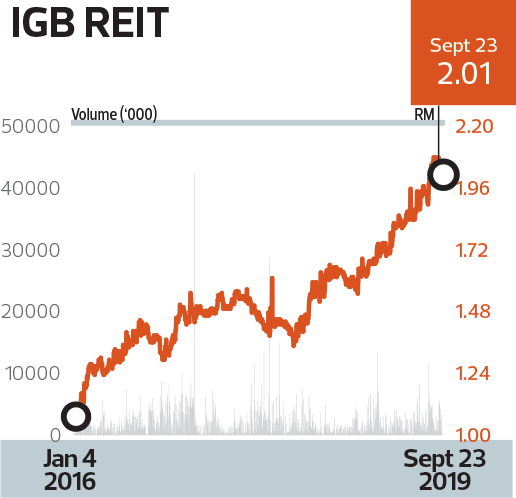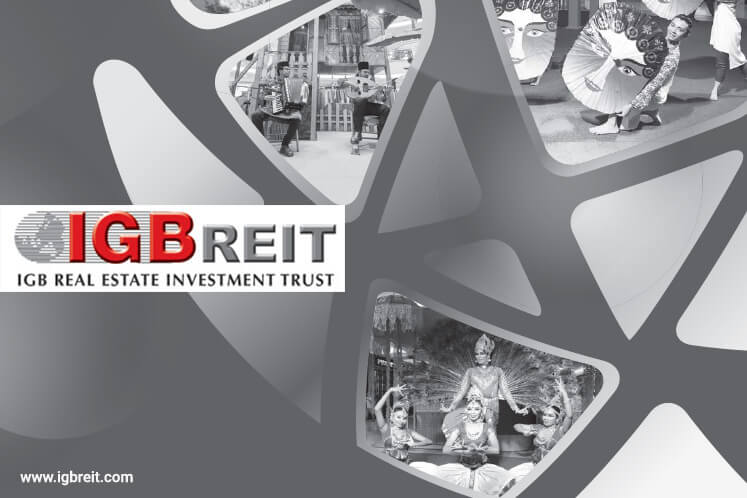 IGB Real Estate Investment Trust (IGB REIT) has won this year's The Edge BRC corporate award for the highest return on equity (ROE) over three years in the REIT sector.
In FY2018, it turned in a net property income (NPI) of RM386.25 million on revenue of RM535.7 million, higher than its NPI of RM373.56 million and revenue of RM524.91 million in FY2017. In FY2016, its NPI and revenue stood at RM361.11 million and RM507.34 million respectively.
While unitholders received a distribution per unit (DPU) of 9.19 sen last year, slightly lower than the 9.28 sen in FY2017, IGB REIT's annualised distribution yield of 5.31% had improved from 5.16% the year before.
The REIT has the highest ROE among the BRC members in its sector, as its return on common equity had leapt from 7.57% in FY2016 to 8.91% in FY2018.
IGB REIT — whose portfolio comprises Mid Valley Megamall (MVM) and its adjacent The Gardens Mall (TGM), with a total net lettable area of 2.67 million sq ft — has recorded steady income growth in the past three financial years.
The REIT says in its annual report that it had achieved growth despite a challenging operating landscape, with 2018 being a mixed bag of events that translated into a volatile year for the retail industry.
"Though overall sentiment has been positive, the year continued to be a challenging one as the nation adjusted to the new government, the industry saw increased competition with the opening of new malls, and online shopping continued to gain in popularity," it adds.
Yet, in FY2018, MVM achieved a 2.3% increase in gross revenue to RM375.05 million, while NPI grew 3.1% to RM286.36 million. Rental returns were higher after IGB REIT created 21 additional retail outlets and four casual leasing spaces by rejigging its space, according to its annual report.
TGM, meanwhile, saw its gross revenue increase 1.4% to RM160.64 million, translating into a 4.4% higher NPI of RM99.89 million, after IGB REIT refreshed the mall's tenant mix and increased the retail space on the lower ground floor.
IGB REIT says it will continue to push ahead with its asset enhancement initiatives and bring in creative activities and exclusive events by working with its tenants as well as corporate partners to increase on-ground promotional activities for shoppers and visitors.
This is in line with the REIT manager's key objective to provide unitholders with regular and stable distributions and achieve long-term growth in net asset value per unit.
"The manager intends to increase [the] income and value of the investment properties through active asset management, asset enhancement initiatives, acquisition growth as well as capital and risk management strategies," it says.
Established in July 2012, IGB REIT is valued at RM7.34 billion based on its closing price of RM2.07 per unit as at the time of writing — up 63% from its closing price of RM1.268 on March 31, 2016.
Hong Leong Investment Bank research analyst Farah Diyana Kamaludin says in a report that the REIT is "stable as anticipated" and expects both its assets to continue to perform well as they are shielded from the challenging retail environment in the Klang Valley, thanks to their prominent location, which contributed to the increased footfall at the malls.
"We maintain 'buy' at a target price RM2.15 based on a targeted yield of 4.9%, which is derived from one standard deviation below the two-year historical average yield spread between IGB REIT and 10-year Malaysian Government Securities (MGS) … in view of it being a major prime retail REIT. We continue to like IGB REIT for its concentration of prime retail assets," the analyst adds.