This article first appeared in The Edge Malaysia Weekly, on September 30, 2019 - October 06, 2019.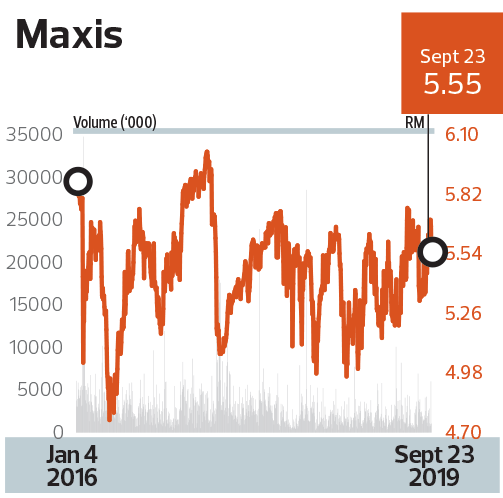 With everyone who wants a mobile phone already having at least one in his pocket, Maxis Bhd has little choice but to set its sights beyond individuals — on digitally connecting companies, homes, the government and even things.
By leveraging its core expertise and new technology, Maxis has set itself a service revenue target of RM10 billion by 2023 — ambitious, given that its service revenue had been hovering between RM8 billion and RM8.5 billion a year from FY2010 to FY2018. Getting to RM10 billion would require an average 4.4% annual growth over five years from RM8.068 billion in FY2018.
In an interview with The Edge in April, Maxis CEO Gokhan Ogut related how the group is reaching out to enterprise customers and businesses, and that it has set aside RM1 billion "growth capex" over the next three years to cater for demand in growth areas that would over time transform Maxis from a consumer and mobile-centric player into the country's leading converged communications and digital services company. As it is, Maxis is already spending more than RM1 billion annually on keeping what it calls network leadership.
Ogut admitted that the need to invest in new growth areas may remove some of the free cash that would otherwise go towards rewarding shareholders. However, he added that any additional capex would essentially enhance Maxis' ability to sustain decent dividend payments for years to come.
Yield-seeking investors would know that the company has been paying dividends every quarter over the past decade, although the absolute payout amount had halved to about RM1.5 billion a year from FY2015 to FY2018 compared with RM3 billion a year from FY2010 to FY2014. The cut essentially meant that Maxis was no longer paying out more money to shareholders than its free cash flow.
At the time of writing, analysts were still forecasting Maxis' free cash flow will be able to support the RM1.5 billion payout. Most of them expect the five-sen dividend per share (DPS) every quarter (20 sen per year) to continue this year and next year, according to Bloomberg. That 20-sen DPS worked out to 3.6% yield at its RM5.55 close on Sept 23.
The quarterly dividend payments probably helped place Maxis among the Employees Provident Fund's top 30 holdings as at March 31, 2019, with the provident fund holding an 11.62% stake, according to the EPF's website at the time of writing.
Analysts polled on Bloomberg, however, reckon that Maxis' share price is no longer cheap, especially relative to regional peers, even though its dividend yield remains decent. There were 18 "sell" recommendations on Maxis, compared with eight "hold" and only one "buy" call (from Credit Suisse), with the most bullish target price of RM6.50.
To be sure, the total return on Maxis' shares during The Edge BRC's evaluation period of March 31, 2016, to March 29, 2019, was -6.5%, underperforming the bellwether FBM KLCI's 6.26% and the broader FBM Emas' 5.42%, according to Bloomberg data.
The saving grace was the steady dividend payments, which made Maxis the winner of The Edge BRC's highest return on equity (ROE) over three years (FY2015-18) among Super Big Cap stocks or companies with RM40 billion market capitalisation and above.
Maxis' adjusted weighted ROE over three years was 33.04%, more than double runner-up Petronas Chemicals Group Bhd's 15.36% and third-placed Public Bank Bhd's 14.9%, according to the BRC methodology.
Maxis has been the winner in this category every year since its inception in 2016, with its smaller rival, Digi.Com Bhd, bagging the award in the Big Cap (RM10 billion to RM40 billion) category.