This article first appeared in The Edge Malaysia Weekly, on September 30, 2019 - October 06, 2019.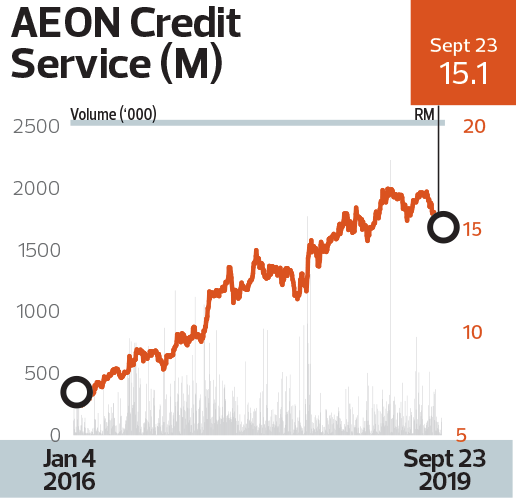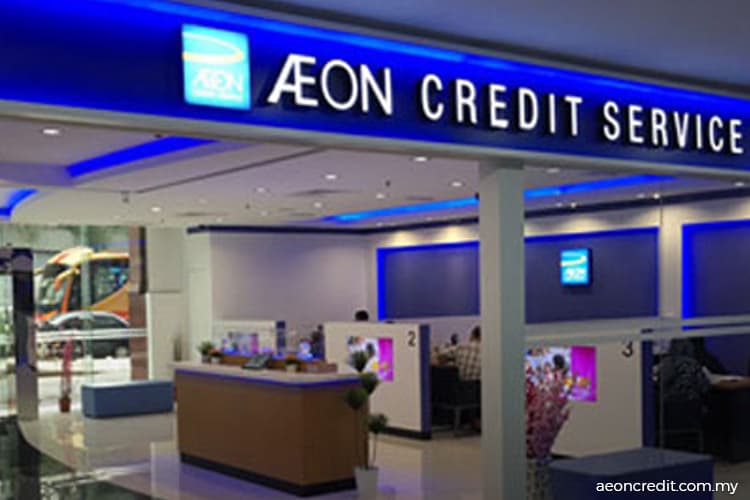 Aeon Credit Service (M) Bhd's shareholders could be the envy of the investing fraternity, thanks to the company's impressive return on investment over the past three financial years. The credit company's share price has more than doubled from March 31, 2016 to March 31, 2019 to RM16.58 (adjusted price), reflecting a 31.1% return over three years.
Aeon Credit's stellar financial performance has been the main fuel for the share price rally. For the financial year ended Feb 28, 2019 (FY2019), Aeon Credit registered a net profit of RM354.6 million, an increase of 18.2% year on year, on the back of 10.6% growth in revenue to RM1.37 billion.
Between FY2015 and FY2018, Aeon Credit's net profit surged to RM300.06 million from RM215.7 million. This translates into a three-year compound annual growth rate of 11.6%.
Apart from the increase in the share price, Aeon Credit has rewarded its shareholders with handsome dividends. It declared total dividends of RM1.56 per share for FY2016 to FY2018.
Share price appreciation, solid earnings growth and generous dividends have won Aeon Credit this year's The Edge BRC — Highest Returns to Shareholders Over Three Years Award for the Financial Services sector (for market capitalisation below RM10 billion in 2019).
If a shareholder bought the shares at RM12.78 on March 31, 2016, the dividend yield would have been 12.2% for the three years until March 31 for the RM1.56 in dividends received.
Aeon Credit's shareholders have also been rewarded with a bonus issue on the basis of one bonus share for every two existing shares held as at July 18, 2017, increasing their shareholding by 50%.
In FY2019, Aeon Credit's total transaction and financing volume expanded 31.8% year on year to RM5.34 billion. The strong growth was attributed to increased contributions from vehicle easy payment and personal financing, the group's former managing director Kenji Fujita says in its 2019 annual report.
"Easy payment continues to be the major contributor to the profit growth of the company. During the year, AEON Credit focused on strategic marketing efforts in a challenging market environment through merchant development, promotions and campaigns, via online and other outreach platforms.
"The easy payment and personal financing schemes registered RM3.73 billion in financing volume for FY2019, reflecting growing participation in our product financing schemes from merchants as well as consumers," says Kenji.
On June 20, Aeon Credit announced Kenji's resignation as the group MD. Yuro Kisaka replaced him.
Aeon Credit's financing continued growing in the first quarter of FY2020, as seen in the 21.8% year-on-year increase in total financing receivables to RM9.14 billion, due to increased receivables in the credit card, personal financing and motor vehicle segments.
Despite the increase in receivables, Aeon Credit's non-performing loans (NPLs) remain well managed, says Imran Yassin Yusof, an analyst with MIDF Research, in a June 28 report. The NPL ratio improved 12 basis points quarter on quarter to 1.92%.
Aeon Credit is also transforming its customer profile by introducing products and services that cater for middle-income consumers. The initiatives that have been rolled out include the introduction of its e-wallet platform and its platinum credit card.
The company is striving to increase the ratio of middle-income customers to its overall customer base as the larger average transactions spend by the group, as well as their being better debtors, could improve Aeon Credit's asset quality.
The company is also building a more direct relationship with its customers by having more direct points of communication through its mobile applications, especially for promotional activities and interactive solutions.
Its Aeon e-wallet payment platform has been gaining traction, with an estimated 150,000 users. Management is targeting to achieve up to one million users by end-FY2020.
Aeon Credit obtained a money-lending licence from the Ministry of Housing and Local Government this year, which will allow it to market its products and services to more customers.