This article first appeared in The Edge Malaysia Weekly, on September 30, 2019 - October 06, 2019.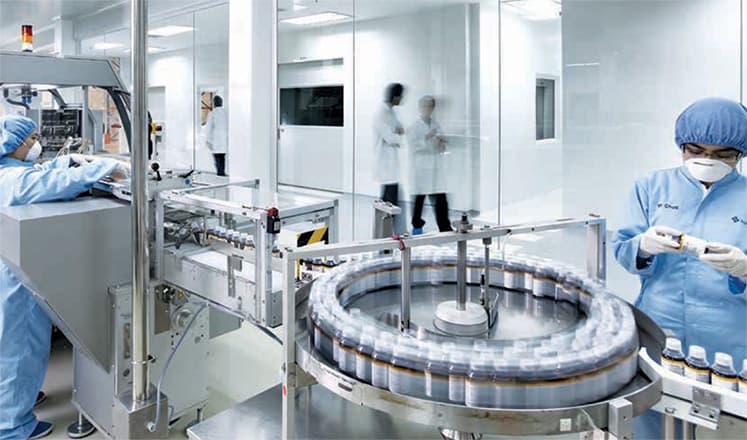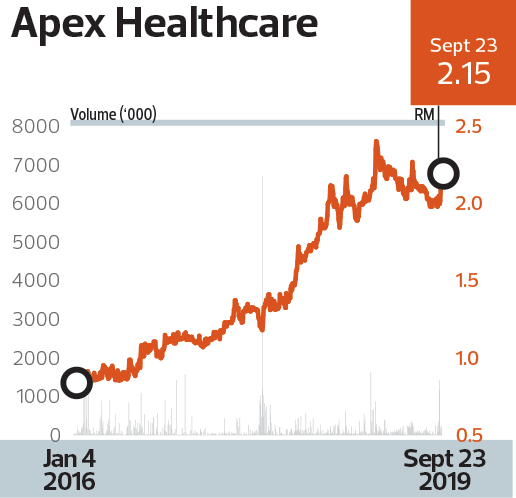 Apex Healthcare Bhd has certainly hit it out of the ballpark. Its share price soared 156% from 85 sen on March 31, 2016, to RM2.18 on March 29 this year, giving a total return of 36.2%, including dividends.
Shareholders of the pharmaceutical group have received regular — and rising — dividend cheques in the past three years. It declared dividend per share of 11.5 sen for the financial year ended Dec 31, 2016 (FY2016), 12 sen for the following financial year and 13.5 sen in the subsequent one, with a payout ratio of 39%, 32% and 27% respectively.
In FY2018, shareholders received an extra reward in a three-for-one bonus issue without capitalisation of retained earnings.
Apex Healthcare achieved nearly 32% year-on-year growth in FY2018 net profit to RM58.58 million, thanks to increased contributions from its wholly-owned subsidiary Xepa-Soul Pattinson (M) Sdn Bhd and 40%-owned associated company Straits Apex Sdn Bhd.
Revenue grew 5.2% year on year to RM652.66 million, marking the group's 18th consecutive year of such growth since its IPO in 2000.
All of its key business units showed consistent growth, with revenue growth strongest in the sale of group-branded pharmaceutical products to the government sector in Malaysia and Singapore, contract manufacturing and exports to international markets. Malaysia accounted for 68% of total revenue in FY2018, with international operations and markets accounting for the remainder.
In 2018, Apex Healthcare's distribution arm processed 530,000-plus invoices in Malaysia and Singapore, fulfilling orders for more than 1.4 million line items to its customers there.
In 4QFY2018, Xepa-Soul Pattinson completed the construction of its new RM83 million oral solid dosage manufacturing plant, SPP NOVO. SPP NOVO is the third such facility at Xepa-Soul Pattinson's campus in Cheng, Melaka, and could triple the group's capacity to produce solid dosages when fully fitted out.
The group's gearing ratio stood at 7.7% in FY2018, as borrowings went up to RM29.9 million to part-finance the construction of SPP NOVO.
For 1HFY2019, Apex Healthcare reported an 8.4% year-on-year decline in net profit to RM24.62 million due to higher operating and finance costs arising from the setting up of SPP NOVO. Still, its revenue grew 4.1% year on year to RM337.5 million.
The group says its core businesses continue to perform consistently in 2QFY2019, driven by its commitment to sales growth, new product development, brand management, customer service and operational efficiency.
Emphasis is placed on developing sales that will increase capacity utilisation of SPP NOVO.
However, FY2019 will continue to be a challenging year for the group, in view of the uncertain global economic prospects, foreign exchange volatility and higher operating expenses from establishing SPP NOVO.
Unforeseen circumstances aside, the board expects the group's fundamentals to support a satisfactory performance for the year.
In an Aug 22 note on Apex Healthcare, Affin Hwang Capital notes that Apex Healthcare's weaker performance in 1HFY2019 was partially offset by stronger contributions from Straits Apex, which grew 121% year on year to RM3.3 million on improved sales. Affin Hwang says the associate company of Apex Healthcare has managed to secure new customers as a result of the US-China trade tensions, as most of its customers are US multinational corporations.
While Affin Hwang is positive about the progress of SPP NOVO, it expects the new plant to be in gestation for at least one to two years, which will adversely impact its earnings in the near term.