This article first appeared in The Edge Malaysia Weekly, on September 30, 2019 - October 06, 2019.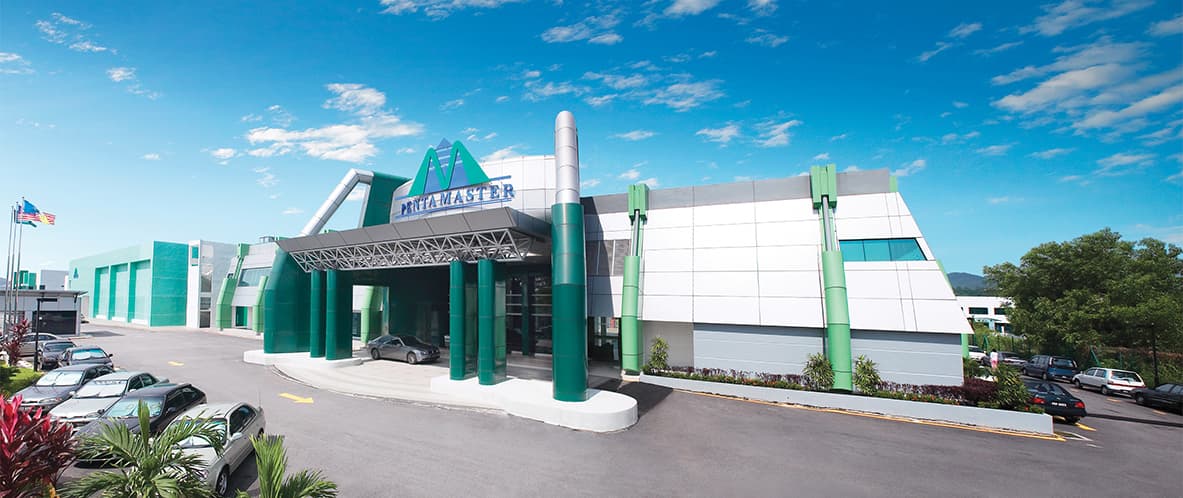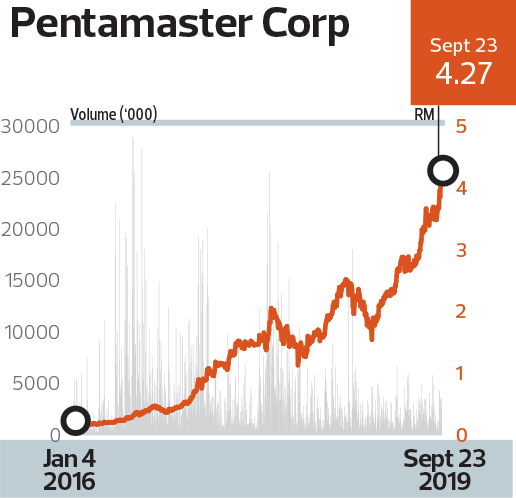 Pentamaster Corp Bhd has come a long way from the simple automation house co-founded by chairman Chuah Choon Bin in 1995. This once small setup is now a public listed company with a market capitalisation of more than RM2 billion, and which specialises in the provision of factory automation equipment as well as technology solutions to industrial and commercial customers.
The Penang-based technology firm has a strong earnings track record with continuous growth since its financial year ended Dec 31, 2013 (FY2013).
Thus, Pentamaster has deservedly been crowned the joint winner for highest growth in profit after tax over three years for the technology sector.
For FY2018, after deducting minority interest of RM36.9 million, the company achieved a record high net profit of RM57.11 million, up from RM35.96 million in FY2017 and RM26.69 million in FY2016. This translates into a compound annual growth rate (CAGR) of 15%.
In January last year, Pentamaster floated the shares of its 63%-owned automated solutions arm Pentamaster International Ltd (PIL) on the Main Board of Hong Kong Exchanges and Clearing Ltd.
PIL generated a net profit of RM100 million last year.
At the group level, Pentamaster closed FY2018 with an all-time high net profit of RM94 million, after taking into account the one-off listing expenses incurred in the first quarter of last year, coupled with some minor losses from its wholly-owned subsidiaries.
Excluding the listing expenses, the group would have seen a net profit of RM101.2 million, an increase of 124% from the RM45.1 million achieved in FY2017.
Its explosive earnings growth has helped the company gain two The Edge BRC awards for the technology category this year.
Pentamaster also walked away with the award for highest returns to shareholders over three years in the sector.
Apart from its impressive net profit for FY2018, the group also reported a record high revenue of RM422.2 million despite a challenging market environment last year.
Such encouraging results were driven by Pentamaster's good product mix of customised back-end testing equipment and solutions, operating efficiencies and focused business strategies.
For perspective, the company made a mere profit of RM4.5 million in FY2014 on revenue of RM81 million.
Given Pentamaster's steady profit growth, it is not hard to fathom the sharp rise in its share price — it shot up from 18 sen on March 31, 2016, to RM2.34 on March 31, 2019. Nevertheless, the stock is not on many analysts' radar screen — only two track the counter, according to Bloomberg data.
The stock is trading at an all-time high level of above RM4.
CGS-CIMB Research has an "add" call on the counter and a target price of RM4.20 while Nomura has a "neutral" call with a target price of RM3.88.
In an interview with The Edge in April, Chuah said Pentamaster is conserving cash to grow its upcoming third business segment, dubbed smart control, via its wholly-owned subsidiary Pentamaster Smart Solution Sdn Bhd.
"Today, everyone is talking about smart warehouse, smart delivery and smart logistics. These are some of the most important vehicles for e-commerce. If your warehouse is not fully automated, then the data of all your transactions will not be fully synergised with the warehouse solution and end-customers," he explained.
"But with our know-how, we can put these three things together — a cost-effective warehouse, delivery system and automation system. You will not have to hire that many workers in the warehouse. Essentially, it's still an automation business but we call it smart control."
For starters, the group plans to invest RM10 million to RM20 million in the R&D of the hardware for this business segment.
Currently, Pentamaster has two major business segments — automated test equipment (ATE) for sensors and automated manufacturing solution (AMS) for factory automation. About 80% of the group's revenue comes from the ATE segment while the rest comes from the AMS division.
The company's clients include multinational manufacturers from the semiconductor, telecommunications, medical device, food and beverage, pharmaceutical, consumer electronics and automotive sectors spanning Asia-Pacific, North America and Europe.