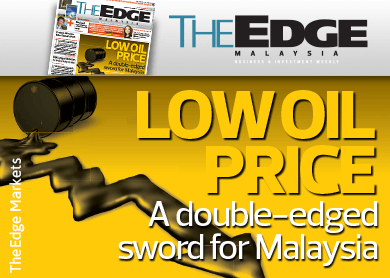 KUALA LUMPUR (Dec 6):In the last six months, the ringgit has been the second worst-performing currency in Asia, after the yen. Two weeks ago, it breached the 3.400 level against the US dollar and since then, it has been hovering within a hair's breath of 3.5000. On Dec 5, it touched 3.4757 before closing at 3.4713.
The Edge weekly in its latest edition analyses as to how low the ringgit would go and said that from its year-high of 3.1463 recorded on Aug 27, the ringgit has lost 10.3% of its value against the greenback. 
The magazine said that last week alone, the ringgit declined 2.6%.
The Edge said while the yen's fall was a deliberate policy move by the Bank of Japan to devalue its currency, the ringgit is a victim of a convergence of several factors on both the external and domestic fronts.
"The question is, does the currency's weakness reflect Malaysia's economic fundamentals or is it a cyclical and temporary trend? Market observers and economists think its weakness will continue into next year.
"What sparked the sharp depreciation of the local currency was the drop in oil prices. Malaysia is the only economy in the region that will be negatively impacted by low oil prices as it is a net energy exporter while the rest are net importers," said the Edge.
Citing a recent Barclays Research note, the Edge said "Currencies of net energy exporters will clearly suffer from lower oil prices ... In the region, the ringgit has the highest correlation to crude oil price movements. Correlation statistics also show that crude oil price is currently the most important driver of ringgit price movements, among others (for example, the US Dollar Index, the FBM KLCI, palm oil prices and ringgit-US yield differentials). The overhang of foreign positioning in local market debt, particularly in short-term BNM bills and government T-bills, further adds to the ringgit's vulnerability.,"
Further citing the Barclays research note, the Edge said that during the US Federal Reserve's quantitative easing era, foreign inflow into ringgit-based debt increased due to the attractiveness of both carry and currency returns.
"It said as the broad US dollar turned positive and as prospects for the ringgit deteriorate, the risk of foreign debt outflow from Malaysia had risen," said Barclays.
For more insight into the impact of the fall of the ringgit, please read the latest Edge weekly issue for the week of Dec 8 to Dec 14, available at newstands now.