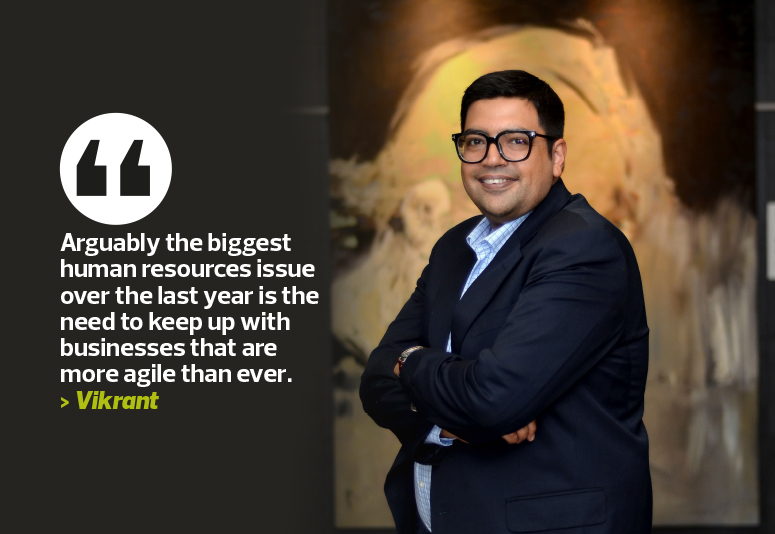 Human resources departments the world over are grappling with the implications of an increasingly digital workspace. Company structures have flattened significantly in recent years and younger employees are hungry for growth and promotion opportunities.
"Arguably the biggest human resources issue over the last year is the need to keep up with businesses that are more agile than ever," Vikrant Khanna, vice-president of HR transformation and cloud services for Asia-Pacific at Alight Solutions, tells Enterprise.
Alight Solutions is a global provider of human capital management solutions. Headquartered in Illinois, the US, the company recently set up operations in Malaysia.
The speed at which innovation disrupts entire industries means that companies are constantly having to course-correct and augment their workforce. Another consequence of less hierarchical structures is organisations are more focused on getting the job done in smaller teams or networks as they do not want to be bogged down by bureaucratic layers of approvals, says Vikrant.
Today's pool of talent demands the same kind of "consumer experience" that one would expect from a digitally savvy bank, airline or telecommunications provider. "The talent needs to be at the heart of everything HR does," he says.
The data paints a troubling picture because if HR does not evolve alongside the talent and organisation, it will find itself irrelevant. According to the Alight State of HR Transformation Study — Asia-Pacific report, talent management and traditional HR functions are being usurped by technology.
At least half of all professional learning and development will be video-based by next year. Also, most — if not all — HR processes will take place on mobile devices, the report notes.
Interestingly, the report, which was published in January, found that organisations with limited or no clarity on their HR operating model tended to spend more than half their time on cost, followed only by compliance, processes and efficiency.
Meanwhile, mature organisations with a clearly defined HR operating model complemented by a digital strategy spent nearly half their time on operational and programme effectiveness, followed by compliance, analytics and user experience.
The message is clear: practitioners should evolve by elevating the nature of their day-to-day responsibilities. One way to do this is by using technology to take over tedious administrative HR tasks.
"HR practitioners need to use technology and data analytics to drop the burden of operational and administrative functions. Practitioners cannot be constantly firefighting, trying to get payroll processes correct, chasing staff to fill forms or taking such a long time to screen candidates for recruitment," says Vikrant.
To this point, process automation, machine learning and chatbots are most likely to see the highest growth in adoption by HR practitioners in Asia-Pacific, the report found. These next-generation functions are gradually being integrated into payroll administration, learning and development, analytics and talent acquisition. Although less than 5% of respondents were in the advanced stages of automating these functions, 80% were actively evaluating artificial intelligence and automation use cases while building scale for future investments.
"Their time could be better spent engaging with and providing advice to business about bigger issues such as long-term workforce planning, leadership development and succession planning," says Vikrant.
In fact, technology can be used to move the conversation and the monitoring of these core business considerations will be much more targeted and effective.  
With something like leadership development, for instance, traditional key performance indicators tend to be very practitioner-centric, tedious in nature and adds limited value to promising candidates in the organisation, according to Vikrant.
"Traditionally, practitioners have tended to measure their own performance by the number of staffers who were put through a technical assessment or how many people were sent to a training course, and the immediate outcomes of those courses," he says.
"But if we integrate technology into this process, practitioners could accurately map out a particular candidate's time to promotion and have that data immediately available. Practitioners would have a clearly discernible link between the kinds of professional training and development programmes they send staffers on and the time it takes for staffers to be promoted."