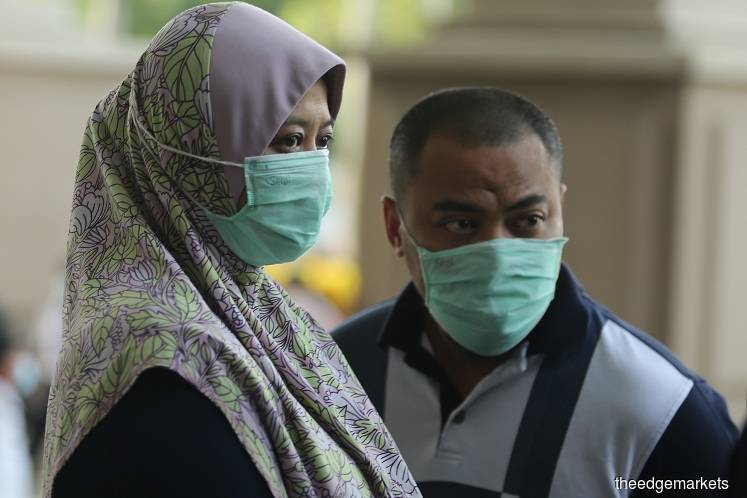 KUALA LUMPUR (June 18): Mohd Shaufik Ariffin and his wife Mimi Khairani Baharudin pleaded not guilty in the Sessions Court here today to 23 money laundering charges for spending RM658,769.19 belonging to the Nurul Yaqeen Foundation.
Prime Minister Tan Sri Muhyiddin Yassin owns the foundation, which is also known as Yayasan Nurul Yaqeen (YNY). Mimi previously worked as an account executive at YNY.
Mohd Shaufik, 37, is charged with 20 counts of money laundering, while Mimi, 35, is charged with three counts under Section 4(1)(b) of the Anti-Money Laundering, Anti-Terrorism Financing and Proceeds of Unlawful Activities Act 2001.
The 23 charges were read to them before Sessions Court Judge Hasbullah Adam. The charges are spread across seven cases.
Mohd Shaufik and Mimi are alleged to have utilised funds from illegal sources via their respective bank accounts between 2013 and 2018.
Deputy Public Prosecutor Ahmad Farid Ahmad Kamal suggested bail be set at RM250,000 per charge per accused with one surety.
However, lawyer Norizawani Ahmad Jalaludin, representing the accused, asked for the amount to be lowered.
Norizawani said Mohd Shaufik is working as an account clerk and only earns RM2,000 per month, while Mimi is a housewife and has been unemployed for the past year.
Mimi is also pregnant with the couple's fourth child, according to Norizawani.
"Since the second accused (Mimi) left her job, the first accused (Mohd Shaufik) has been the sole breadwinner of the household," said Norizawani.
Hasbullah subsequently set bail at RM35,000 per charge per accused, with one surety, bringing the total to RM700,000 for Mohd Shaufik and RM105,000 for Mimi.
The judge set July 13, 10am for the next mention of the case.