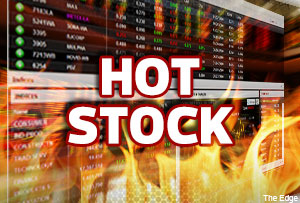 KUALA LUMPUR (Oct 24): IFCA MSC Bhd will stand to gain from companies' rush to be goods and services tax (GST) compliant, and its warrant regain upward momentum.
The stock, the second most actively-traded counter on Bursa Malaysia, hit an eight-year of 55.5 sen today. Meanwhile, IFCA-WA — the third most actively-traded with 58.16 million units changing hands — was up 6.25% to 42.5 sen, after it hit an intra-day high of 45 sen. At the last traded price, IFCA MSC-WA traded at a 5.41% discount to its mother share. The warrant has a strike price of 10 sen and will expire on Feb 15, 2016.
IFCA was featured as one of today's The Edge's Stocks with Momentum.
When contacted, Ken Yong, IFCA's chief executive officer and Chairman, told TheEdge Markets.com that IFCA is set to release the financials of its third quarter ended Sept 30, 2014 (3QFY14) on Nov 5.
While he could not divulge any details of the net profit growth, Yong said he was happy with the 3QFY14 numbers.
"Besides, we've been really busy recently, with holding meetings with fund managers and analysts. There were even fund managers from Singapore who came to see us. I believe they're excited with our business outlook and growth prospects," Yong elaborated.
Recently, CIMB Research also initiated coverage on IFCA — which has been heavily touted as one of the biggest beneficiaries in the process of the country's migration to the goods and services tax (GST), with a target price of 78 sen per share.
At the last traded price, IFCA's mother share would still have an implied upside of 34 sen or 61.11%. Assuming the shares reached CIMB's target price, IFCAMSC-WA would still have an upside of 49%.
"The company dominates in the domestic property sector, with around 70% market share. Most of the major domestic property developers such as Sime Darby Properties Bhd, S P Setia Bhd, Eco World Development Group Bhd, and Mah Sing Group Bhd, are IFCA's customers," said CIMB analyst Nigel Foo in the Oct 10 note.
CIMB's calculations projected IFCA's three-year net profit compound annual growth rate would be 228%, said Foo. Subsequently, the profit margins would expand, as well as revenue growth from the domestic and China markets are expected to accelerate, he added.
 
"China and the domestic software migration from Windows-based to web/mobile platforms, should keep the company busy after the completion of the GST jobs. IFCA is also looking to expand its regional reach. Markets [which] the company is targeting, include Japan, the Middle East and Thailand," Foo added.