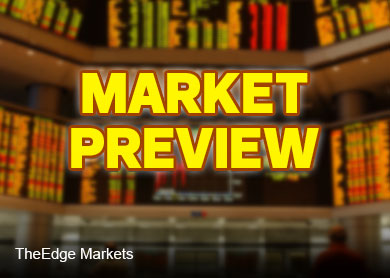 KUALA LUMPUR (Dec 3): Improved buying sentiment at the local bourse and higher overnight close at most global markets and Wall Street could help lift the local index today.
At the global markets, oil prices resumed their downward path on Tuesday after rallying the previous session, while stocks climbed as investors snapped up beaten-down energy shares, according to Reuters.
U.S. stocks rose on Tuesday as energy stocks led the S&P 500 and Dow, while Biogen's rally on news about an experimental treatment for Alzheimer's disease topped gains at the Nasdaq, it said.
The day's gains were broad, with nine of the 10 S&P 500 industry sectors higher. The only group to fall was telecoms , down 1.8 percent with AT&T down 2.2 percent at $34.29 and Verizon down 1.8 percent at $49.11. Sprint announced it will cut in half the monthly price of service for Verizon and AT&T customers who switch to Sprint, said Reuters.
AllianceDBS Research in its evening edition Tuesday said that dampened by the plunge in the preceding day, the FBM KLCI had on Dec 2 traded lower to reach the lowest low of 1,763.55 since Oct 2 during the intraday trading sessions as market participants continued to play on the selling side in anticipation of a lower market.
"However, non-follow through selling activity in the area of 1,763.55 attracted risk taking supportive buying interest. This lifted the benchmark index back up to close near the day's high at 1,785.97 (+7.70, +0.43%)," it said.
The research house said that in the broader market, gainers outnumbered losers with 439 stocks ending higher and 400 stocks finishing lower.
It said that gave a market breadth of 1.09 indicating the bulls were in control with the bears closely matched.
AllianceDBS Research said the benchmark index bounced off the low with an up close on Dec 2 and this indicated the availability of supportive buying interest.
"With buyers in better control over the sellers, the benchmark index should attempt to trade higher in the coming few days.
"However, the immediate overhead resistance is pegged at 1,800," it said.  
AllianceDBS Research said following the market rebound with a positive note, a double-bottom pattern was formed.
It said the market should consolidate between 1,763 and 1,800 for a little while in an attempt to balance out the disequilibrium demand and supply forces created in the recent days.
Indicator wise, the MACD is below the 9-day moving average line, it said.
"The analysis of overall market action on Dec 2 revealed that buying power was stronger than selling pressure.
"As such, the FBM KLCI would likely trade above the 1,789.42 level on Dec 3," it said.