This article first appeared in Enterprise, The Edge Malaysia Weekly, on December 30, 2019 - January 05, 2020.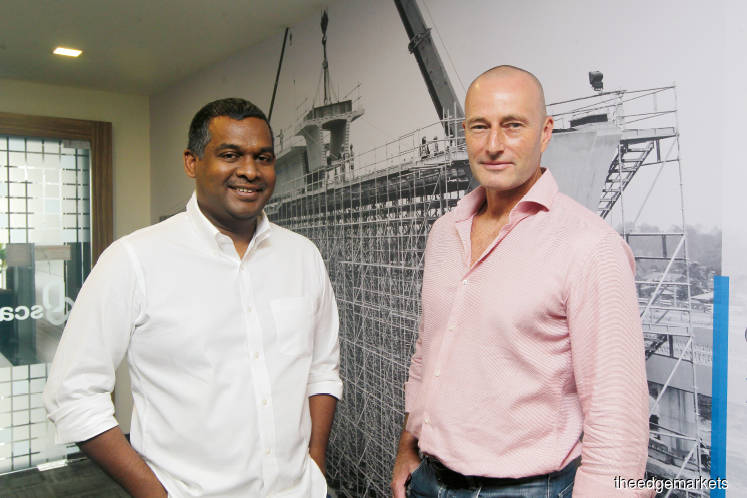 Sector: Services for the oil and gas, infrastructure, energy and construction industries
Addressable market: According to a March report by market research firm ResearchandMarkets, the oil and gas engineering, procurement and construction market stood at US$155.5 billion.
Intellectual property status: Five patents and 21 trademarks
Product description and USP: Dscaff is a multi-disciplinary group of companies offering services such as scaffolding and safety systems, project management, temporary works and rotating equipment maintenance.
Currently exporting: Yes, to Indonesia, Thailand, the UAE, Ghana, South Africa, the UK, India, the Philippines, Vietnam, Singapore, Myanmar, South Korea, Sri Lanka, Belgium, Australia and the US.
Industry challenges: Finding and establishing value-added partners
In 2012, friends Chris Hillier and Sunderaj Nagalingam decided to start Dscaff Group, a scaffolding and construction equipment solutions company. They were seasoned entrepreneurs. Prior to this, Hillier ran an engineering company that specialised in industrial hoists and lifts while Sunderaj was director of a scaffolding company.
With a strong and experienced team, Dscaff saw phenomenal growth in the first year. It achieved a turnover of RM46 million in the first 10 months alone. One of its earliest projects was in Barangaroo, Sydney, where it won a bid against two industry giants — a German company and an Australian concern.
Dscaff thrived as it was able to tackle one of the main contributing factors to the fatality rate at construction sites — poor scaffolding. Using money out of their own pockets, the team developed better scaffolding with lighter and stronger materials. To highlight the importance of higher quality products to ensure the safety of construction workers, the company also provided a full range of construction safety-related products such as safety edge barriers, catch nets and fall prevention screens.
Apart from supplying materials to local developers, Dscaff also exports to the rest of Southeast Asia and Australia.
According to Hillier, most countries — including Malaysia — observe the European standards (EN) when it comes to scaffolding. However, Australia has its own standards (AS/NZS). So, the company ensures that its products comply with both sets of standards.
As a result, it has become the preferred supplier. Liquefied natural gas (LNG) plants typically export from China or Europe. But many Chinese companies do not meet Australia's quality standards and are not AS/NZS-certified while European products are costly.
Last year, Dscaff managed to attract funding from private equity firm Navis Capital Partners. This has enabled the company to offer contracting services, which means project owners can get a multi-skilled workforce to install and maintain its products on site.
While this has allowed Dscaff to go deeper into the construction industry, its main business is still the oil and gas (O&G) sector, says Hillier. The company is currently working on a scaffolding project to upgrade an oil refining factory in Melaka. It is working for Hyundai Engineering to construct facilities that can reduce the sulphur content in the diesel produced at the existing oil refining factory inside the complex so it can achieve the Euro 5 grade level.
"It is currently the biggest scaffolding project in the country. We have deployed about 180 people to erect and dismantle about one million cu m of scaffolding. We were very grateful to be awarded the project. It has been very eye-opening," says Hillier.
Realising that more things can be done to make the contracting side of the business more efficient, the company is developing an advanced management system software called Tag-It to complement its services. Hillier explains that big projects typically have a site with several thousand areas of scaffolding, which makes it hard for project owners to keep track of the products being rented as well as any modifications being made. This is the problem the company is trying to solve.
"The system will be able to tell us the exact location of the scaffolding, its size and when it was last inspected and modified, among others. It was designed to prevent errors on our side and provide more transparency to the project owners as they will be able to see most of the information gathered," says Hillier.
Why the move to digital services? Sunderaj says it was a matter of survival. Previously, 90% of the business was trading. Today, this only accounts for 10%. The other 60% is contracting and 30% is the rental of products.
Last year was not a good one for Dscaff. Hillier says business went downhill after the company received the private equity money and won the Euro 5 contract. The problem was that its main business was in Malaysia, where there were hardly any new contracts (especially in the second half of the year). In fact, many of the local megaprojects were either downsized, deferred or cancelled altogether.
"Our revenue dropped to almost half. While we were happy to see the change of government last year, the painfully stagnant market impacted our business severely," says Sunderaj.
However, the duo is optimistic about this year's performance. In fact, they think it may be the company's best year yet. "Changing our business model was the right decision. Our foray into contracting has really brought us back on track," says Sunderaj.
He adds that the company is planning to expand to countries such as Indonesia, Oman, Japan and the Philippines, where there are many mega projects. "We are doing a lot of groundwork in these countries. Going forward, we do not want to depend on the jobs from Malaysia. We need at least 30% of our business to be from outside the country to have continuous revenue.
"In the early days, we exported a lot to Australia. Since the downturn of the O&G sector, new LNG construction in Australia dropped tremendously. Basically, there has not been any new LNG constructions for the last 2½ years, which means almost zero business for us."
Dscaff is now looking at various avenues to sustain the business. For instance, it has moved into building huge warehouses using modern steel structures, says Hillier.
"It is a very interesting growth area. The ongoing trade war has caused a massive influx of Chinese and Taiwanese companies into the country. Many have chosen Malaysia as their new warehousing base. In fact, we recently received an order to build a one million sq ft warehouse in Klang," he adds.
Dscaff recently bought a majority stake in South Advance Chemical Sdn Bhd, which specialises in the manufacturing of building materials. "They make materials that are usually needed in high quantities such as high technology tile adhesives and skin coats. We think this has very good potential to give us a steady underlying revenue stream," says Hillier.
While the company may not need financial support at the moment as it is trying to be self-sustainable, it is facing challenges in finding a good tactical partner. Hillier says it is important to have a value-added partner that can support the company in its weaker areas. "We want a partner on which we can leverage and vice versa. Basically, we want a symbiotic relationship. Hopefully, we can establish one soon."