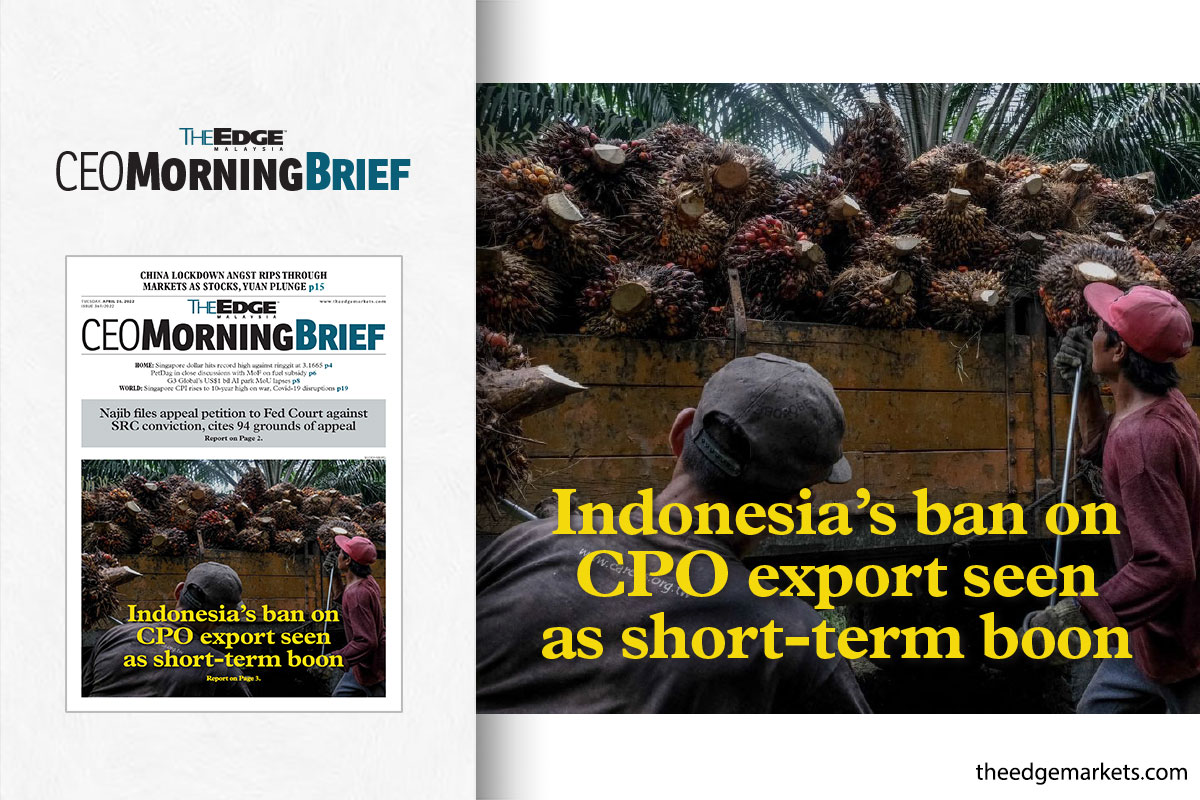 KUALA LUMPUR (April 25): Plantation companies, which are expected to be the beneficiaries of Indonesia's move to ban palm oil exports, dominated the top gainer list on Bursa Malaysia, although some analysts see this as a short-term catalyst.
Batu Kawan Bhd was the top gainer by value, surging RM1.28 or 4.6% to RM29.08, followed by its subsidiary Kuala Lumpur Kepong Bhd (KLK) that jumped RM1 or 3.57% to RM29 and BLD Plantation Bhd that went up 43 sen or 4.78% to RM9.43.
Meanwhile, IOI Corp Bhd, which was the most actively traded counter on Monday with a trading volume of 28.83 million shares, gained 30 sen or 6.77% to RM4.73, United Plantations Bhd went up 28 sen to RM16.78 while Sarawak Oil Palms Bhd climbed 25 sen to RM6.66. Hap Seng Plantations Holdings Bhd, which went up 15 sen or 4.69% to RM3.35, was also among the top gainers' list.
In contrast, plantation counters listed in Indonesia suffered losses.
Astra Agro Lestari Tbk PT fell 900 rupiah or 6.84% to 12,250 rupiah, Triputra Agro Persada Tbk PT decreased by 45 rupiah or 6.92% to 605 rupiah, Salim Invomas Pratama Tbk PT dropped 24 rupiah or 4.71% to 486 rupiah, Sinar Mas Agro Resources and Tech Tbk PT slid 150 rupiah or 3.17% to 4,580 rupiah.
Crude palm oil (CPO) prices rallied following Indonesia's palm oil export ban. Futures for July delivery increased as much as 6% to RM6,738 a ton on Monday morning, the highest since March 11, according to Reuters.
However, the three-month futures contract slipped RM133 to RM6,222 at the close on Monday.
Just a short-term catalyst
Analysts concurred that Malaysian CPO producers are potential winners amid stronger prices and possibly bigger export volume. However, some warned that the ban may not last long, pointing out that supply would increase in the global market once the ban is lifted.
UOBKayHian analysts Leow Huey Chuen and Jacquelyn Yow, who see the largest palm oil producer banning exports lifting international CPO prices, reckoned that this gives investors a short-term trading opportunity for plantation companies with high exposure to Malaysia operations.
"The ban on palm oil exports is a surprise and likely to have massive repercussions for the global edible oil market in the short term. This is because Indonesia is the largest edible oil producer and exporter, accounting for 56% of world exports of palm oil and 34% of world exports of edible oils," said CGS-CIMB analyst Ng Lee Fang who maintained her "neutral" call on the plantation sector.
She expects CPO prices in Malaysia to rise significantly and potentially surge to new record highs due to panic buying by consumers if the temporary ban lasts more than four weeks.
According to Ng, potential winners from the ruling are palm oil producers with estates in Malaysia, such as KLK (target price [TP]: RM29.57), IOI Corp (TP: RM4.57), Sime Darby Plantation Bhd (not rated), Genting Plantations Bhd (TP: RM9.18), Hap Seng Plantations (TP: RM2.79) and Ta Ann Holdings Bhd (TP: RM5.05) as well as producers of competing edible oils (soya oil, sunflower oil and rapeseed oil).
Maybank Investment Bank analyst Ong Chee Ting commented that Malaysia-based planters are clear winners for now, and these pure Malaysia plays include Sarawak Oil Palms, Ta Ann, Boustead Plantations Bhd and Hap Seng Plantations.
Among the large caps, Ong said IOI Corp has the least exposure to Indonesia.
"But bear in mind, this Indonesia palm oil export ban is temporary. We expect the ban to be lifted by the end of the second quarter of 2022. When the ban is lifted, we expect Indonesia to flood the global market with its inventory accumulated during the ban.
"And as the industry enters into its seasonal peak output period in the second half of 2022, this could trigger a sharp price correction," he said.
He maintained a "neutral" call on the sector, raising IOI Corp (TP: RM4.87) to "buy" but downgrading Ta Ann (TP: RM5.87) to "hold". IOI Corp and KLK (TP: RM30.90) are on his "buy" list.
"2022 will likely be a year of two halves for CPO prices. The CPO spot price has averaged RM6,248 per ton year-to-date. Given the high prices and new export ban, we now raise our 2022/2023 estimated CPO average selling prices to RM5,000/RM3,400 per ton respectively (from RM4,100/RM3,200 per ton)," he added.
RHB Research analyst Hoe Lee Leng concurred that the winners of Indonesia's palm oil export ban are pure Malaysian players as well as those with downstream capacities in Indonesia.
"Vegetable oil prices will spike as a result of this news, but should Indonesia change its stance, this will also reverse quickly," she added.
She continued to stay "neutral" on the sector, advocating a trading strategy — buy the winners — for pure planters in Malaysia (Sarawak Oil Palms [TP: RM6.05] and Ta Ann [TP: RM6.40] and downstream planters in Indonesia (KLK [TP: RM31.45]).
AmInvestment Bank analyst Gan Huey Ling, who maintained her "underweight" call on the plantation sector, said Indonesia's palm oil export ban is negative news for companies with significant exposure to Indonesia, including KLK (sell, TP: RM23.70), TSH Resources Bhd (sell, TP: RM1.40) and Sime Darby Plantation (sell, TP: RM4.40).
According to her, about 50% to 60% of KLK's fresh fruit bunches (FFB) come from Indonesia.
Meanwhile, she said Indonesia accounts for more than 90% of TSH's FFB production.
She also said Indonesia made up 38.8% of Sime Darby Plantation's upstream earnings before interest and taxes in its financial year ended Dec 31, 2021.
According to Gan, roughly 50% to 60% of Genting Plantations' FFB are from Indonesia.
On the other hand, she pointed out that IOI Corp and FGV Holdings Bhd do not have large exposure to Indonesia.
"There is a possibility that Indonesia may still revise its policy as it decides on the best way to ensure abundant and affordable domestic supply of cooking oil without compromising its export revenue. We will be reviewing our CPO price assumption for 2022, which is RM4,000 per tonne currently," she said.
To receive CEO Morning Brief please click here.