This article first appeared in Enterprise, The Edge Malaysia Weekly, on July 9, 2018 - July 15, 2018.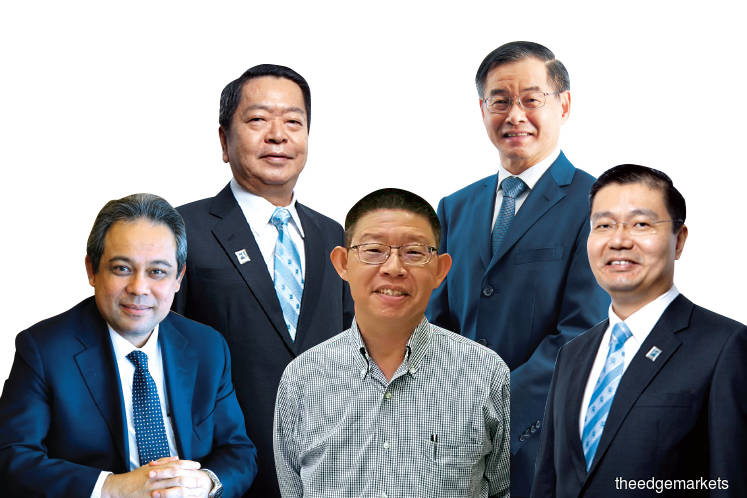 It can be daunting for small and medium enterprises (SMEs) in the manufacturing sector to automate without any assistance. For one, the equipment can be costly and the technology hard to understand. Also, the companies have different needs, making sourcing for the relevant solution providers another challenge on its own.
Yet, automation is viewed as inevitable in manufacturing in view of rising labour costs and the need to improve the country's productivity, which still lags behind several high-income regional economies, according to the World Bank. Accelerating labour productivity is key to nudging Malaysia towards becoming a high-income nation and it can be achieved by adopting new technology.
The previous government had included the promotion of automation as part of its many national plans and tried to educate SMEs on the importance of this instead of relying on foreign labour. While the incentives have helped some companies, many challenges remain.
"First, there are not many automation consultancies around. Those I am currently working with are German companies, which are world-class entities, but it is very expensive to do so. I don't think many SMEs can afford it," says Datuk Eric Lee, managing director of Lee Swee Kiat Group Bhd, which owns LSK Mattressworld Sdn Bhd. He is also president of the Kuala Lumpur and Selangor Furniture Industry Association.
Although companies are generally aware that they need to automate to deal with rising labour costs, many of the smaller ones may be less incentivised to do so because machines are expensive and they lack the economies of scale to make the investment financially viable.
"In plastics manufacturing, most of the basic processes have already been automated by installing robotic arms and conveyor belts. Further automation for more intricate elements of work, such as auto visual inspection, auto reject detection and auto packing, would require a heavy investment in technology, plant and equipment. Moreover, complete automation is only suited to those with very high volume production, which is not the case for many SMEs," says Datuk Lim Kok Boon, president of the Malaysian Plastics Manufacturers Association.
According to a World Bank report released last December, there is a huge variability when it comes to the total factor productivity in the manufacturing industry, with bigger companies boasting of higher productivity rates.
"One of the challenges of SMEs that are involved in lower and medium volume production is to adopt flexible automation, where equipment can be quickly reconfigured to suit different jobs. This will require programmable equipment, where the hardware is software-driven," says Lim.
There is also the challenge of understanding how to get the process started and apply for incentives or grants, observes Datuk Tang Chong Chin, managing director of United Sweethearts Garment Sdn Bhd and president of the Malaysian Knitting Manufacturers Association.
"Some of them may find it difficult to handle some of the paperwork and documentation for the Malaysian Investment Development Authority (Mida) and Sirim. A lot of us know what to do, but do not know what to write. That is why our association co-organised seminars with Mida for our members and I actually shared with them the application papers," he says.
While different companies require different solutions when it comes to automation, even within the same industry, there are varying challenges to automation. For instance, says Tang, in the textile industry, the upstream players (such as yarn-spinning factories) can automate more than the downstream players (such as his company).
"We mainly depend on people who sew and it depends on what sort of sewing they do. For example, if they sew uniforms, the styling is the same all year long, so they can probably do more automation because it is standardised. But I am doing children's wear, adults' casual wear and sportswear, so the production keeps changing and the level of automation is not very high," he adds.
Step by step
One government agency spearheading the automation effort is Mida. CEO Datuk Azman Mahmud says the lack of understanding about automation technologies and the high cost of equipment are two common challenges cited by SMEs. "One of the biggest misconceptions is the high cost of adopting automation technology and that they have to automate their entire production line. Actually, SMEs should first identify specific processes in their production that can be improved through automation. Any improvements will increase productivity and efficiency," he points out.
Mida has introduced several measures to help SMEs. One incentive is the Automation Capital Allowance (ACA), which was announced in 2015. Depending on the category, companies can claim up to 200% allowance for a fixed amount of qualifying capital expenditure. The claimable period is from 2015 to 2020.
Mida has approved 88 applications for the incentive as at January. Of those, 38 are in Category 1 — which represents the labour-intensive industries of rubber, plastic, wood and textile products — while 50 are in Category 2, which represents the other industries. The agency says the companies that applied for the incentive have managed to achieve an average increase in production volume of 200% to 300% so far.
SMEs can also seek training opportunities and talent at skill development centres, such as the German-Malaysia Institute, and solutions from companies like Siemens and Rockwell Automation. Through its engagements with SMEs and multinational corporations, Mida can help connect the companies with service providers as well.
"There are about 120 major companies in Malaysia that can produce advanced handling systems for full automation and incorporate intelligent robots, including machine-to-machine communication. Players with global recognition include ViTrox Corp Bhd, SRM Integration (M) Sdn Bhd, Visdynamics Holdings Bhd and the Walta Group," says Azman.
"Companies — including SMEs — are encouraged to leverage facilities such as the ACA and Domestic Investment Strategic Fund provided by Mida and the Soft Loan Scheme for Automation & Modernisation provided by Malaysian Industrial Development Finance."
Based on the applications it has received, Mida says the investment in new automated systems can range from RM99,000 to RM11.7 million.
Three companies that have been successful in their ACA application are Joe Green Precast, a manufacturer of precast wall panels for building and construction; SYW Industry, a manufacturer of anchor belts, steel bands and U-bolts; and United Sweethearts Garments.
SYW Industry used the money to expand its manufacturing capacity from 70% to 500% and improve the quality of its products while Joe Green Precast automated its wall panel extrusion and cutting machine and was able to produce 550 sq m of concrete panels in a day with only eight workers (compared with 36 workers pre-automation).
"United Sweethearts Garment was able to increase its production volume by more than 300%. With the automation, it has the capacity to produce a much higher volume, which would otherwise require at least 100 workers. By automating its operations, the company has also managed to reduce its defect rate by 80% to 90%," says Azman.
Other incentives Mida offers to promote automation and Industry 4.0 are the Accelerated Capital Allowance and Capital Allowance for purchase of ICT equipment and computer software packages.
A stitch in time
Companies need to automate to stay competitive, says Datuk Tang Chong Chin, president of the Malaysian Knitting Manufacturers Association and managing director of United Sweethearts Garment Sdn Bhd, a subsidiary of MWE Holdings Bhd. "The adoption of automation can result in savings in terms of hiring manpower and energy consumption. It can also decrease defect rates," he adds.
Tang started the automation journey by identifying processes that could be automated. One example is the elastic splice machine that creates the elastic bands in trousers. The process involves three parts: cooling down the elastic band and pulling it out, measuring the length needed and cutting it, and using a sewing machine to connect the two ends. The entire process requires two people.
"We bought very advanced machines at a high cost [about US$35,000 each]. Once you fit in the elastic, the machine can automatically pull it out and measure whatever length you want and cut it. After cutting, the sewing head attached to the machine sews it for you. In our case, one person can manage three machines. I bought three machines, so we saved about five people," he says.
Tang also bought software to draw the pattern of the design and digitise it. "From there, we can enlarge and reduce to different sizes because when you draw, you can only draw one size. By using manpower to draw and match the marker, you may need two to three people. But how many stylings can you do a day? This software can help complete seven to eight in a day so it saves a lot of time," he says.
A more unusual item is its Enterprise Resources Planning (ERP) system. While the business software is typically not claimable, Tang says his company's case was an exception because the ERP was extended to the shop floor for production control. Instead of just managing administration issues, the ERP is used for productivity and quality inspection. The data is sent to the server and an LED television is installed for every production line.
"Otherwise, you would need to tell the supervisor to keep recording your production and quality inspection, then you would need to punch it into Excel, which is not a living document," he says.
"But we extended the ERP to our shop floor so that every minute, you can check it on the TV. Even though I am now in the office, I can log into the system and see every production line and their quality status. The ERP itself is not claimable. But if you have software related to the operation of production, it is claimable."
Tang says he has claimed an estimated RM3.5 million in the past three years. His company — which has an annual turnover of almost US$60 million — has cut its foreign workforce to 900 from more than 1,000.
Nevertheless, he suggests that companies should not rely too much on the government, which mostly provides incentives and creates a business-friendly environment. "Companies should talk to the Malaysian Investment Development Authority before buying any equipment and ask questions if they are not sure. I believe we should make use of this benefit. The ultimate aim is to improve the automation level in your factory so you can be more competitive. Otherwise, you will lose out one day," says Tang.
He advises companies to talk to industry associations for more specific information on automation solutions. "They should also attend exhibitions. Normally, machine suppliers will showcase the latest technology, software or hardware, in the market there," he says.
Furniture manufacturers: Simplify application process
The local furniture industry relies heavily on foreign labour. The temporary freeze on foreign workers in 2016 saw a huge backlash from the players, who were worried that the worker shortage would affect their exports. Malaysia is one of the top 10 furniture exporters in the world, according to the Malaysia External Trade Development Corporation (Matrade).
There are incentives for furniture companies to automate. Budget 2018 allocated RM100 million to loans that are 70% guaranteed by the government to automate the production of local furniture for export while the Malaysian Timber Council offers mechanisation or automation subsidies for SMEs in this sector. But in this industry, the level of automation depends on the type of products manufactured.
Chua Chun Chai, managing director of Hup Chong Furniture Sdn Bhd and president of the Malaysian Furniture Council, says many companies are looking at automation because it is getting more expensive to hire foreign workers. His company spent about RM3 million on automation last year to purchase CNC machines for boring, routering and cutting purposes.
"We started early last year. I know that a lot of furniture factories in Muar are going for automation because they cannot depend too much on labour and are trying to cut costs. I have about 600 foreign workers and I am trying to reduce this to 500 by this year," says Chua.
The company plans to gradually reduce its foreign workforce over the next 5 to 10 years as it adopts automation.
In the furniture industry, 80% of the companies are SMEs. Chua says there are a couple of processes that are difficult to automate. This is particularly true for manufacturers of hardwood furniture.
One of the processes is the sanding of furniture. Although machines can be used for sanding, manpower is still needed to touch up the products.
Another process is the assembly of products. While there are robotic arms — just like in the automotive industry — that can assemble furniture, it is too costly for the industry due to the lack of economies of scale.
"Painting is another process. You have to paint the colour, apply the glaze then apply the sealer on the top coat. And there are a lot of processes. My painting line has about 80 to 90 people. These three processes are the most challenging areas," says Chua.
The kind of furniture production that can be automated include office furniture and those sold by stores such as IKEA, where the products are made of flat boards that you assemble yourself.
Chua advises SMEs to look for machines in China, which are cheaper than those from Germany or Italy. Chinese machines can be tailored to meet specific needs and have a longer warranty period.
He adds that the allocation of RM100 million provided under Budget 2018 for the furniture industry is insufficient. "I don't think it is sufficient because we are exporting about RM10 billion worth of products a year. We hope the government can provide more in the future.
"We still need foreign labour because we cannot automate the whole furniture industry overnight. So, we have to do so gradually. Maybe it will take another 10 to 20 years."
Mechanisation before automation
Datuk Eric Lee's company is currently at the semi-automation stage. Last year, he installed a new production line that is able to produce a higher output of 30% to 50% with the same amount of labour.
Lee is managing director of Lee Swee Kiat Group Bhd, the owner of Mattressworld Marketing Sdn Bhd, which is in the latex production industry. He is also president of the Kuala Lumpur and Selangor Furniture Industry Association.
"I am working with a few automation companies in Germany. They came over to study my operations and we are discussing automation," says Lee.
One process that he has automated is the opening and closing of an oven after latex is injected into an aluminium mould and left in the oven. Another process he has automated is the mixing of compounds.
"Sometimes the production time can be as late as midnight, so the workers have to be there to plan the mixing. But now, we have a semi-auto compounding system that allows us to pre-set the time and formula,
and to auto mix," says Lee.
The company is growing rapidly so its goal is not to reduce labour in the short term but use the same amount of labour to produce much more. Lee hopes to reduce the number of workers by 2020. The investments in the mechanisation process have cost him about RM3 million so far.
Going forward, he plans to work with foreign experts to install robotic arms. He also intends to apply for the Automation Capital Allowance. "The process is quite stringent, but we are trying to invite an officer from the Malaysian Investment Development Authority to come over so we can show them to what extent mechanisation can help us save on labour," says Lee.
He suggests that the government agencies make the application process for incentives less bureaucratic with clearer guidelines so that companies can understand whether they qualify for them. He hopes there will be more grants or subsidised loans for automation in the near future.
He also hopes the government will encourage more local automation consultants as many of the existing ones are European companies, whose fees are higher. "The government could encourage more automation consultants or bring in companies from China," says Lee, adding that he had spent RM600,000 to RM800,000 just for the initial proposal, consulting, testing and research.
Upgrading plastic production
Automation in the plastics industry, another labour-intensive sector, began over two decades ago when robotic arms and conveyor belts were introduced, says Datuk Lim Kok Boon, president of the Malaysian Plastics Manufacturers Association (MPMA).
"The pace of automation has accelerated in recent years due to the shortage of labour, along with the need to cope with high-volume production and the introduction of more sophisticated processes such as the integrated manufacturing process system," he says.
Malaysia is one of the top exporters of plastic products in the region. About 50% of the plastic industry's production is directly exported as finished products while another 30% is sold in the domestic market as components of appliances and other products, according to Lim.
As the country's plastics industry is very export-focused, it has to navigate a very competitive market. International clients demand high-quality products and product failures result in a long lead time rectifying them due to the extended shipping time, says Lim.
This is where automation can benefit the local plastics industry. "Automation offers the benefits of increased levels of product quality and consistency, more efficient operations, increase in production output through the reduction of unit cost, energy savings, reduced human errors and often results in a faster return on investment. This will improve our competitiveness in the export market," he says.
In view of the demand, last September, the MPMA initiated a one-year pilot project, called "First Step to Injection Moulding 4.0", with the support of the Malaysian Investment Development Authority and the Human Resources Development Fund. The objective of the project is to help companies prepare for Industry 4.0 and learn about automation through injection moulding, which is a manufacturing process for producing plastic parts in large volumes.
Although there are technologies to automate many processes, the price tag may be out of the reach of many. According to Lim, a simple robotic arm that picks parts out of a small injection moulding machine can cost RM10,000 while a fully programmable robotic arm for a big machine can cost up to RM200,000. A fully integrated automation system could cost up to a few million ringgit.
He says the Automation Capital Allowance (ACA) has been insufficient for some of the MPMA members to purchase equipment. "Some of our members have applied for the ACA and they are of the view that RM4 million is insufficient to upgrade production and efficiency processes as the demand for plastics packaging is constantly changing and evolving towards better energy efficiency, higher production and better quality assurance along the entire product life cycle and assessment process. Plastics manufacturers need the government's support to achieve more efficient and higher value-added manufacturing to bring greater economic, social and environmental impact on our society."
High-speed internet will be needed in industrial areas to support automation processes such as visual automation. "Manufacturers can deploy state-of-the art equipment, but Telekom Malaysia will have to invest in fibre-optic cables with the capability of supplying the 100mbps Unifi high-speed internet to industrial areas. This facility will enable plastics manufacturers to adopt fast and cost-efficient high-speed internet to improve their production and process efficiency. Unfortunately, the average internet speed in Malaysia is less than 9mbps, which is unable to support Automation 4.0," says Lim.
In his view, the Reinvestment Allowance (RA) offered by Mida has been the most relevant incentive for plastics manufacturers to improve on automation. The RA is offered to companies that reinvest for the purpose of expansion and automation, among others.
"The RA has a maximum claimable period of up to 15 years and most companies have exhausted this claimable period. The government introduced a Special RA in 2016 for three years and it will end this year," says Lim.
"The industry needs the incentive to further invest and upgrade or automate machines to keep pace with the rapid technical developments. We have appealed to the government to extend the RA indefinitely to enable companies to continue reinvesting and upgrading their production processes. This is critical for the industry to stay competitive in the international market."
Extend ACA validity period
The Federation of Malaysian Manufacturers (FMM) hopes that the validity period for the Automation Capital Allowance will be extended beyond 2020. "Automation is long term, requiring substantial investments according to resources and capacity. Industry 4.0 also requires automation to be integrated for maximum effectiveness. FMM is proposing that the government remove the time bar for capital allowance or extend it by 10 to 15 years and increase the qualifying expenditure to RM10 million," it says.
The association also hopes that the government will introduce R&D voucher schemes to encourage and support SMEs, remove concerns about theft of intellectual property and extend automatic double deduction on R&D for all companies.
R&D voucher schemes are small lines of credit provided by the government to SMEs to purchase services from public knowledge providers to introduce innovations in their business operations, as defined by the Organisation for Economic Cooperation and Development.
"SMEs in Malaysia still lack support in undertaking innovation activities. Many developed countries, such as Germany, the UK, New Zealand and Singapore, practise an R&D voucher scheme. The scheme helps SMEs improve their innovation capability and capacity as well as offers opportunities to public and private research institutes to service industry projects," says FMM.
The association observes that high-tech industries such as electrical and electronics and automotive are benefiting from automation. "More SMEs will adopt automation and Industry 4.0 in the next few years. New ways to fund technology will emerge, which may include angel investment, crowdfunding, peer-to-peer lending and even profit sharing with technology providers, based on the savings achieved. There could also be sharing of technology among industry players or collaborations of technology start-ups," it adds.