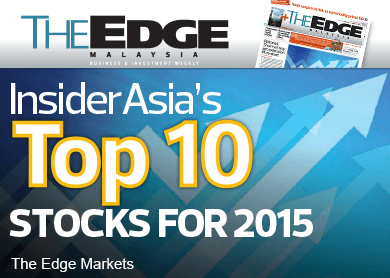 KUALA LUMPUR (Jan 3): Amid dark clouds of uncertainty on the horizon, InsiderAsia picked 10 stocks that it believes would outperform and even make money in a broadly falling market, the Edge weekly reported in its first edition for the year 2015.
In its weekly edition for the week of Jan 5 – Jan 11, the Edge said investors would be greeting the New Year under dark clouds of uncertainties over the ringgit, the rout in the oil market and the resulting impact on the country's budget deficit, trade and current accounts — and last but not least, economic growth.
It said the ringgit had already fallen sharply in the past month, hit by a double whammy.
The Edge said that as a net exporter of oil and gas, Malaysia is seen as a loser from the steep drop in oil prices, which may have more room to fall before stabilising.
"And even then, prices may stay low for a considerable period amid rising global supply and sluggish demand.
"And then there are domestic dampers to consider, such as the looming Goods and Services Tax (GST) as well as high government and household indebtedness.
"The impact from the confluence of all these factors is yet to be definitively assessed, quantified or addressed by the government," said the Edge.
The weekly said this would be reflected in corporate earnings growth, which has been dismal in the past three straight years — hovering in the low single digit.
"2015 will be worse!
"In sum, they all point to a difficult year ahead, marked by falling stocks and property prices," it said.
Against such a challenging backdrop, the Edge said it has carefully selected 10 stocks that it believes would outperform the market.
The magazine these stocks may even make money in a broadly falling market.
"There is a common thread amongst all these companies — they have sustainable business models, good growth prospects, improving productivity and strong balance sheets. In fact, all of our selected stocks are in net cash position save for Complete Logistic Services, which is just marginally in debt," it said.
For a complete list of the Top Ten picks by Insider Asia and a thorough analysis as to why they believe these stocks would outperform, please read the Edge edition for the week of Jan 5 – Jan 11, now available at newstands.