This article first appeared in Wealth, The Edge Malaysia Weekly, on November 28, 2022 - December 04, 2022.
Malaysia's insurance penetration rate has not seen meaningful growth in recent years. The main reason is that traditional life insurance products are generally too expensive for people in the lower-income group, while the cost of having insurance agents serve clients in rural areas is too high.
Digitalisation has been regarded as the key to solving the problem. This means offering simple products to the public through a digital platform, such as a mobile app. These products — which offer protection for specific events, such as deaths or accidents, without being bundled with more complex savings and investment features — can be easily explained to the customer.
A newcomer to this space is DearTime. The insurance technology (insurtech) start-up offers simple and affordable life insurance policies through its mobile app and also sponsors insurance products for those in the B40 (bottom 40% income group).
Founder and CEO Jon Ng explains that customers can buy, edit and claim insurance directly on the DearTime app without going through a middleman. As it does not hire or pay commissions to agents for selling the products, it can keep its operating costs low and offer its products at competitive prices.
The start-up is the first life insurer in the Bank Negara Malaysia Fintech Regulatory Sandbox 2, which aims to provide a regulatory environment that is conducive to the deployment of financial technology and facilitate overall innovation in the country's financial sector.
DearTime currently has five products — death, disability, critical illness (covering 45 critical illnesses) and personal accident insurance and a medical card. Its average turnaround claim time is seven days, depending on the complexity of the claim.
The start-up has a sponsored insurance initiative, which is a programme that allows customers to pay it forward by allocating 10% of their premiums to DearTime's charity fund. The funds are automatically used to sponsor eligible persons from the B40 group with DearTime insurance, with the goal of getting every Malaysian covered.
"I've been in the insurance industry throughout my working life. Life insurance penetration is not just a Malaysian problem but worldwide, especially for the low- and middle-income groups. It is high time that we close that gap. But the challenge is, how do we do it?" says Ng.
"I got the inspiration from shoe brand TOMS, whose business model [was] to donate a pair of shoes for every purchase [it has since changed its model]. So, we use the same concept with our sponsored insurance programme to allow people to give back and support those who can't afford it."
He says product design and pricing are the pain points that it is trying to solve. Life insurance policies tend to lock in policyholders over the long term, but that is no longer the case these days. New products in the market, such as DearTime's, can be offered as short-term, bite-sized coverage and be renewed each year. They also come with a lower price than investment-linked policies.
"The perception is that life insurance products are expensive, and rightfully so, as they are paired with investment or savings elements that have nothing to do with the insurance coverage itself. But there is a demand from a certain group of people for this, especially the affluent market.
"The second issue is the simplicity and accessibility of the products and processes. It can be daunting for most people to think about, especially when a product is packaged with a lot of frills. Many people are unfamiliar with how to [make a claim] and that is when they feel like they need help, which they may not have access to," Ng explains, adding that digitalisation would help to address these concerns.
DearTime is stepping up its digital marketing efforts to encourage as many people as possible to contribute to the sponsored insurance fund as well as reach those eligible for coverage.
Ng says customer due diligence is carried out to determine if a person is eligible to be sponsored. Those who qualify must be from the B40 bracket, whose monthly household income is below RM3,170. The person would need to provide proof of monthly salary, address and other documents to reflect the household income.
Those 16 years and above are eligible and the maximum coverage is based on the product's maximum entry age, he adds.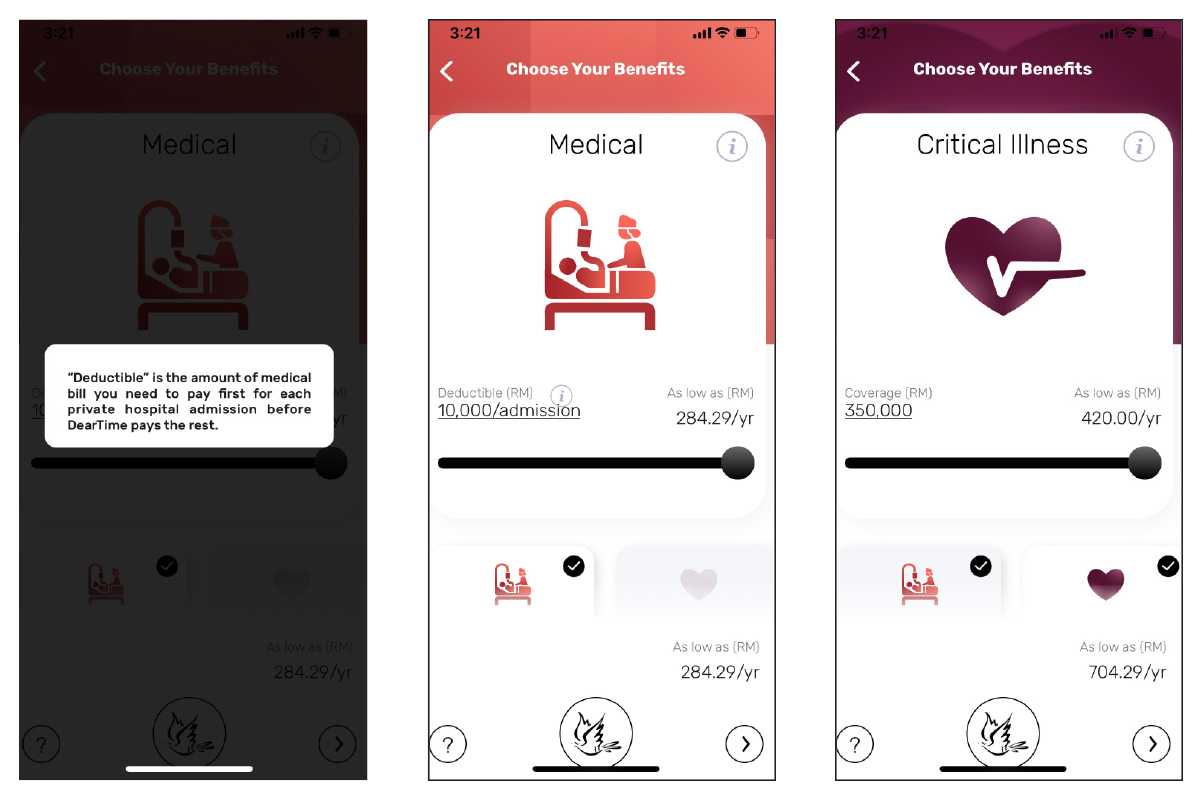 Back to basics
Doing away with complexities, jargon and fancy policy names, DearTime's products go straight to the point and provide easy-to-understand and transparent life protection. For example, its death coverage is simply named "Death", while the personal accident product is called "Accident".
This approach not only makes the product less intimidating, but also more relatable to a wider scope of consumers. Another concern is whether Malaysians are financially literate enough to curate their own insurance policies.
Ng believes they are, especially after two years of the Covid-19 pandemic. "Malaysians both young and old have proved themselves capable of embracing change. I believe our financial and digital literacy is at its peak now, and it is best to strike while the iron is hot by launching a solution like DearTime," he says.
"We have also taken additional steps by showing customers the product disclosure sheet and the contract before purchasing, so they can make an informed decision. We have a financial calculator to help customers estimate how much coverage they need based on their loans, commitments and lifestyle. And if they have more questions, we have customer service personnel ready to help."
Customers do not need to undergo a medical check-up to obtain a policy, but they have to fill in a simple medical survey on the app upon signing up and declare relevant medical conditions. Ng says for questions that may be technical or contain medical jargon, customers can consult a medical practitioner at any of its panel clinics to receive assistance with the survey.
If the GP charges a fee for this service, it will be reimbursed when the customer pays the first premium. Ng says this is to ensure that the customer answers the survey correctly in order to prevent potential claims from being rejected.
As the products can be subscribed to for the short term, they are renewed annually. Ng explains that the annual renewable term allows flexibility when it comes to the type of coverage based on a customer's current needs.
Insurance claims are one of the most complicated parts of the process. Typically, an insurance agent will liaise with the hospital to expedite it. But as Ng believes, "We should not just focus on showing them the door to enter, we should also show them how and where to exit."
DearTime's claim process is as simple as an online banking transaction.
When signing up, the customer undergoes an electronic know-your-customer (eKYC) process, which includes the submission of his or her MyKad and a face scan to determine that the person on the other end is real. When it comes to claims, the eKYC process ensures that the person making the claim is the beneficiary nominated by the customer, says Ng.
When it comes to payment, DearTime uses tokenisation. Tokenisation refers to a process in which sensitive data, such as a credit card number, is replaced by a surrogate value known as a token. In general, the data is stored securely at a centralised location for subsequent reference and requires strong protection around it.
This means DearTime does not keep a customer's credit or debit card information, but rather a token issued by the acquiring bank. The company triggers the payment by providing the token to the bank, ensuring that the information is not stored with the start-up.
"You only need to provide your bank account number for us to bank in the money because when we do due diligence, we need to know exactly who you are," says Ng.
"From a customer's perspective, it is almost as easy as doing an online banking transaction because all that is needed is a face scan and to flash the claim code that was sent to you. Then, you just have to wait for the approved claim to be banked in. There are a lot of things going on in the background between DearTime and the panel hospital but we make things easy for the customer."
DearTime practises security as code for the entire process of the software development life cycle, as well as employs artificial intelligence and machine learning to provide insights for eKYC and biometrics as an added layer of security.
On the cybersecurity front, its infrastructure has bot control to block requests from pervasive bots.