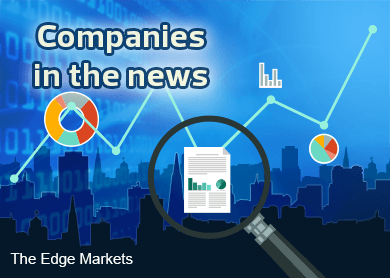 KUALA LUMPUR (July 10): Based on corporate announcements and news flow today, the companies that may be in focus next Monday (July 13) could be the following: Integrated Rubber Corp, Uzma, Asdion, Boustead Plantations, Ewein, water concessionaire and pipe related counters such as Puncak Niaga Holdings Bhd, Kumpulan Perangsang Selangor Bhd, JAKS Resources Bhd and Engtex Group Bhd.
Integrated Rubber Corp Bhd (IRCB) will no longer be classified as a Practice Note 17 (PN17) company starting next Monday (July 13) after Bursa Securities approved its early upliftment.
In a filing with Bursa Malaysia, the rubber glove manufacturer said the regulator has decided to approve its application for an early upliftment from its PN17 classification after due consideration of all facts and circumstances of the matter. 
IRCB (fundamental: 2.1; valuation: 0) slipped into PN17 status after its unit, Comfort Rubber Gloves Industries Sdn Bhd defaulted on RM64.2 million worth of debt obligations. It had submitted a regularisation plan on Dec 26, 2013 to Bursa Securities and obtained the green light from the latter on July 24 last year.
The proposed regularisation plans entail an increase in its existing authorised share capital of RM200 million comprising 1,000 million shares of 20 sen each in IRCB to RM400 million comprising 2,000 million shares of 20 sen apiece. 
Subsequently, the company has proposed advance capitalisation and proposed capital reduction and consolidation.
Upon completion of the proposed regularisation plan, IRCB's authorised share capital will remain unchanged at RM100 million comprising 1,000 million consolidated shares of 10 sen each.
Uzma Bhd's unit Uzma Engineering Sdn Bhd, has bagged a contract for the leasing, operation and maintenance of a water injection facility for Petronas Carigali Sdn Bhd (Petronas Carigali) that carries an estimated value of RM350 million to RM400 million.
In a filing with Bursa today, Uzma (fundamental: 1.3; valuation: 1.5) said the contract was for the D18 Water Injection Facility (WIF) and is for a period of five years from March 31, 2016.
Uzma said the contract is expected to contribute positively towards the earnings and net assets per share of Uzma for the financial year ending Dec 31, 2016.
Asdion Bhd has proposed a diversification into the supply of bauxite — a new business which the group expects to contribute 25% or more to its net profits.
Asdion's wholly owned subsidiary Venice Sanctuary Sdn Bhd (VSSB) had on June 2 signed a sourcing and take-off agreement to the supply of bauxite to Hong Kong International Mining Exchange Ltd (HKIM).
Asdion (valuation: 0, fundamental: 0.95) seeks to capitalise on the increasing demand for bauxite to China from Malaysia after Indonesia banned exports of the mineral in March 2014.
The proposed diversification is expected to be completed by the third quarter of 2015, which the group must obtain shareholders' approval for at an upcoming extraordinary general meeting.
Asdion is principally involved in software development and related services. It had earlier diversified into property investment and logistics.
Lembaga Tabung Haji has emerged as a substantial shareholder in Boustead Plantations Bhd with a 4.95% stake in the group.
Boustead Plantations (fundamental: N/A; valuation: N/A) said in a filing today that Tabung Haji had acquired 78.69 million shares, representing a 4.92% direct interest, and 1.35 million shares, representing a 0.084% indirect stake in the group on July 6, 2015.
Subsequently on July 7, Tabung Haji had purchased a further 20,500 Boustead Plantations shares, and a further 500,000 shares on July 8, thus bringing its total direct interest in the group to 79.21 million shares, or a 4.95% stake in the group.
Precision sheet metal manufacturer cum property developer Ewein Bhd said it has obtained the advertising permit and developer license (APDL) for its RM800 million gross development value (GDV) City of Dreams project in Bandar Tanjong Pinang, Penang.
In a filing with Bursa, Ewein said its 60%-owned subsidiary Ewein Zenith Sdn Bhd received the APDL today from the Ministry of Urban Wellbeing, Housing and Local Government for the said development.
Ewein managing director Datuk Ewe Swee Kheng said in a statement today that with the APDL approval in hand, Ewein Zenith may now commence development work of the City of Dreams project which is expected to provide a gross profit of RM200 million for the joint-venture outfit over a 4-year period.
Ewe further revealed the group is currently in the midst of its preparation to launch the project in the second half of this year, and that the property business shall contribute more than 90% to Ewein's profit after tax for the financial year ending Dec 31, 2016 (FY16).
City of Dreams features two blocks of 38-storey towers housing a total of 572 units, with built-ups ranging from 1,100 sq ft to 2,350 sq ft.
The Federal Government and Selangor State Government today signed the Supplementary Agreement to the Master Agreement on the Restructuring of the Water Services Industry for Selangor, Kuala Lumpur and Putrajaya.
Deputy Prime Minister Tan Sri Muhyiddin Yassin witnessed the signing of the agreement involving the federal government, Selangor state government, Pengurusan Aset Air Berhad (PAAB) and Pengurusan Air Selangor Sdn Bhd (Air Selangor).
The signatories have 60 days to fulfill the Condition Precedents (CPs) in the master agreement.
This also confirms a report published by The Edge Financial Daily on June 25, that a supplementary agreement will be signed by both, the federal and state governments.
According to the report, the signing of the supplementary agreement will see the state maintaining ownership of its water assets and Putrajay proceeding with the long-delayed development of the Langat 2 water treatment plant project.
The report quoting a source said that the federal government has conceded most of the key points of contention by Azmin in the master agreement that have stalled efforts to finalise the state's water restructuring.
Malaysia Airports Holdings Bhd (MAHB) handled 3.7% less passengers in June 2015, with 6.99 million passengers passing through the 39 airports it manages in the country compared with 7.26 million passengers a year ago, mainly due to lesser travel during the Ramadan month.
Of this total, the airport operator saw 4 million passengers passing through the KL International Airport (KLIA) in Sepang in June, a 4.4% decline from 4.18 million a year ago.
International traffic fell 2.3% to 3.28 million from 3.36 million in June 2014, while domestic traffic fell 4.8% to 3.71 million from 3.9 million during the same period.
Overall aircraft movements grew 1.6% year-on-year in June, with domestic and international registering 0.8% and 3% increases respectively.
In a filing with Bursa, MAHB said Istanbul Sabiha Gokcen International Airport in Turkey continued to achieve double-digit growth of 12.1% in passenger traffic to 2.45 million for June 2015 from 2.19 million in June 2014. Overall aircraft movements grew 16.9% year-on-year.
For the first half of this year, the number of passengers passing through MAHB's 39 airports totalled 41.33 million, similar to that recorded in the first-half of 2014.
(Note: The Edge Research's fundamental score reflects a company's profitability and balance sheet strength, calculated based on historical numbers. The valuation score determines if a stock is attractively valued or not, also based on historical numbers. A score of 3 suggests strong fundamentals and attractive valuations. )