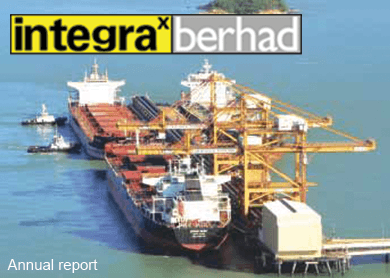 KUALA LUMPUR (Jan 12): Shares of Integrax Bhd rose as high as 18% today following last Friday's report  that Tenaga Nasional Bhd (TNB), the company's largest shareholder, has made a conditional voluntary takeover offer for the company.
At 10:04 am today, shares of the terminal operator rose as high as RM2.73 per share before giving up gains to trade at RM2.72 per share. The company saw some 1.5 million shares changed hands.
According to a third party source, close to the company, an independent advisor is in the process of being appointed to review the bid.
"If there is another competing bid, the company is expected go through the necessary process of reviewing the bid," the source said.
However, according to the source, the company has not received any competing bid at the moment, but will do the necessary due diligence if it does.
On the prospect of Integrax going through with the deal, the source said the company's board would act in the best interest of its shareholders.
Analyst at Kenanga Investment Bank, Lim Sin Kiat told theedgemarkets.com that the offer made by Tenaga Nasional was a good one.
"Based on FY15 numbers, the implied P/E of the deal is 18.9 times. This is about 6% premium to its peers which is at 17.9 times… This deal values it (Integrax) at a premium to its peers," Lim said.
However, the deal is not a 100% go-ahead as there may be competing interests from other players.
Still, Lim sees the deal as likely "to go through" as TNB is currently the largest shareholder in the company.
The offer price for the deal is RM2.75 per share.
Theedgemarkets.com reported last Friday that TNB currently owns 66.54 million of Integrax's shares, and intends to acquire the outstanding 234.26 million shares or 77.88% of its issued share capital.
The offer is good for 60 days from the posting date of the offer document.