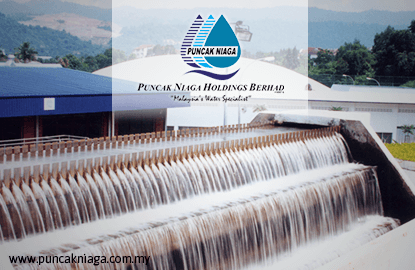 KUALA LUMPUR (Nov 3): Puncak Niaga Holdings Bhd rose as much as 22 sen or 9% as investors bought the company's shares to be entitled to its special dividend.  
Yesterday, Puncak Niaga announced the special dividend of RM1 a share. The ex-date falls on Dec 4 this year while payment will be made on Dec 23.
Today, Puncak Niaga shares rose to their highest so far at RM3.09. At 9:59am, the stock pared gains at RM2.97 with some six mllion shares done.
The dividend follows the sale of Puncak Niaga's water concessions Puncak Niaga (M) Sdn Bhd and Syarikat Bekalan Air Selangor Sdn Bhd to Pengurusan Air Selangor Sdn Bhd for RM1.55 billion. The sale forms a part of the Klang Valley water sector revamp. 
Puncak Niaga and Pengurusan Air Selangor completed the sale last month. AmResearch Sdn Bhd analyst Max Koh wrote in a note then Puncak Niaga's business plans would be closely watched after the water asset sale. 
Koh said Puncak Niaga was planning to grow its oil palm and oil and gas ventures.  
"Puncak has earmarked the remaining proceeds (~RM1bil) for either oil & gas or palm oil plantation ventures. With the proceeds in hand, we expect the group to actively seek out new opportunities in the coming months.
"Puncak's next move will be crucial to fill the earnings gap following the sale of its water-concessionaire businesses," Koh said.