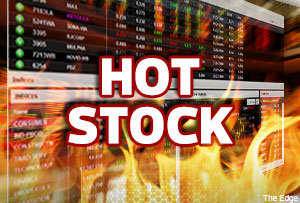 KUALA LUMPUR (Sept 10): Iris Corp Bhd, which has been reported to make its interest known to bid for the fuel subsidy job, saw its shares and warrants continue to be the market's favourites this week, as the shares have been pushed further than analysts' target price, despite drawing a surprise loss in its latest quarter.
At 3:11 pm, Iris's mother share gained three sen or 7.69% to be traded at 42 sen, after going as high as 43 sen earlier. So far this week, the shares have gained 18.31% from last Friday's close of 35.5 sen. Today, the counter saw 69.35 million shares changing hands.
Concurrently, Iris's two warrants — namely IRIS-WA and IRIS-WB — were among the top gainers in terms of percentage. IRIS-WA was up by 4.5 sen or 17.31% to be traded at 30.5 sen, with 6.47 million units traded. IRIS-WB, too, rose by the same quantum and was traded at the same price as its IRIS-WA sister, but had a bigger trading volume of 45.24 million.
IRIS-WA and IRIS-WB have a one-to-one conversion ratio with a strike price of 15 sen. Thus, the two warrants were trading at an 8.33% premium to the mother share.
While there was sudden interest in Iris, TA Securities — the only stockbroking house that covers the company — however downgraded the stock recently to a "sell" and gave a target price of 38 sen. The rating downgrade came after Iris posting a surprise loss in the latest quarter, hence TA's cutting the company's profit estimates.
Iris, which manufactures high-quality passports and agricultural technology products, made a net loss of RM2.55 million on revenue of RM127.28 million for its first quarter of the financial year ending Mar 31, 2015 (1QFY15). This compared with the previous corresponding quarter's net profit of RM7.68 million and sales of RM133.91 million.
Iris said the losses came after its trusted identification division and payment and transport division seeing lower collection from its e-passport project in Papua New Guinea, as the Ebola epidemic had affected the project.
Meanwhile, its agricultural division also faced delays in letters of award from state governments and the Federal Land Development Authority (Felda).
Nonetheless, Iris has been in the news, after The Edge Financial Daily reported the group having been one of the names showing interest in the fuel subsidy job, after the federal government decided to award the job on an open tender basis, rather than directly awarding it to Fuelsubs House Sdn Bhd.
Details are scarce on the mechanics of the new fuel subsidy measures. However, it has been said by industry players that one of the suggestions is to use identity cards to recognise the different levels of income earners, in order to make the subsidy more targeted to the lower-income brackets of Malaysians and avoid foreigners from consuming subsidised fuel.
Notwithstanding the fuel subsidy contract, Iris was still sanguine with its prospects for FY15, as it said in its 1QFY15 notes, as the company's ongoing contracts will contribute positively to the financials, going forward.