This article first appeared in Enterprise, The Edge Malaysia Weekly, on June 11, 2018 - June 17, 2018.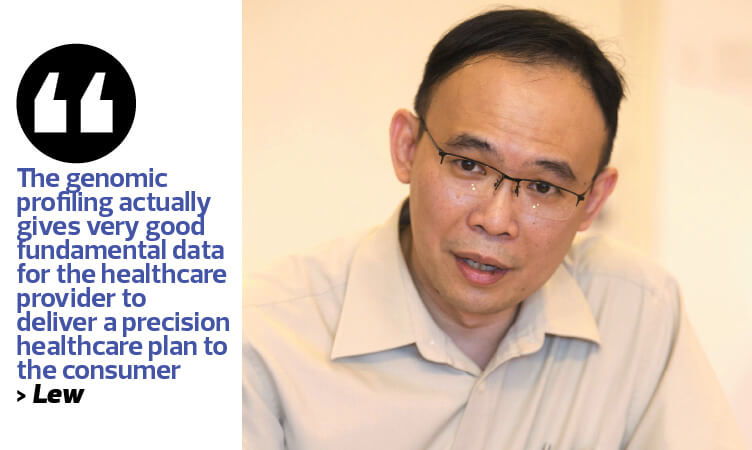 You could say that Lew Hon Kean was a conscientious pharmacist. He believed in the gospel of preventive healthcare and advised the customers of his retail pharmacy on how to prevent diseases and chronic conditions. Like his peers, he recommended supplements, lifestyle modifications (such as more exercise) and frequent medical check-ups.
He was confident of his recommendations and his customers trusted him. In 2016, however, everything went wrong. Six customers were diagnosed with various types of cancer — ovarian, breast, cervical, colon, saliva gland — and all died within three months of their diagnosis.
Lew was devastated. "I felt utterly useless. Patients go to doctors for treatment and diagnosis. But we pharmacists are supposed to help our customers with prevention. My customers had followed the guidelines and then it happened, just like that," he snaps his fingers.
There had to be a better way. Usually, by the time the tumour markers show up, it is already too late. Was there a way to find out if people were susceptible to a particular disease before the markers showed up?
"That was when I discovered NGS or next-generation sequencing. When I was at university, DNA sequencing was still in the realms of science fiction. By 2016, NGS was being promoted to the world," says Lew.
"The human genome was only fully sequenced in 2003. It took 13 years and cost more than US$2 billion. To sequence just one gene took three months and it cost a lot. But with NGS, the cost has come down to the point where it is commercially viable."
For instance, where four to five years ago, it would have cost upwards of US$100,000 to do genomic profiling, now it costs US$2,000. Lew admits that this is still rather stiff for many potential customers, but he points out that it can end up saving them money in the long run. Besides, the company allows its patients to pay it off in instalments.
Lew decided to start a platform to connect patients to medical doctors, pharmacists and academicians, as well as the Integrative Pharmacogenomics Institute (iPromise) at Universiti Teknologi Mara, which does DNA and gene sequencing.
"I went to consult one of my former lecturers at the University of Malaya, Professor Teh Lay Kek, who is now the deputy director of iPromise, about applying personal genomics in private healthcare. We brainstormed what we could do and what iPromise could do. And last year, a group of partners started this personal genomic service for the market," he says.
The group of partners are mostly his former customers who had suffered through the country's hit-or-miss healthcare system. Lew managed to set up a private fund of RM2.5 million to kick off the project.
Then, he set up Genecare Sdn Bhd which does more than just personal genetics profiling. "It is more about creating a primary healthcare [Nextx] platform to link academicians, healthcare providers [medical doctors, dietitians, physiotherapists and pharmacists] and patients. The genomic profiling actually gives very good fundamental data for the healthcare provider to deliver a precision healthcare plan to the consumer," he says.
But do healthcare providers know how to read and understand a genetic profile? "We conduct a course to teach and certify them. All healthcare providers have a basic understanding of genomics. They just need to be trained to use the information," says Lew.
He adds that patients don't just receive a report. It is coupled with solutions provided by Universiti Putra Malaysia's (UPM) faculty of medicine. "So, we have iPromise doing the genomic profiling and UPM coming up with personalised nutrition plans for the consumers according to their genotyping."
Genecare offers several different tests — the whole genome, the whole exome (protein coding genes in a genome) and targeted sequencing. "From the information, we will be able to see what the patient's disease risks are, their fitness and, most importantly, their pharmacogenetics, that is, which medications suit their genes," says Lew.
"For example, there is a well-known medication, Clopidogrel (commonly known as Plavix), which is prescribed to patients after a bypass or angioplasty. But this medication does not work on 20% to 30% of patients because they have a gene that does not allow them to metabolise the medication.
"So now, cardiologists prescribe much more expensive medications to avoid this problem. However, patients can do a simple test to find out if Clopidogrel works for them so they won't have to go for the more expensive alternative."
He says a lot of patients today feel like guinea pigs, trying one medication after another, until they find one that is suitable. "With the current system design, you follow the protocol and after the trial and error, you suffer all the side effects, and then you find the right things. With this information, you can get the right dosage and medication based on your genes."
With the benefit of genomic profiling, pharmacists and physicians can prevent some common mistakes. "For instance, did you know that if you have a particular gene for lung cancer, taking beta carotene (for example, carrot juice) can be twice as deadly as smoking? And if you have a particular gene that causes all the calcium you ingest to deposit on your soft tissues and arteries, any doctor prescribing calcium tablets for your osteoporosis is not only not treating the problem but you could end up with cancer or a stroke," says Lew.
Even exercise can be deadly. "If a patient with the C-reactive protein (CRP) gene [which makes them prone to inflammation] exercises incorrectly, say, running every day, it will cause body inflammation. His CRP will increase. This, in turn, will increase his cardiovascular risk. And his cancer risk is also increased," he says.
"That is why you see some sportsmen suddenly die of a heart attack. People would say it is ridiculous because these people are in training, exercising every day. But it is the exercise itself that is killing them."
Another area of genomic profiling that could definitely help is the identification of dementia in a patient. "How do you know if you are suffering from Alzheimer's or normal dementia? You see a neurologist. But one doctor will say you have dementia, another will say you have Alzheimer's and the third will say you need psychiatric treatment. There is no real conclusion. By looking at the genes, we will know for sure what you have," says Lew.
For instance, quite a number of his Chinese customers have a gene for front temporal dementia. "The initial symptoms of this and Alzheimer's are the same, but the treatments are totally different," he says.
Lew says front temporal dementia is much worse than any other form of dementia as the neuron transmitters deteriorate very quickly and the brain literally shrinks. "You cannot treat it, but you can prevent or delay it through certain lifestyle changes such as not sleeping so late, no smoking and a diet high in Omega-3 fatty acids. Many neurologists just treat front temporal dementia in the same way they would treat Alzheimer's so the patients spend a lot of money with no results."
He says the Nextx platform is not a business-to-consumer (B2C) one but rather a B2B2C. It was soft launched only recently and has signed up five pharmacists and two medical doctors so far.
How does it work? A patient downloads the Nextx app and registers on it. Then he selects the service he wants and the provider. After that, he makes an appointment with a clinic or pharmacy on the list to do tests — be it bloodwork (for the whole genome or exome) or the saliva test (for those who want to know which nutrients to take or which fitness regime suits them best).
Lew says other companies that provide genomic profiling are mainly B2C. A patient clicks to order the service, he is sent to the saliva or blood collector, and then he gets a report. "This is not the model we subscribe to because we believe that once you get the report, you need someone to help you digest and implement it, as well as monitor you. After so many years in healthcare, I have found that if you are not monitored, you won't follow the plan."
He says healthcare providers can act as agents. "They sign on to our platform and we train them. Then, they see clients in the coffee shops in this area (Sunway Geo, which is directly opposite the Sunway Medical Centre). This is an open area for our healthcare providers — doctors, pharmacists or dietitians."
The Nextx platform does not stop at genomic profiling. It has a marketplace that sells healthcare-related products such as supplements and Internet of Things gadgets that monitor different health indicators.
How does Genecare make money? "We are getting some profit from sequencing and also commissions from our marketplace and the sale of products. At the same time, healthcare providers who want to be listed on our platform have to subscribe to our service on an annual basis. We will eventually have our own OEM (original equipment manufacturer) products. Later on, we will develop more AI (artificial intelligence) products."
For the next three years, all the money will be pumped into R&D, building markets and developing the platform, says Lew. "But after that, we are talking about RM100 million in turnover from our Southeast Asian market."
There are seven people on the management team and the company already has partners in the Philippines and Vietnam. "They are helping us expand our business in those countries."