This article first appeared in City & Country, The Edge Malaysia Weekly, on September 24, 2018 - September 30, 2018.
Some vendors along Jalan Pasar
Jalan Pasar is known for its electrical shops
Chong Wan Xian Shi Temple in Jalan Pasar Baharu is dedicated to Lord Zhong Wan
Market Hall is a five-storey retail and wholesale complex
Pudu wet market is the main draw in the area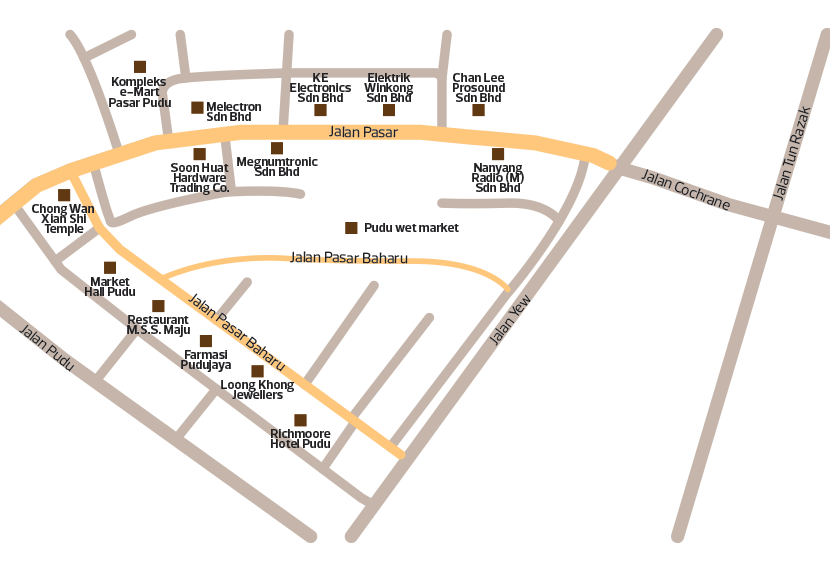 Jalan Pasar and Jalan Pasar Baharu in Pudu are among the busiest streets in Kuala Lumpur. The area is a popular shopping hub for electrical items such as security cameras and sound systems. It is also known for the Pudu wet market, one of the largest in the capital city.
"Pasar" means "market" in Malay and Jalan Pasar was constructed in 1905 to link to Jalan Pudu and Circular Road (now known as Jalan Tun Razak). Today, it also links to Jalan Sungai Besi and Jalan Cochrane.
Jalan Pasar was named after the Pudu wet market, which was relocated to its current spot in Jalan Pasar Baharu after it outgrew its original premises in Jalan Pudu.
Taking a stroll along the road, one cannot help but notice the weatherbeaten buildings. Some of the shoplots still display traditional signboards, which evoke a nostalgic feel.
In its heyday, before shopping malls came onto the scene, Jalan Pasar was the go-to place for everything from textiles and food to sundry goods.
Today, the businesses there mainly sell and repair electrical items. There is also  a small mall that was once a converted former cinema — e-Mart —that mainly trades in electrical appliances.
At the junction of Jalan Pasar Baharu is Chong Wan Xian Shi Temple. The more-than-a-century-old temple is dedicated to Lord Zhong Wan, who was a respected doctor of Huizhou descent who was known for treating the sick and helping the poor.
The businesses along Jalan Pasar Baharu mainly sell foodstuff and medical supplies. Among them are traditional Chinese herbal shops, pharmacies, jewellers and pet shops.
The area also boasts a five-storey retail and wholesale complex, called Market Hall, that was developed by Nihon Properties Sdn Bhd. Inside, one can find cafés, restaurants, convenience stores and pharmacies.
The main draw of Jalan Pasar Baharu is the Pudu wet market. Apart from the outlets inside the aircraft-hangar-like building, there are stalls in the open too, shaded by huge colourful umbrellas.
The smell of fish, chicken and meat assails your nostrils when you approach the market. Shoppers can also pick up fresh vegetables, fruits and a variety of seafood.
Some of the stalls sell pets such as rabbits, birds and fish, apart from more common items such as bags and clothes.
There are not many transactions in the two streets, says Eddy Wong, managing director of Nawawi Tie Leung Real Estate Consultants Sdn Bhd.
"Prices largely depend on the location and frontage, whether the unit is facing the main road or an internal road. As the shoplots are old, the condition and redevelopment potential are also important factors in the transacted prices."
Prices range from RM2.4 million to RM4 million "but it is not unusual to see an outlier transaction every now and then," says Wong.
He believes future prospects for the area are bright owing to several factors. "Its proximity to Jalan Bukit Bintang and Jalan Imbi, connectivity and easy accessibility are positive attributes that will attract interest and result in the area being redeveloped over time.
"But the bigger catalyst is the area's proximity to Tun Razak Exchange — the south side of the development is adjacent to it. It will enjoy spillover effects from the TRX development," he explains.