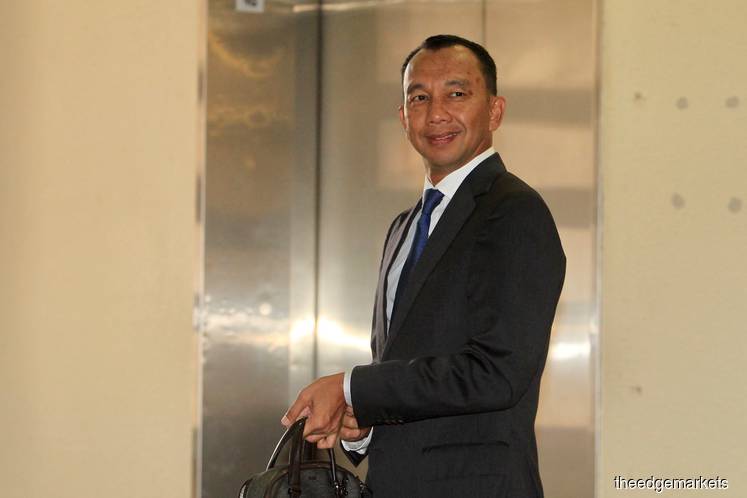 KUALA LUMPUR (Feb 26): Sums of money totalling RM170 million that were transferred in and out of Putrajaya Perdana Bhd's (PPB) subsidiaries were done under the instruction of businessman Low Taek Jho (Jho Low), the property group's managing director told the High Court today.
Testifying in the SRC International Bhd trial, Datuk Rosman Abdullah said it was out of this amount that a total of RM32 million of alleged SRC money ended up in former premier Datuk Seri Najib Razak's account, forming part of the RM42 million that is the subject of the trial.
The witness said Jho Low told him that the RM170 million was an advance for a contract that the now-fugitive businessman was negotiating to be entered into by Putra Perdana Construction Sdn Bhd (PPC), a subsidiary of PPB.
At the time, PPB was under Jho Low's control via UBG Bhd, so Rosman said he did not have a say in the matter.
Cendana Destini Sdn Bhd, a company controlled by Rosman, had entered into a share sale agreement to acquire 100% interest in PPB from UBG for RM240 million, which was completed in April 2015.
"Jho Low said he would ultimately ensure that if the RM170 million was not utilised for the proposed contract. He would ensure that there would be repayment and no liability would accrue to the PPB group," said Rosman.
He confirmed that the RM170 million was transferred via three tranches of RM35 million, RM105 million and RM30 million between July and August 2014.
Out of the RM35 million, RM32 million was transferred to Najib's AmBank account — first RM27 million and later another RM5 million.
At the material time, Rosman did not know that the AmBank accounts belonged to Najib and was "shocked" when he saw media reports alleging so and when he was told of the fact by the Malaysian Anti-Corruption Commission (MACC) while he was in remand.
Lawyer Farhan Read asked the witness if the transactions were part of some repayment of advance arrangement that PPB, PPC and Permai Binaraya Sdn Bhd (PBSB) had with Najib.
"No, there is no such arrangement between PPB, PPC or PBSB with Datuk Seri Najib," said Rosman.
Rosman was arrested by the MACC in July 2015 for four days, and said that he was only told by MACC officers that SRC is a government-owned company and that the AmBank accounts bearing the name AmPrivate Banking-MY and AmPrivate Banking-1MY belonged to the former premier.
He said MACC had suspected him of being complicit in the movement of funds between SRC and Najib, although he was released from remand after explaining to the investigating officers that Jho Low was the one behind the transactions.
Prior to his arrest, Rosman viewed Jho Low as "a competent and trustworthy businessman" and a micromanager, although he then described the businessman as a "highly smooth and effective scammer".
The witness was referred to statements made by Jho Low and PPB executive director Jerome Lee Tak Loong — who the witness said was Jho Low's nominee — to the MACC, in which the two fugitives said they played no part in the transaction and that Rosman was the one that had instructed the transactions.
Rosman testified that the statements were untrue and maintained that all of the transactions were done according to Jho Low's instructions.
"I relied on his representations to me on the nature of those transactions relating to the advance of RM170 million, which was said to be for his own business dealings and ultimately towards full repayment of those advances," he said.
Prior to Rosman's testimony, AmBank senior vice president Nazaruddin Md Kasim was called as the seventh defence witness in the case to confirm that three exhibits, relating to SWIFT documents for remittances into Najib's 694 AmIslamic Bank account, were indeed certified true copies.
Najib has been charged with seven counts of abuse of power, criminal breach of trust, and money laundering in relation to RM42 million allegedly misappropriated from SRC.
The trial continues tomorrow.
The Edge is reporting the proceedings of the SRC trial live.
Users of The Edge Markets app may tap here to access the live report.