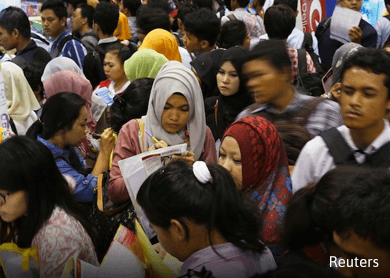 KUALA LUMPUR (Apr 21): A 2Q2015 job outlook survey by JobStreet.com has revealed that employers expect a downtrend in job growth.
In a statement today, JobStreet said the survey was conducted on 930 human resource personnel, managers and senior managers from 21 different industries and various company sizes.
It said the majority of employers at 41% had made known that they would be hiring less for the second half of 2015, an alarming 27% increase compared to 14% in 2014.
It added that the latest JobStreet.com Employee Confidence Index (JECI) survey for the month of April also showed a drop in confidence amongst candidates in securing a decent job in Malaysia from 49 point last year to 43 point.
The company said despite the unfavorable predictions and sentiments, the job level was still high with an average of over 20,000 job openings on the JobStreet.com.
It said the JobStreet.com first quarter 2015 results also showed a growth in unique job postings and unique number of advertisers by 4% and 6% respectively, implying that the job market is still robust.
From the JobStreet.com first quarter 2015 data, the manufacturing industry still leads the job market in terms of its number of job postings, it said.
"Banking and Financial Services is another industry that continues to top the charts with its significant number of job postings.
"Specialisations that are on high demand include talent from Sales and Marketing, Accounting, Secretarial and Admin, ICT and Marketing, causing stiff competition for the employers," it said.
JobStreet said when the employers were asked about their challenges in recruiting for 2015, a staggering 69% disclosed that their biggest hurdle would be finding the right candidate for a specific position.
It explained that some 49% said that they would most likely face high salary demands.
It added that the survey results also showed that employers find it difficult to fill certain positions, primarily Sales and Marketing at 23%, followed behind by Engineering at 21%.  
JobStreet.com Malaysia country manager Chook Yuh Yng said hiring the right employee was crucial towards the success of an organisation.
"However, finding an employee who is able to contribute to your organisation and embrace your work culture is a challenging process" said Chook.
JobStreet said that in conclusion, despite the sentiments of employers suggesting a downtrend in the job market for quarter two, the positive results from JobStreet.com in quarter one may imply otherwise.
"There were also negative sentiments during the previous quarter but our results showed positive growth, so it might be the same this time.
"Regardless, it's imperative for employees to strive for excellence which propels personal and ultimately national growth," said Chook.