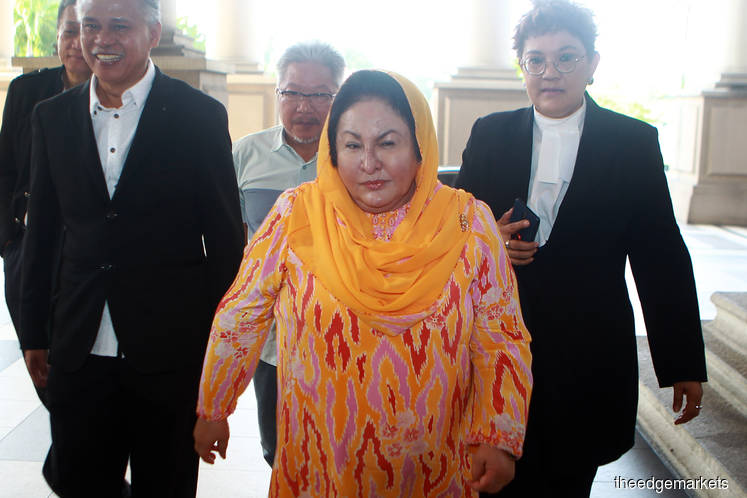 KUALA LUMPUR (March 12): The judge in Datin Seri Rosmah Mansor's graft trial reminded her lawyer today that a former Ministry of Education (MoE) secretary-general currently testifying in the case is not the accused person, after the lawyer alleged the witness had vested interest in a RM1.25 billion project awarded by the ministry.
 
The witness, Datuk Seri Alias Ahmad, denied he had pulled strings to help Jepak Holdings Sdn Bhd get a RM130 million advancement payment for the solar hybrid project for rural schools in Sarawak.
 
Alias was being grilled by defence counsel Datuk Akberdin Abdul Kader on MoE's involvement in requesting for the advanced payment for Jepak, before Justice Mohamed Zaini Mazlan intervened.
Jepak had written to MoE in February 2017 requesting for the advanced payment to start the implementation of installing solar hybrid systems in 369 schools in rural Sarawak.
This was three months after the ministry had issued the letter of award to Jepak for the project.
Alias, as the ministry's secretary general, then wrote to the Ministry of Finance (MoF) in March requesting for Jepak's application for the advancement payment to be approved.
MoF's procurement division secretary Datuk Othman Semail, however, rejected the initial figure, citing lack of conditions met. He said he would be able to approve RM10 million only, provided the conditions were followed.
Akberdin: After you received this letter, you call Othman personally to ask him to release the payment of RM130 million? 
Alias: I called him but I disagree that I asked about the RM130million part. I spoke about something else.
Akberdin: Think carefully Datuk Seri. Othman had previously testified so we have his evidence as well. Just answer the question. You called him and asked him to approve the RM130 million, because you had vested interest.
Alias: Disagree.
Akberdin: Fine. I am putting it to you that Datuk Othman, when speaking to you on the phone, held to his words that he was not able to release the RM130 million.
Alias: Disagree.
Judge: He (the witness) is not the one on trial.
Akberdin: I'm just putting it to him.
Judge: Remind yourself of the charges, Datuk.
The lawyer then moved on to ask whether Jepak had asked to expedite its request for payment, to which the witness answered that the company had not.
Akberdin: But MoE went and asked MoF to speed up the process. Quite a number of letters were sent. Is it correct to say that MoE was the one that showed more concern on these payments? Even the contractor (Jepak) did not ask (to speed up).
Alias: Disagree.
Rosmah is facing charges of soliciting RM187.5 million from Jepak managing director Saidi Abang Samsudin between January and April 2016, and allegedly receiving RM5 million and RM1.5 million in 2016 and 2017.
Hearing will resume on April 6.