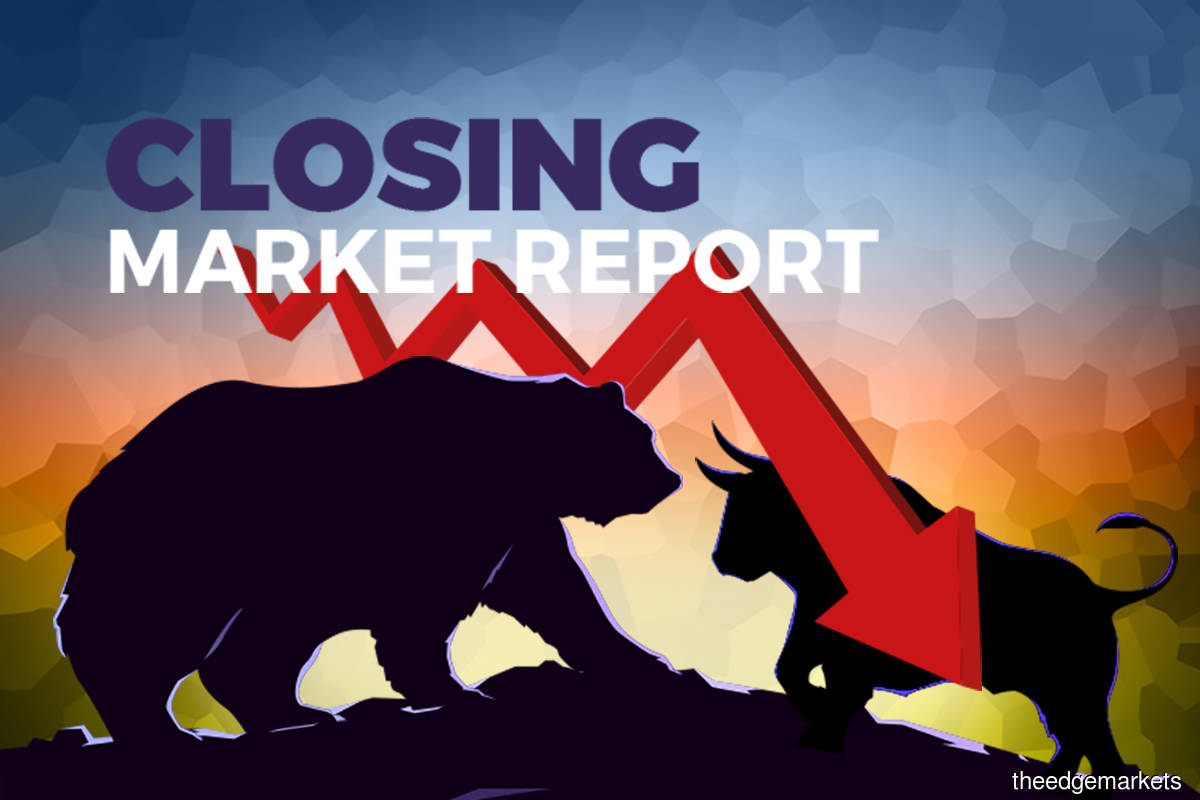 KUALA LUMPUR (May 24): Continuous selling in selected healthcare and financial services counters pulled Bursa Malaysia to end at intraday low on Tuesday (May 24), marking its fourth consecutive day of decline, in line with negative sentiment on regional bourses, dealers said.
IHH Healthcare Bhd and Public Bank Bhd were among the top losers, falling 15 sen and four sen each to RM6.40 and RM4.50, respectively, contributing a total of 3.62 points to the loss in the composite index.
At 5pm, the FTSE Bursa Malaysia KLCI (FBM KLCI) declined 11.23 points or 0.73% to end at its lowest level for the day of 1,531.3, from Monday's close of 1,542.53, after hitting a high of 1,547.84 in the early morning session.
The benchmark index, which opened 5.31 points higher at 1,547.84, remained in the negative territory for most part of the day.
Market breadth was negative with decliners outpacing advancers 696 to 247, while 406 counters were unchanged, 950 untraded, and 11 others suspended.
Total turnover rose to 3.6 billion units worth RM2.09 billion from 3.41 billion units worth RM1.88 billion on Monday.
Rakuten Trade Sdn Bhd vice president of equity research Thong Pak Leng said regionally, the key indices trended lower as investors remained concerned over the uncertain global economic outlook and monetary policies.
Meanwhile, he said analysts have been trimming growth forecasts for US corporates as the US Federal Reserve seemed certain to hike interest rates by a full percentage point over the next two months.
"As for the local bourse, we believe the local market will face some headwinds amid the heightened regional market volatility although we do not discount the possibility of bargain hunting to emerge.
"As such, we expect the key index to hover at the 1,525-1,545 range for the remaining week. Technically, we spot the immediate support at 1,520 and resistance at 1,560," he told Bernama on Tuesday.
Regionally, Singapore's Straits Times Index fell 0.47% to 3,198.47, Japan's Nikkei 225 slipped 0.94% to 26,748.14, Hong Kong's Hang Seng dipped 1.75% to 20,112.1, South Korea's KOSPI decreased 1.57% to 2,605.87, while China's SSE Composite Index fell 2.41% to 3,070.93.
Among other heavyweights, Malayan Banking Bhd slipped two sen to RM8.96, Petronas Chemcicals Group Bhd fell three sen to RM9.96, Tenaga Nasional Bhd and CIMB Group Holdings Bhd reduced six sen each to RM9.14 and RM4.96, respectively, while Hong Leong Bank Bhd rose six sen to RM21.12.
Of the actives, Green Packet Bhd shed 1.5 sen to eight sen, KNM Group Bhd declined four sen to 15.5 sen, while MNC Wireless Bhd, Sapura Energy Bhd and ACE Market debutant Cnergenz Bhd were flat at 1.5 sen, 8.5 sen and 58 sen, respectively.
On the index board, the FBM ACE decreased 84.64 points to 5,191.44, the FBM Emas Shariah Index dipped 113.61 points to 11,350.96, the FBM Emas Index lost 92.3 points to 10,950.28, the FBMT 100 Index slid 82.82 points to 10,622.14, and the FBM 70 dropped 122.17 points to 13,081.57.
Sector-wise, the Industrial Products and Services Index was 0.98 of-a-point lower at 198.6, the Plantation Index lost 46.18 points to 7,994.93, while the Financial Services Index fell 80.38 points to 16,474.57.
Main Market volume decreased to 2.31 billion shares worth RM1.85 billion from 2.61 billion shares worth RM1.71 billion on Monday.
Warrants turnover increased to 372.8 million units worth RM74.44 million versus 345.56 million units valued at RM66.01 million previously.
ACE Market volume rose to 912.11 million shares worth RM168.8 million from 451.9 million shares worth RM107.71 million on Monday.
Consumer products and services counters accounted for 257.75 million shares traded on the Main Market, industrial products and services (359.44 million), construction (51.89 million), technology (133.9 million), SPAC (nil), financial services (52.56 million), property (144.95 million), plantation (69.76 million), REITs (8.11 million), closed/fund (8,000), energy (633.17 million), healthcare (56.83 million), telecommunications and media (492.82 million), transportation and logistics (30.54 million), and utilities (20.68 million).