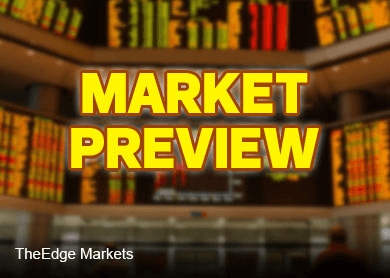 KUALA LUMPUR (May 7): The FBM KLCI is expected to extend its losses today on the back of the overnight global selldown, although pockets of buying opportunity may emerge.
But overall market sentiment is likely to remain cautious at least until some clearer local catalysts are in place.
Stocks on major world markets fell on Wednesday, as European borrowing costs reached their highest level this year, while the U.S. dollar slumped against major currencies after weak American economic data, according to Reuters.
Improving European economic data is easing the fear of deflation, pushing up bond yields in the euro zone, while persistently weak U.S. economic data in the first four months of the year, along with poor corporate earnings, is calling the valuation of equities into question, it said.
AllianceDBS Research in its evening edition Wednesday said that the FBM KLCI had on May 6 traded lower to a low of 1,813.01 as market participants chose to play on the selling side in anticipation of a lower market.
The research house said that in the absence of stronger buying interest, the persistent selling activity kept the benchmark index in the red throughout the trading sessions before rebounding to settle at 1,820.97 (-6.45 , -0.35%) in the last few minutes on buying of selective blue chip stocks.
"In the broader market, losers outnumbered gainers with 454 stocks ending lower and 353 stocks finishing higher. That gave a market breadth of 0.77 indicating the bears were in control," it said.
AllianceDBS Research said the benchmark index turned back down below the 50-day MA line on May 6 despite the last few minutes buying of selective blue chip stocks.
It said this suggested that market participants were not optimistic about the market's upside potential.
"We highlight that the benchmark index must at least register a settlement below the 50-day MA line for 3 consecutive days to effect a change of market sentiment.
"The support and overhead resistance are pegged at 1,818 and 1,830 respectively.
"A fall below 1,818 again should see the market moving down to the next support at 1,800," it said.
The researcgh house said that indicator wise, the MACD was below the 9-day moving average line.
"The analysis of overall market action on May 6 revealed that buying power was weaker than selling pressure.
"As such, the FBM KLCI would likely trade below the 1,813.01 level on May 7," said AllianceDBS Research.