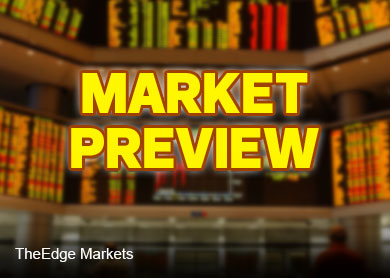 KUALA LUMPUR (Dec 1): The FBM KLCI could start December on a slightly weaker note as global enery shares fell and kept international markets on a tightleash.
At the global markets, U.S. stocks ended mostly flat in a holiday-shortened session on Friday as a massive decline in the energy sector offset strength in consumer names, but major indexes rose for a sixth straight week, accordimg to Reuters.
Crude oil fell below $68 per barrel a day after OPEC decided not to cut output, which could leave markets oversupplied. The 7 percent decline was the biggest one-day drop since May 2011, with prices lowest since 2010, it said.
AllianceDBS Research in its evening edition last Friday said that dampened by the sharp fall in the preceding day, the FBM KLCI had on Nov 28 gapped down to break below the 1,826 support.
It said the benchmark index subsequently reached a low of 1,815.31 before supportive buying interest lifted the benchmark index to close off the day's low at 1,820.89 (- 9.02 , - 0.49%).
The research house said that in the broader market, losers outnumbered gainers with 609 stocks ending lower and 241 stocks finishing higher.
That gave a market breadth of 0.39 indicating the bears were in control, it said.
AllianceDBS Research said the downside gap indicated the urgency to liquidate stock positions.
It said there may be a buying attempt to lift the market back up above the 1,826, but there was no good follow through buying in the area of 1,827.16.
"Following the settlement back down below the 1,826 level, the benchmark index is expected to test the next support at 1,805.
"The market has lost about 30 points in the last 2 days measuring from the high of 1,845.76 to the low of 1,815.31, this accounted for a 83% of the gains that registered from the low of 1,808 (21 Nov 2014) to the high of 1,845.76 (27 Nov 2014)," it said.  
AllianceBDS Research said that indicator wise, the MACD was still above the 9-day moving average line.
"The analysis of overall market action on Nov 28 revealed that buying power was weaker than selling pressure.
"As such, the FBM KLCI would likely trade below the 1,815.31 level on Dec 1," it said.