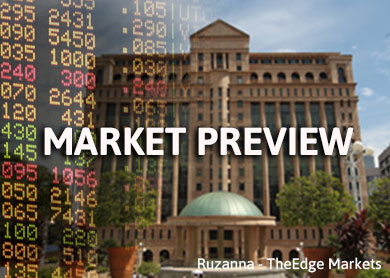 KUALA LUMPUR (Oct 29): The FBM KLCI is expected to cautiously trend upward on today, riding on the previous day's higher closing locally and the rally at global markets.
Global equity markets rallied and bond prices eased on Tuesday on solid corporate earnings on both sides of the Atlantic and an upbeat U.S. consumer confidence report that more than made up for weak American housing and industrial data, according to Reuters.
Outside of equities, market moves were muted on the first day of a two-day Federal Reserve meeting in which the U.S.central bank will likely reinforce its stated willingness to wait a long while before hiking interest rates, it said.
On Wall Street, the Dow Jones industrial average  gained 187.81 points, or 1.12 percent, to 17,005.75. The S&P 500  rose 23.42 points, or 1.19 percent, to 1,985.05 and the Nasdaq Composite added 78.36 points, or 1.75 percent, to 4,564.29.
AllianceDBS Research in its evening edition Oct 28 said the FBM KLCI had traded higher to 1,825.85 on on Tuesday as market participants continued to play a buying game.
However, the research house said that in the broader market, losers outnumbered gainers with 529 stocks ending lower and 284 stocks finishing higher.
That gave a market breadth of 0.53 indicating the bears were in control, it said.
It said the benchmark index registered another day of higher high on 28 Oct 2014 with market closes above the 20-day MA line for 3 consecutive days.
"Given the up close, the market should strive to trade higher again with overhead resistance pegged at 1,831. However, market volume was not encouraging as buyers were seen a little cautious in their game play as the benchmark index was drawing near the 1,831 hurdle. \
"The market support is pegged at 1,815. Indicator wise, the MACD is above the 9-day moving average line. 
"The analysis of overall market action on 28 Oct 2014 revealed that buying power was stronger than selling pressure. As such, FBM KLCI would likely trade above the 1,825.85 level on 29 Oct 2014," it said.