This article first appeared in Options, The Edge Malaysia Weekly, on May 6, 2019 - May 12, 2019.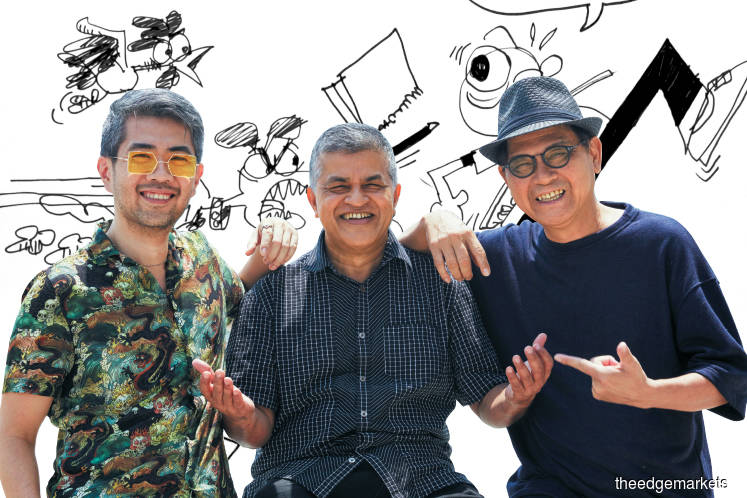 To celebrate World Cartoonists Day on may 5, Options meets three Malaysians, each with his OWN distinct style, who use cartoons to add a lighter touch to issues of the day
HITTING THEM IN THE FUNNY BONE
Reggie Lee has made his name skewering the foibles of politicans and big shots
Despite Malaysia's refreshed politic­al climate and new faces at the helm, with former leaders relegated to the opposition benches, social commentators are still harping on the same subjects. Cartoonist Reggie Lee reckons it is because "there are still clowns jumping up and down and lots of things to highlight, such as people telling lies."
Foolish comments create fertile ground for moral tales, but Lee wants no part of that. Instead, he digests the news on the ground, draws it in a single frame, and then presents it to newspaper readers with a dollop of laughter. Recently, the creator of Ah Lok Kafe (a live-action movie was made in 2004 based on the cartoon) drew a caricature of Datuk Mohammadin Ketapi in a rainbow-hued tee — a spoof on the lousy T-shirt trope — after the tourism, arts and culture minister reportedly told German media at an international trade fair in Berlin that Malaysia did not have any homosexuals.
Penang-born Lee, 63, who has been poking fun at political gaffes and Malaysian foibles for decades, says deciding on what to highlight takes time but drawing it out is easy nowadays — it can be done on screen.
He remembers delivering hard copies of his cartoons when he first started out and retrieving the original artwork after they had been published. He used to cut and paste photos of ministers in a book in case he needed to draw their caricatures. Today, all it takes is a simple search on Google for reference and research. The immediacy and reach of social media also mean that once he hits on a topic, he can roll out a cartoon fast.
For the full story, pick up a copy of The Edge Malaysia (May 6, 2019) at your nearest news stands or visit optionstheedge.com.