This article first appeared in Digital Edge, The Edge Malaysia Weekly, on December 7, 2020 - December 13, 2020.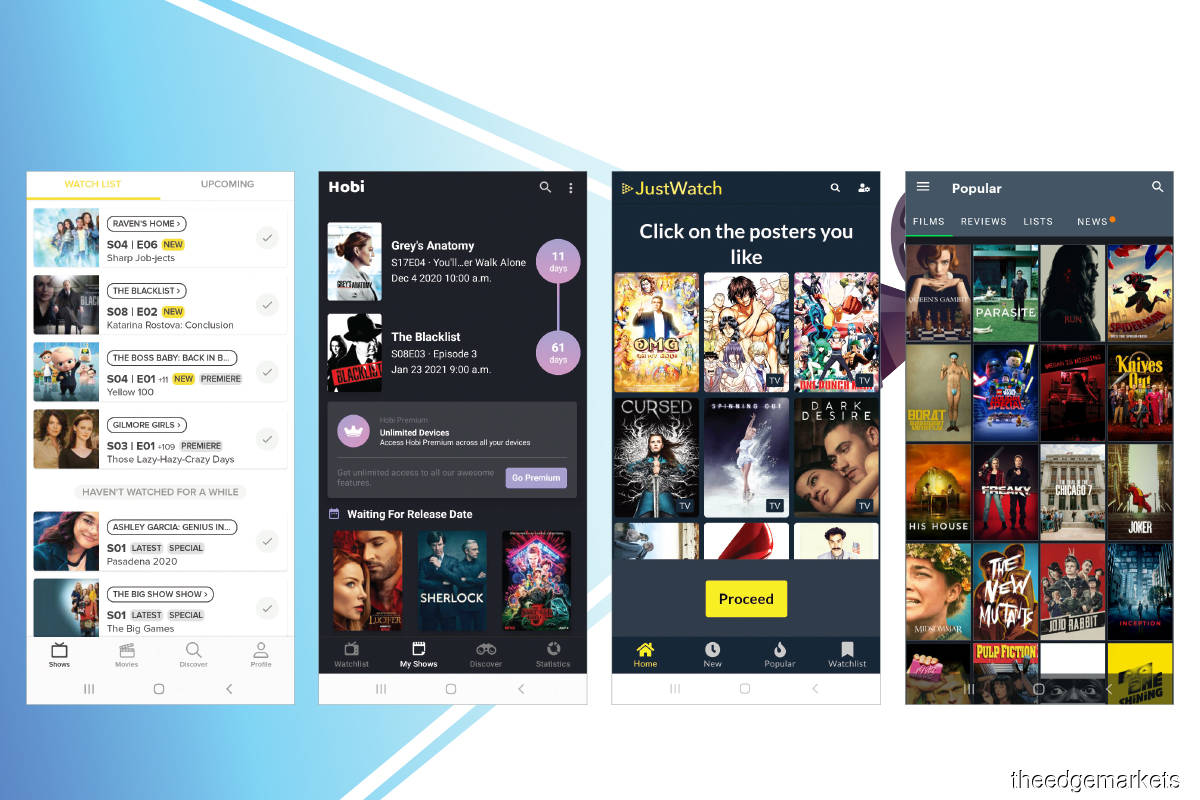 The shooting of many television shows and movies was put on hold because of Covid-19, but production companies are starting to pick up where they left off. With your favourite TV shows and movies premiering soon, it may be hard to keep track of them. Here are some apps to help you manage your viewing selection.
 1  TV Time
This app allows users to not just track movies and TV series, but also set up alerts for when they are released. If you are an Android user, you can also add the TV Time widget to your home screen to tick off episodes as you watch them. The app has built a community where users can access reaction images and gifs, as well as partake in discussions after watching a show or movie. In addition, it has a social media aspect to it so you can see what your friends are watching as well.
 2  Hobi
Hobi is strictly for tracking TV series. Its user interface is very smooth, appealing and easy to use. The shows on the app are categorised based on the TV network they air on. Hobi is predominantly free to use, but users can upgrade to a premium account, which allows usage on unlimited devices, advertisement removal, provides custom notifications and advances statistics on your TV habit, among other perks. The premium upgrade is priced at RM31.99 per year or RM83.98 for a lifetime subscription. The app currently has a limited 50% discount offer for the lifetime subscription, at RM41.99.
 3  JustWatch
JustWatch recommends TV shows and movies based on your preferences and the streaming services you have subscribed to. New users are asked to pick out shows that they like when signing up. After that, they will need to input the subscription services they have access to. The user interface takes some time to load, which can be annoying, but the app makes up for this with its filtration options, which allow users to customise what they are looking for.
 4  Letterboxd
Letterboxd is strictly for movies. Not only does the app allow users to track the movies they have watched and add movies to their wish list, it also allows them to rate films, leave reviews, add tags and discuss the movies with other users. Its social media element enables users to view what their friends are watching. It is also a good tool for movie suggestions as users can browse based on genre or look up movie lists created by other users.
Spoiler Alert!
Another problem for TV and movies fans is spoilers on social media and the internet, as a whole. Whether you are more of a desktop or mobile browser, here are some options to keep spoilers at bay.
 1  Spoiler Protection 2.0
This browser extension is available for Google Chrome and Firefox but may not work for mobile. To use the extension, all you need to do is add it to your browser and input keywords that you want to avoid — names of characters or social media hashtags, for example. The feature works across most social media platforms and websites.
 2  Unspoiler
Similar to Spoiler Protection 2.0, this extension requires a user to input the name of the show or movie, instead of individual keywords. Chunks of a webpage will be blocked out with a warning if the content is related to the show. Unspoiler works on Google Chrome but it is not stated if it works for Firefox.
 3  Spoilers Blocker App
This phone app is a bit tedious to set up, but is very useful when browsing on your phone. You have to manually select the permissions for the app before it can be applied. The app only works on Android; the iOS equivalent is the Spoiler Block app.