This article first appeared in Digital Edge, The Edge Malaysia Weekly, on November 29, 2021 - December 05, 2021.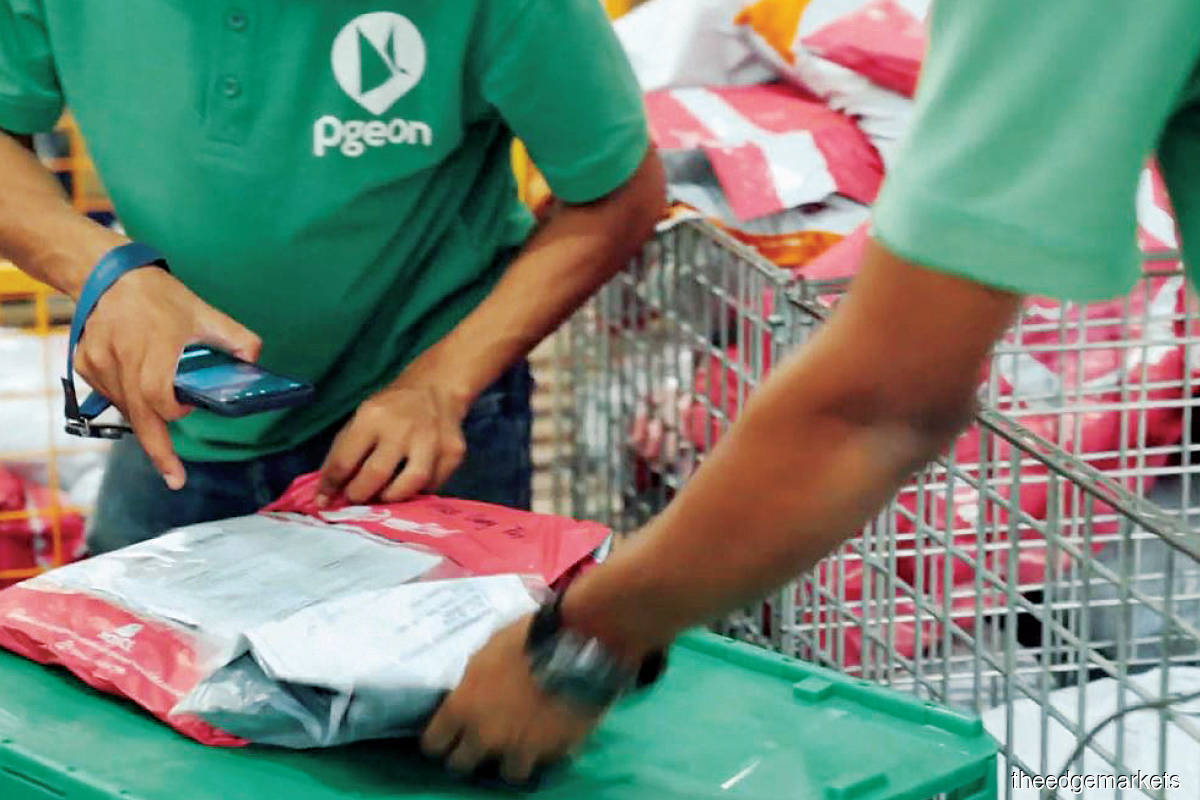 Pgeon made its mark in Malaysia five years ago by setting up parcel pick-up and drop-off points at convenience stores. 
For instance, customers can drop by their nearest 99 Speedmart or myNEWS store and pick up their parcels. Online sellers can also drop off their parcels at these locations, which are known as Pgeon Points. 
Now, the company has over 6,000 Pgeon Points, the majority of which are in Kuala Lumpur, Selangor, Johor and Penang. This service is in addition to the normal door-to-door courier delivery services. 
Clarence Leong, co-founder and CEO of Pgeon, expected the lockdown to change consumer habits. Since most people would be stuck at home, demand for door-to-door delivery would logically be higher than that of Pgeon Points. 
"We started that service to cater for people who are at work and don't have time to receive parcels at home," says Leong.
But to his surprise, demand for the Pgeon Points still remained high over the Movement Control Orders (MCOs). He noticed that aside from picking up parcels, customers used that opportunity to run errands at the convenience stores and petrol stations that were Pgeon Points.
Now that the pandemic has accelerated the demand for e-commerce, Leong expects this trend to stay even as the economy reopens. The behavioural change of shoppers has already been solidified. As such, Pgeon's services may gain even more relevance. 
"If you ask my wife whether she will still go and buy fish from the market, she will say no. If everything can be well packed and delivered to your house on time, it's more convenient. And these are items that you probably need on a weekly basis. She would rather spend her time on something more valuable than going to the market," says Leong.
Not an easy market to operate in
This demand for e-commerce, obviously, also translates to business opportunities for courier players. However, competition is fierce. The space was so crowded with players that the Malaysian Communications and Multimedia Commission (MCMC) froze the issue of new licences for courier services for two years in September 2020. 
The major courier players in Malaysia include GD Express, J&T Express, Citylink, DHL Express, FedEx and Pos Laju. Some of the major players also have parcel pick-up points. PosLaju, for instance, has EziBoxes, which are found in train stations, petrol stations and post offices. Smaller players are also emerging. Logistics player Ninja Van installed parcel boxes at several LRT stations and shops. PostCo and PopBox are other alternatives. 
But so far, Leong says Pgeon still has the widest network of pick-up and drop-off points. Despite the competition, Pgeon managed to quadruple its revenues this year, according to him. In October, it entered into an asset purchase agreement with CJ Logistics Express Malaysia Sdn Bhd to acquire 326 units of commercial vehicles. 
He hopes to increase its pick-up and delivery capacity by five times with the addition of these assets. 
"When we experienced the volume (of orders) spike during the pandemic, (the limitation of assets) was one of the key things holding us back. This made us consider what short cut we could take to enhance our services," says Leong.
He also plans to increase Pgeon points to 10,000 locations by the end of the year. Their current partners include 7-Eleven, 99 SPeedmart, Caltex, myNEWS and others. 
How can Pgeon compete? 
This wide network of Pgeon Points is one factor that sets it apart from its competitors, Leong believes. Additionally, its investments in technology make its deliveries more accurate, easily tracked and faster. 
But most courier companies also offer real-time tracking of parcels and notifications to customers whenever a parcel is due to arrive. 
"I think the (smoothness of the) user experience is key. Are the notifications being done correctly and are customers being prompted at the right time?" says Leong, who thinks that Pgeon's user experience is unique. 
Its agility in launching new features is also a strength. During the pandemic, the company launched PgeonMart, an online marketplace targeting neighbourhood grocery shops and food stalls, and PgeonFLEX, a programme to hire freelance riders. 
It also launched the Pgeon Paperless delivery to assist sellers who don't have a printer at home. "They can just book the delivery online, write down the tracking number on the parcel and get it delivered," he says. 
A look at the reviews of Pgeon's services on Google shows some complaints about missing parcels, delayed services and an unreachable helpline. Leong says he is aware of these issues. 
"We take it very seriously. The acquisition of assets (is part of the solution) to help us increase our delivery speed. At the same time, we are enabling our drivers with tech and devices, and building up our call centres in a few months' time. When we first started, we thought tech could drive everything. But when it comes to humans, we still need that interaction," says Leong. 
Can the courier industry automate? 
The high volume of e-commerce orders during the pandemic was overwhelming. Videos showing the mountains of parcels stacked in the Pos Malaysia International hub went viral in April last year. The company responded on social media, saying that it was receiving on average of 600,000 parcels per day during the MCO period. It called for customers to be patient. 
Evidently, as e-commerce booms, more manpower will be needed to manage and deliver the packages. With it comes the limitations of manual labour. That's why many companies are exploring automated warehouses as a possible solution. 
Leong plans to build two new automation hubs for Pgeon. "I know of some start-ups in Malaysia which are piloting solutions with small robots. This is something we can consider and collaborate on. When we visited China five years ago, we saw robots delivering parcels in neighbourhoods already."
That is a potential area of growth that Leong sees. Another obvious one is the enabling of same-day deliveries. "So far, it's possible for same-state deliveries but not cross-state," says Leong.
"Teleport (AirAsia's logistics arm) invested in us (EasyParcel, a web-based courier services portal co-founded by Leong) in 2019. Perhaps with the help of flights and our last mile services, it can work."
This will have to be complemented by more mini fulfilment centres across the country. 
That's why he invested in start-up iStore iSend in January. The start-up provides e-fulfilment services to brands and retailers. The investment was done through EasyParcel.
Overall, Leong is excited about the growth of the e-commerce ecosystem in the country and encouraged by the government's initiatives to improve the industry. In June, MCMC announced an action plan to do the latter, and one of the suggestions was to set up more independent parcel collection and pick-up centres. 
"With the government pushing this, more optimisation can be done across the industry with the rest of the players," he says.