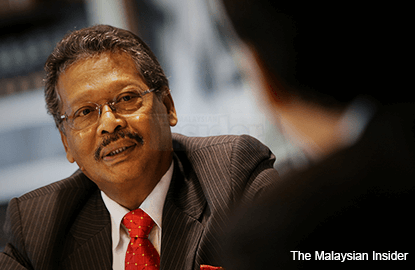 The Malaysian Insider recently interviewed Attorney-General Tan Sri Mohamed Apandi Ali who spoke on various issues, from his sudden appointment to his previous position in Umno to the RM2.6 billion donation and the Sedition Act. Here, in the first of a three-part series, the attorney-general touches on the issue which has hogged the headlines recently.
(Nov 11): Tan Sri Mohamed Apandi Ali told The Malaysian Insider that he had directed the anti-graft agency to complete the investigations into former 1Malaysia Development Bhd (1MDB) subsidiary SRC International Sdn Bhd and the RM2.6 billion donation before the year end as he took the public's concerns seriously.
Apandi said he informed Najib of this, and that the prime minister agreed he would have to be questioned.
"Sooner or later, before they (MACC) give the file, the prime minister must give his statement," said Apandi.
On August 5, MACC said it would question Najib over the donation, which the commission established came from a Middle Eastern donor.
But as recently as last month, the government had yet to announce when the prime minister would be quizzed, with Minister in the Prime Minister's Department Datuk Paul Low saying MACC will call up Najib "when the time comes".
Critics have accused the authorities of deliberately dragging their feet over the investigation, while the Conference of Rulers last month urged the government to complete the investigations related to 1MDB as soon as possible.
Apandi said he was cognisant of the Malay rulers' statement as well as the public's concerns.
"Immediately after the rulers' statement, on the night itself, I messaged MACC: 'Hello, you'd better speed up.'
"And then, in fact, to make sure they speed up, I said, 'complete investigations by the end of October.' That was my direction," he said.
But he said MACC later told him an October deadline was "impossible" to meet, so the date was changed to year's end.
Apandi said MACC would have to submit the file to him by that time, "by hook or by crook", since he had already given them ample time.
Despite this, Apandi said he felt MACC's investigation into the case was moving at a "reasonable pace".
Cases involving movement of money from one company to another takes time as it involved tracing documents and tracking down and interviewing the ever-growing list of people involved, he said.
He pointed to the case of former Perwaja Steel boss Tan Sri Eric Chia Eng Hock, who was charged with RM76.4 million embezzlement in 2005 after "years and years" of investigation.
But he confirmed that MACC was making progress, and that its officers had already recorded statements from SRC International managing director Nik Faisal Ariff Kamil and director Datuk Suboh Md Yassin.
In July, the Immigration Department issued a travel ban on Nik Faisal while Suboh was reported missing.
However, Apandi said businessman Jho Taek Low, also known as Jho Low, had yet to be questioned as "he doesn't come into the picture yet".
"If any of them (witnesses) start mentioning Jho Low, then they (MACC) will call for Jho Low," he said.
Apandi added that he believed the police would only start investigating 1MDB after the auditor-general's report on the state-owned investment firm was released.
The Wall Street Journal (WSJ) had on July 2 published an article quoting an "unnamed investigator" saying that almost US$700mil (RM2.6 billion) was banked into Najib's personal accounts before the 13th general election in 2013.
1MDB refuted the claim, while Najib denied taking any state funds for personal gain.
Putrajaya, however, said it would answer questions in Parliament over the RM2.6 billion donation.
"This question will be answered simultaneously with all other questions which have the same meaning, at a date which will be set later at this sitting," said Minister in the Prime Minister's Department Datuk Seri Azalina Othman Said in a written reply in parliament recently.
Excerpts from the interview
TMI: Much earlier on, MACC said in a press statement that it would call PM Najib for an explanation over the RM2.6 billion donation. Why hasn't the PM been called yet? As A-G you can advise MACC on this matter, especially when the investigation papers are sent to you.
Apandi: He has to.
TMI: So what's the delay?
Apandi: It's like Mr A, you know, the money goes into Mr A's account, Mr A must tell, must give a statement. It's as simple as that. And I've told the prime minister, 'Hello sir, you have got to a give statement. One day or the other.' And he agreed.
The problem with everybody is, 'hurry, hurry, hurry, no delay'. I tell you, investigations of this nature, movement of money from one company to another, will take time. First, you've got to trace the documents. Second, you've got to trace who were those who received, gave or handled the money. It's much easier to investigate a murder case than these type of cases. Murder cases you go to the scene of the crime, find the weapon, record the statements of the eyewitnesses, send the weapon to the Chemistry Department, case closed.
For this case, you cannot do that. This, you record one statement ... but because it involves administration of a business organisation, you record from A. A will mention B, C, D. So after recording A, you will still have to find B, C, D to get the flow of the story. And in the course of recording B, C, D, these B, C, D will mention another E, F, G, H, I, J, K. Almost endless. And some of the people may be overseas. So they've got to go overseas, to record.
TMI: So have the investigations gone overseas? Like in trying to interview the two SRC officials who are overseas? Any efforts made to contact them?
Apandi: They (MACC) have gone and recorded their statements. And then after recording, I just want to explain how the situation works. After the recording, they come back, they study the recording and they compare it with other statements, and then they think, 'ah, we need further explanation'. Make another appointment. That takes times.
The two we are talking about are Nik and Suboh. I don't know them.
TMI: What about Jho Low?
Apandi: Jho Low, not yet, because he's not in the picture yet. That's why I said, if any of them starts mentioning Jho Low, then they (MACC) will call Jho Low. Then when we meet Jho Low and he starts mentioning names, we have to call them too. That's why it is a long story.
Anyway, because of the concerns of the public and whatnot ... in fact immediately after the rulers' statement, on the night itself, I messaged MACC. 'Hello, you'd better speed up.' And then, to make sure they speed up, I said, 'complete investigations by the end of October.' That was my direction.
But they came back, 'Tan Sri, almost impossible, end of October. Because there are so many other statements to be recorded.' Fine. Because you cannot push. So they came back, and said, 'We need at least another month or so.' I said, 'I must have a deadline.' If you ask people who work under me, when I ask you to do it today, I prefer it be done yesterday. That is my style. You ask this to anyone who had worked with me.
And I pushed them. They said, 'end of October cannot.' I said, whatever it is, before the end of the year.
I said by hook or crook, I want it that way. I mean, I gave them ample time. I know it's not an easy task, but ...
TMI: So, the main points from the questions on 1MDB are: MACC has recorded statements from the two SRC officials, you did tell the PM he has to give a statement and you want results by the end of the year?
Apandi: Yes. And sooner or later, before they give me the file, PM must give his statement. You can write that down. – The Malaysian Insider